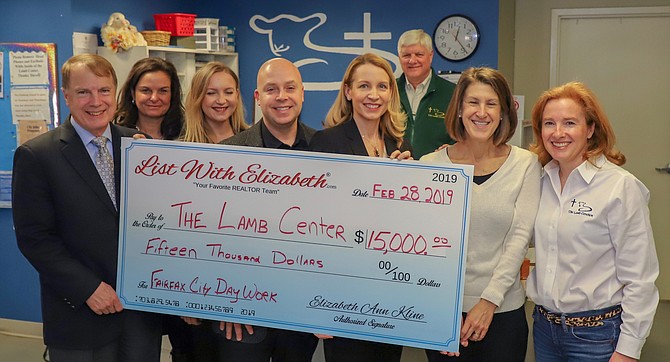 The Lamb Center in Fairfax is a daytime, drop-in shelter offering hot meals, showers, laundry services, and recovery and employment counseling for the poor and homeless. The guests come from all walks of life and, for a variety of reasons, have fallen on hard times.
The faith-based nonprofit also offers counseling, dental services, clothing, haircuts and Bible studies and even helps with job and housing searches. And during its annual banquet last October, Lamb Center Board Chairman Tara Ruszkowski announced the creation of Jobs for Life, a jobs partnership with the City of Fairfax.
"It's a four-month, pilot program to offer part-time, day work to Lamb Center guests," she said. "There's dignity in work; and if you give a homeless person a job, you build them up and make them a part of the community."
Modeled after a successful program in Albuquerque, N.M., this one was funded by a $15,000 grant from the City to the center. And since its inception, it's proven to benefit both the City and the participating workers. However, the money for this program ran out in February and the City couldn't fund it again until the next fiscal year, starting July 1.
Fortunately, though, a local business has stepped up to keep it afloat until then. On Feb. 28, real estate team LIST WITH ELIZABETH presented Lamb Center Executive Director John MacPherson and Fairfax Mayor David Meyer with a $15,000 check to The Lamb Center for this very purpose.
LIST WITH ELIZABETH team members recently toured the Lamb Center and were impressed with what they saw. And when CEO and President Kevin Kline and his wife Elizabeth – co-owner, lead agent and face of the company – learned that funding for the jobs program was about to end, they decided to take action and provide the money themselves.
"The generosity of Elizabeth and Kevin Kline is inspiring, and it came at a critical time of need for The Lamb Center," said Meyer. "The work program that The Lamb Center created last year has been a game-changer for many of its guests who participate."
"When the original funding was nearly depleted, the program was at risk of ending, just as lives were changing and hope was taking root for many in The Lamb Center community," continued Meyer. "The Klines' gift was just at the right time, for which we are all very grateful. Their commitment has made all the difference."
Kevin Kline explained that, "While our real-estate agents enjoy helping our clients buy and sell their homes in Northern Virginia, D.C. and Maryland, Elizabeth and I make sure never to forget that there are many in our community that do not have a place of their own to call home. These are people within our community that want to work and to use this experience on their own resumés to find more permanent employment elsewhere. Stopping this would do a lot of harm to individuals actually trying to do the right thing."
Jobs for Life is managed by Lamb Center staff and Fairfax's Parks and Recreation Department and initially ran for 16 weeks. Via this innovative initiative, Lamb Center guests were employed cleaning and beautifying City parks and doing public-works tasks.
Eight to 10 people worked two days/week in four-hour shifts. The Lamb Center registered the participants, provided transportation, supervised job sites and paid workers in cash ($10/hour) at the end of each shift. Fairfax City provided the learning opportunities and a pathway back into the workforce.
"We're extremely proud to offer a program like this in Fairfax City," said Mayor David Meyer at the outset. "It's an approach that not only assists those who need help, but also benefits the City and its residents by providing valuable services that we need every day. It's truly community in action."
THE PROGRAM began in November 2018. And, said Ruszkowski, "For some, it's a stepping stone onto more permanent work with the City's Public Works Department. For others, it's an entrée into our jobs program."
But without further money, the paid City jobs offered to the homeless guests of The Lamb Center would have ceased to exist for several months, until funded in the City's next budget. This situation would also disappoint and create financial hardships to those looking forward to and depending on those jobs for both a sense of self-esteem and a source of income.

But now, thanks to the money from LIST WITH ELIZABETH, the funding gap through June 30 is filled and the day-work program will continue unimpeded. Pleased to help out, Kevin Kline said he and his wife wanted to confirm their commitment to The Lamb Center and to the community where their family lives, works and plays.
Grateful for the help, MacPherson said, "Jobs for Life provides both the dignity of work to those who – while willing to work – often find obtaining work a challenge, and a tangible benefit to the City and its fellow citizens. The program has been a transformation in the lives of our guests."
"It isn't as much the money that they get paid, but how they feel better about themselves, because they are working," he added. "The Klines' generous gift will allow the program to continue without interruption, until Fairfax City funds it as a part of its regular budget in FY 20."