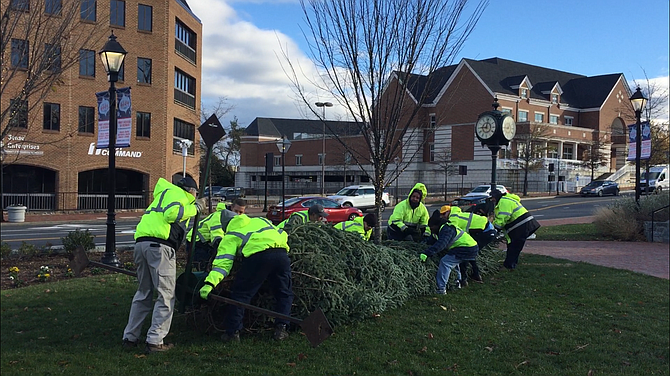 The City of Fairfax offers people experiencing homelessness a day of work in exchange for money and a possible path to housing.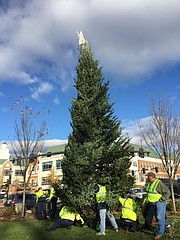 "The city has implemented a day work program," said city spokesperson Chris Cohen. "This offers a great opportunity for folks that need assistance," she said.
The program was kicked off in late November, the city had a need decorating for the holidays and the day workers in the program filled that need by helping raise the 30-foot city holiday tree. A few weeks into the program, it's already showing positive signs, said city official Mike McCarthy. Many of the workers are coming from the Lamb Center, a nonprofit that helps people experiencing homelessness in Fairfax, and their jobs have been in the city's parks. "A financial step up for these residents of the Lamb Center," he said.
Tara Ruszkowski, Lamb Center Board Chair, sees the positive reactions from the participants and community. "This program has had an enormous impact, for some of our guests this is a stepping stone," she said.
The new day-work program is funded by a $15,000 grant from Fairfax City to the Lamb Center who is managing the program. The pilot is modeled after "There's a Better Way," an initiative in Albuquerque, N.M., city information stated.
The day-work program enables eight to 10 Lamb Center guests to work two days per week for four-hour shifts at city-designated work sites, such as city parks.
The Lamb Center registers program participants, provides transportation, supervises job sites and pays workers $10 per hour in cash at the end of each shift.
It doesn't go unnoticed by the residents either. "We have been flooded by support from citizens," McCarthy said.
The mayor and city council "have been exceptional partners," Ruszkowski added. "It has rallied the community," she said.
"We're extremely proud to offer a program like this in Fairfax City," says Mayor David Meyer. "It's an approach that not only assists those who need help, but also benefits the city and its residents by providing valuable services that we need every day. It's truly community in action."
Currently, this day work program is running through the end of February 2019 but there are wheels in motion to get it extended.