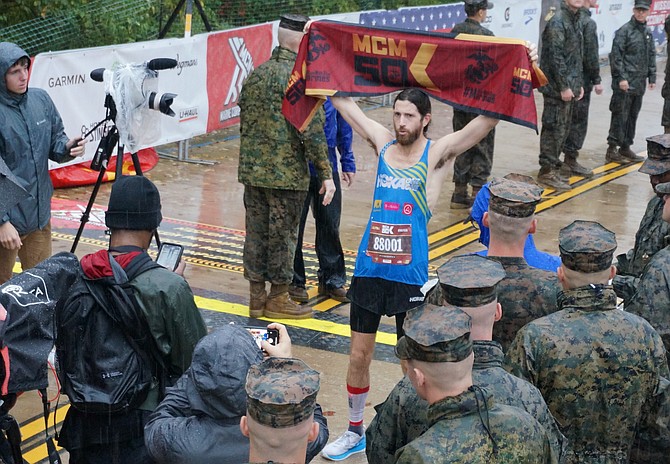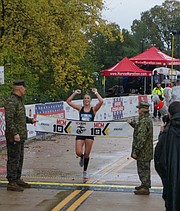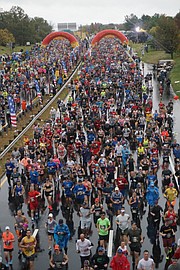 Torrential rains may have slowed him down, but they didn't stop local runner Michael Wardian as he crossed the finish line to win the inaugural Marine Corps Marathon 50K race Oct. 27 in Arlington.
"To win your hometown event in such a great year, I couldn't ask for anything else," said Wardian, 45, who completed the distance (31 miles) with a time of 3:11:52.
The Marine Corps Marathon race was just a tune up for Wardian, who will run as the New York City Marathon virtual ambassador next weekend in Hong Kong.
"It's been a pretty epic year," said Wardian, who ran the entire 89.9 miles of the Washington, D.C. Beltway in 17:54:59 in late June. "I ran across Israel earlier this year and set a fastest known time for that. I did about 1,000 kilometers in 10 days."
Wardian also completed a world record for 10 marathons in 10 days.
"Seven of those were on seven different continents," added Wardian, who ran his first marathon at the Marine Corps Marathon in 1996. "And to win the inaugural 50K today is pretty exciting for me."
More than 1,700 runners joined Wardian along the ultra distance 50K route, including Alexandria's Dustin Whitlow, 33, who finished second with a time of 3:21:36. Patrick Early, 40, of Montclair, Va., placed third in 3:40:50.
In total, 26,502 runners competed in the 44th annual Marine Corps Marathon events, including the traditional 26.2 mile marathon and the MCM 10K.
Hannah Krumreich, 27, Vienna, won the women's division of the Marine Corps Marathon 10K Oct. 27 in Arlington in a time of 0:37:44.