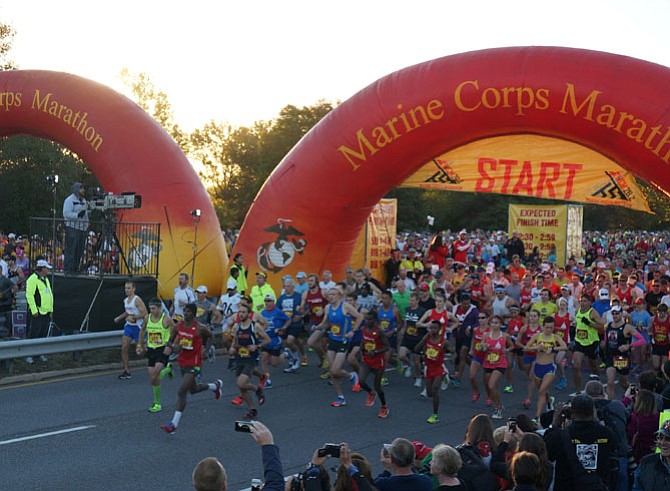 It's been a busy month for Michael Wardian. The 40-year-old Arlington resident took to the starting line of the 39th Marine Corps Marathon to run his third marathon in 21 days with a 50-mile race added to the mix.
"I was running to win it," said Wardian, an ultramarathoner who completed the 26.2-mile course in 2 hours, 25 minutes and 42 seconds. "I felt solid and was happy with my effort but it just wasn't in the cards today."
Photo Gallery
Arlington Strong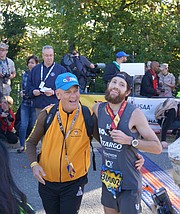 Click Photo for Flash
Wardian, who finished fourth overall and first in the masters division, began the month of October by running the Twin Cities Marathon in 2:21:45 followed by the Hartford Marathon in 2:25:57. Less than seven days before Sunday's race, he took first place overall in a 50-mile race in State College, Pa., finishing in 5:46:33.
"My legs were just not fast enough today," said Wardian, who will head to Qatar on Halloween for the International Association of Ultrarunners World 50K championships. "But it was an amazing day. It's always great to run in Arlington."
Close on Wardian's heels was Graham Tribble, 26, who finished in 2:25:52, putting two Arlington runners in the top 10 of the men's field.
Placing first overall in the men's division with a time of 2:22:11 was Army Spc. Samuel Kosgei. Army Capt. Meghan Curran was the first female finisher with a time of 2:51:46.
In the men's division, Army Spc. Laban Sialo finished second at 2:23:47 and Navy Petty Officer 2nd Class Justin Turner finished third with a time of 2:25:04.
In the women's division, Arlington's Lindsay Wilkins placed second with a time of 2:51:46 with Navy Lt. Gina Slaby coming in third at 2:52:31.
Joining Wilkins in the top 10 of female finishers from Arlington was Erin Taylor, 32, (2:52:54) in fifth place, Stephanie Fulmer, 24, (2:29:14) in seventh place, and Kelly Swain, 29, (3:00:55) in 10th place.
"It was a perfect day for a marathon," said Max Krafft, an Army veteran and Arlington resident who finished the race in 3:02:27. "The Marines put on a great event and so many people showed up to cheer everyone on. The crowd support really helped me get through the last few miles."
The top three in the push rim division consisted of Timothy Conner Jr., of Hilliard, Fla., with a time of 1:34:56, Peter Park of Champaign, Ill., at 1:59:52 and Lance Benson at 3:10:55.
Tom Davis of New York City won the hand crank division with a time of 1:11:28, followed by Alfredo Delos Santos of Hopewell Junction, N.Y. at 1:20:12 and Ludovic Narce of France at 1:20:15
Among the 30,000 runners participating in the race was Kyle Carpenter, a medically-retired Marine who was awarded the Medal of Honor in June for diving on a grenade to save a fellow Marine in Afghanistan in 2011. Carpenter parachuted as part of a skydiving team that floated a 7,800 square-foot American flag to the starting line then went on to finish the race in 5:07.
"You can get injured and go through a lot and still come out on top," said Carpenter, who has endured several operations on his road to recovery, including multiple skin grafts, a new jaw, teeth and prosthetic eye. "You can run a marathon or compete in things you want to, even if you have physical limitations or disabilities. If there's a will, there's a way."