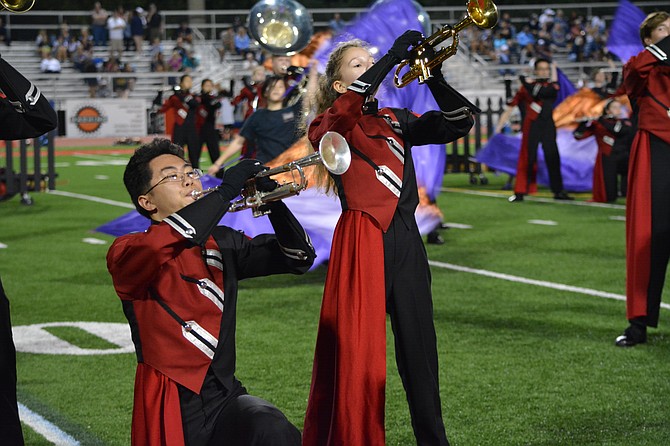 For the second year in a row, the James Madison High School Marching Ensemble has won the Virginia Marching Band Cooperative State (VMBC) Championship. The theme of this year's performance is Dusk 'til Dawn, utilizing music, color guard costumes, stage make-up, props and scenic backdrops to perform a show that earned a first place rating in all three categories of music, general effect and visual at the VMBC competition the first weekend of November.
Preparation for this competition began on Aug. 5, the first day of summer band camp. Throughout the fall, the 150 member ensemble participated in a rigorous competition season, while also performing for the local community at home football games, in the Homecoming Parade and the Vienna Halloween Parade. The ensemble started the competition by winning the regional VMCB competition in September, hosted by Herndon High School.
In the first weekend of October, the ensemble made history by earning the school's first-ever Band of America Mid-Atlantic Regional Championship title. This regional competition held in College Park, Md., hosts bands from local states and has not been won by a Virginia school in more than 30 years. The Band of America Regional Championship title earned the ensemble another distinction, an invitation to participate in the 2019 Band of America Grand National Competition in Indianapolis. The marching ensemble, known as the Pride of Vienna, will participate in this competition Nov. 14-16.