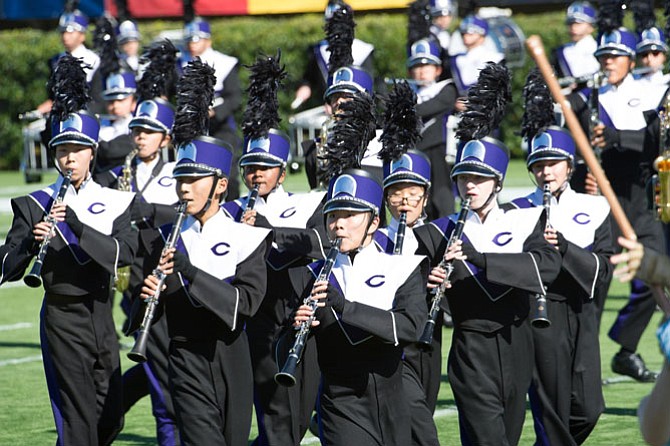 See more related photos on Facebook.
The 170-student strong Mighty Marching Chargers, Chantilly High School's marching band, competed in the Bands of America Regional Championship at the University of Delaware in Newark, Del. on Saturday, Oct. 15. Twenty-seven marching bands from nine states participated in the competition. The Mighty Marching Chargers placed fourth in their class and tenth in the finals round. They earned the highest score the band has ever earned in 15 years of competing in Band of America events.
Drum Major senior Munis Thahir, said of the evening performance: "It never felt that way in a marching band show before. They brought something else tonight. It was that 'it' moment of the season."
Junior Brian Tan, captain of the front ensemble, said of the performance: "It was almost magical. Working together to make good sound — I've never hear them play like this before."
For students, preparation for the weekend's competition began in in August, weeks before the start of school, with band camp. Students spend hours working in the heat and rain to learn the show drill, memorize music, choreography and put it all together. As the weeks progress, the show evolves, with new props and added choreography.
Said Marching Band Director Douglas Maloney, "In no other high school activity do 170 teenagers have to work together in synchrony and agreement for eight minutes. While performing, they have to make each other sound better and lift each other up, to hit forms, make shapes, look sharp. They have to look at the people around them and ask themselves, 'What can I do to work with the people around me to communicate a unified idea?' For some students, it takes that long for it to really 'click' about engaging with people through music."