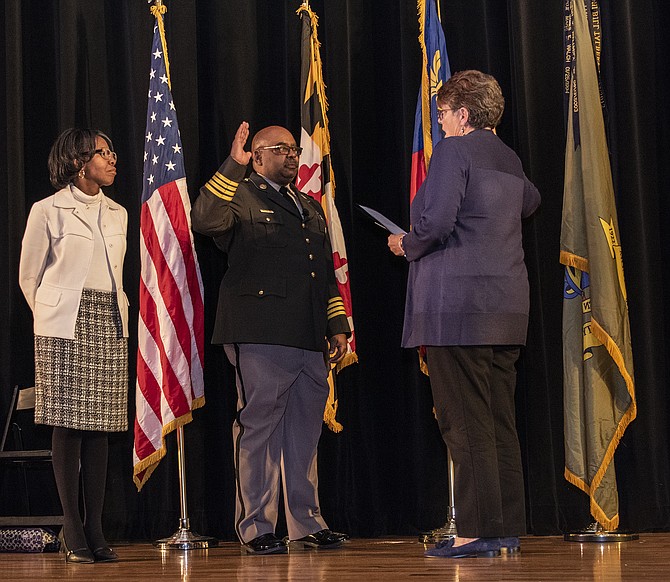 Marcus Jones, a 34-year veteran of the Montgomery County Police Department, was formally sworn in as the County's new police chief on Friday, Nov. 8, in ceremonies at Gaithersburg High School. County Executive Marc Elrich, who nominated him as chief in October, was among those at the ceremonies.
The appointment of Chief Jones was unanimously confirmed by the County Council on Nov. 5.
"This is an important day for our new police chief, the Montgomery County Police Department and our County," said County Executive Elrich. "Chief Jones has lived in, and served, this County for more than 30 years. He is well respected and has my full support as well as that of County Council. Over the last few months, he has demonstrated the capacity to lead this department and his strong community ties will be critical as we work to make a good department better.
"I am confident that under Chief Jones's leadership, we will improve the department's relationship with all communities within the County and ensure that we remain one of the safest places to live and work in the region."
Recent controversy involving Montgomery County Police includes community concerns over the shooting of an unarmed man, a brutality incident caught on video, a county council proposal for a civilian advisory council, anger over the ban of a "thin blue line" flag and other issues.
Jones was named as an assistant police chief in April 2018 after serving for four years as captain of the Third District station in Silver Spring. He has served as interim police chief since earlier this year.
Chief Jones previously served as captain of the department's major crimes division, where he oversaw the homicide, robbery, cold case and fugitive sections.
In 2011, Chief Jones received the "Montgomery's Best Award" for directing the Damascus Gardens Drug Market Initiative to eliminate an open-air drug market.
He has a business administration degree from the University of Maryland and has attended the FBI National Academy.