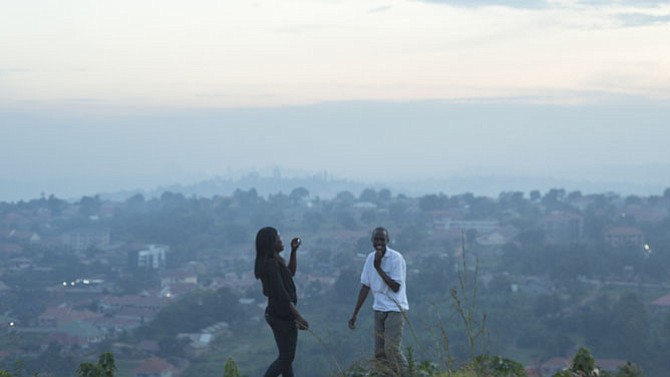 There are more independent film festivals in the Washington, D.C. metro area now than any other time in the area's history, and that's great for cinephiles.
One of the last metro area film festivals of the year is the Alexandria Film Festival, Nov. 10-13, celebrating 10 years of eclectic choices ranging from American to foreign films to local stories.
Patti North, who has been involved with the festival since its inception, first as a member of the city's arts council and now as executive director, says film festivals are special because they offer variety and diversity.
"The film camera can be a window of empathy .... Film gives you an opportunity to see that point of view and consider it on really intimate terms. It's a window not only on the world but on people," she said. North says what makes the Alexandria Film Festival so special is their location and ability to call on area experts for panel discussions. "There will always be someone we can call upon about their expertise" on a film subject.
The four-day fest returns to the city with 40 films, including a number of free events, post-film discussions, special events, live musical performances and special events. The festival kicks off on Nov. 10 at 7 p.m. with a free event on Market Square in historic Old Town Alexandria, a screening of the documentary "Nighthawks on the Blue Highway" http://www.nighthawksbluehighway.com/ about a local blues band, followed by the band's concert.
The festival continues with Free Friday Screenings, a Foodie Showcase, and a Sports Showcase. Perhaps the most relevant is the Local Showcase, which will screen films like, "When Mickey Came to Town," a short documentary about when Disney company executives tried to impose an unwanted theme park in a nearby town and "White House Hockey," an eight-minute documentary about the longest running street hockey pickup game in America on Pennsylvania Avenue. The festival is also premiering season two of the PBS series, "Mercy Street." Films will be screened at AMC Hoffman Center 22, Market Square and Beatley Central Library while the special events to celebrate independent films will take place throughout Alexandria.
Since its inception, the festival has had a good eye for worthy films. The festival's first year in 2007 screened "War/Dance," a documentary by two Chevy Chase filmmakers, Sean Fines and Andrea Nix Fines, who won best film that night and later went on to be nominated for an Academy Award.
Of 200 films this year, as well as countless others curated outside of submissions, the festival screeners dwindled their choices down to 40, making for a rich and assorted slate of films, including foreign films from Brazil, China, Spain, Sweden, Egypt, and France, the latter offering a dramatic feature short called "Far-West' about a young man returning home to the countryside and "Pearl of Africa" about transgender women in Uganda.
Anne Merrill from Arlington, who has been attending the festival for the past seven years said, "Attendees should expect to be surprised by films that work their way into your heart and mind and stay with you for months after you first see them."
The festival, which is run by volunteers and supported by a grant from the Alexandria Commission for the Arts along with corporate and individual sponsors, keeps going because everyone involved shares the love of cinema, says North. "I've always loved film since a little kid."
Dennis McDonald of Alexandria, who has been attending for the past two years, says the opportunity to see smaller independent but well-produced films on the big screen at the festival, "is a special treat."
"If the next festival is like last year's, expect a lot of variety in theme, subject, tone and creativity," he said. "The more you see, the more likely you are to find a real gem."
The festival offers an all-festival pass for an early rate of $50 per ticket that gains admission to all ticketed events at AMC Hoffman Theatre, the Meet the Filmmakers Happy Hour, and the Closing Awards Ceremony and Reception.
Highlights
Free, Kick-Off Event: A free screening of the film "Nighthawks on the Blue Highway." A concert by The Nighthawks will follow the screening. Nov. 10, 7 p.m., Alexandria Market Square, in front of City Hall.
Free Friday Screenings: Nov. 11, 10:30 a.m.-5:30 p.m., Beatley Central Library
Meet the Filmmakers Happy Hour: A networking event for filmmakers, All Fest Pass holders, sponsors, press, and VIPs. Nov. 11, 5 -7 p.m., Hilton Alexandria
Foodie Showcase: Films that celebrate food, farming, and health. Nov. 12, 11 a.m-1 p.m., AMC Hoffman Center 22
Local Showcase: Nov. 12, 11 a.m.–1 p.m., AMC Hoffman Center 22
Sports Showcase: Nov. 12, 6-9 p.m., AMC Hoffman Center 22
Late Night Showcases: Nov. 12, 9 p.m.+, AMC Hoffman Center 22
Private Closing Reception: An event for filmmakers, VIPs, press, and All Fest Pass holders to enjoy light food and drinks, an awards ceremony and the Alexandria premiere screening of PBS' "Mercy Street," Season 2, in conjunction with Virginia Film Commission, Visit Alexandria, and WETA. A Q&A will follow the screening with Executive Producer Lisa Wolfinger and Alexandria Black History Museum Director Audrey Davis, official historical advisor to "Mercy Street." Nov. 13, 6:30-9:30 p.m., AMC Hoffman Center 22