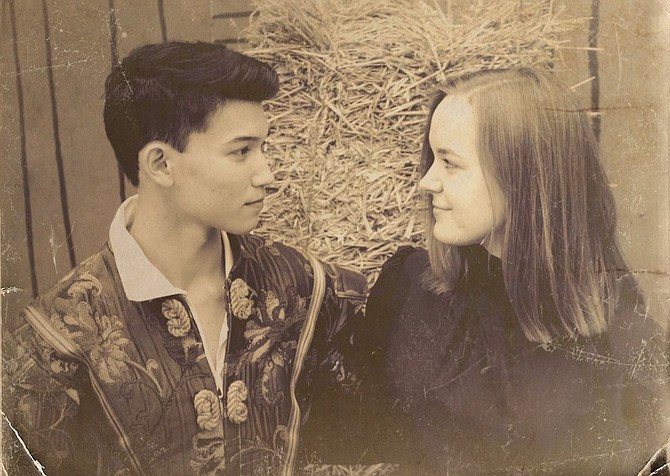 Oakton High School embarks on an Old West adventure in their latest production of "Wild Oats."
Set in 1880s Muleshoe, Texas, the story follows Jack Rover, a traveling Shakespearian actor whose arrival in Muleshoe is accompanied by his falling madly in love with Kate Thunder, the inheritor of a large fortune. With the schemes of Gammon and Ephriam, Muleshoe's resident greedy bad guys, and a series of hilarious identity-swaps, "Wild Oats" is a production sure to keep the audience laughing throughout.
THE PLAY is full of comic talent, and the dedicated actors have been working nonstop to bring their characters to life. "I first began by reading through the script a couple times to get the gist of my character and the story," says junior Jonathan Geerdes, who plays Rover. "From that and consulting with my directors, I came to the realization that Jack Rover portrays three different personas throughout the play not including himself. So, after analyzing Rover as a character himself, I had to develop the characters I would be playing as Rover. I started the process by incorporating a total of 4 different accents into the play so that the audience could distinguish between all of them."
With the primary setting being a Wild West town, the Oakton Technical Theatre class was tasked with fitting a lot of buildings into one small stage. "It's all about angles," explains stage manager Kylie Wilson. "You want to make sure that the audience can see every aspect of the town. We took an idea similar to what we did last year for "Taming of the Shrew" and figured out how it would fit for "Wild Oats." Everyone worked really hard to figure how to best set up the buildings to look the best."
Another interesting aspect of the play is it's blending of styles, from Shakespearean writing to a Wild West setting. Maxwell Branciforte, who plays adventurous thespian Harry Thunder, says, "Shakespeare wrote most, if not all, through universal themes. This means that it is completely possible to slap different coats of paint onto these ideas, allowing them to be presentable to different audiences. In this case, these themes are all presented through that of the Wild West."
Branciforte continues, "In 'Wild Oats,' and specifically my character, Harry Thunder, we see lots of mistaken identity; Harry juggles playing the persona of both himself and Dick Buckskin, his thespian alter-ego. I had to figure out how Harry would act as himself, and then, how he would act if he were pretending to be someone else. I have completely fallen in love with playing Harry, as his reactions are just as over the top and insane as that of the situations he encounters in the Wild West."
CARSON CULLEN, a high school junior and one of the directors of the play, has the concluding thought. "The best experience I've had is getting to go from words on the page and moving them onto the stage," says Cullen. "It's really like working out a puzzle. It reminds me of a quote I once heard, 'when you're a director your goal is to help the audience. When that curtain opens the audience is in trouble and your goal is to get them out of it.' So it's interesting to see how the show morphs and changes and how we can help get the audience 'out of trouble.'"
See the madness and hilarity of "Wild Oats" for yourself on November 21, 22, 23 at 7 p.m. Tickets are $10 online at www.oaktondrama.org.