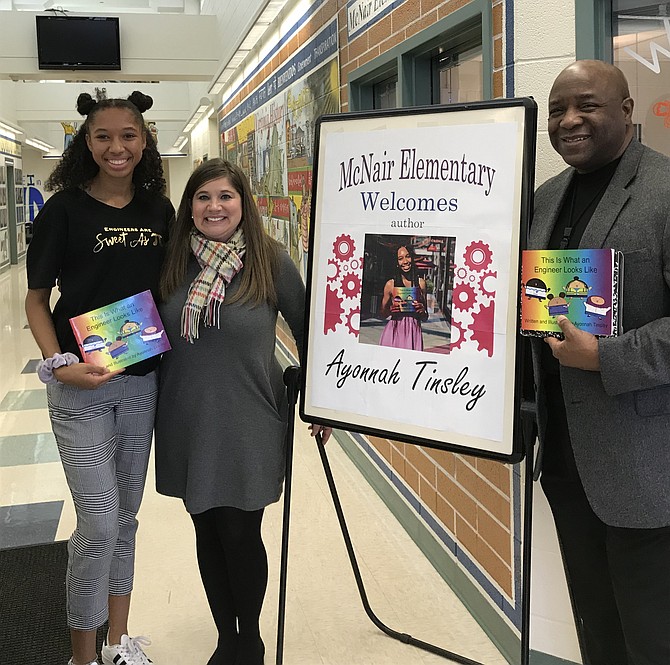 Local high school student Ayonnah Tinsley, 16, discovered as a young girl that gender, racial and cultural bias remained prevalent in the upper echelons of STEM – science, technology, engineering and math. No one looked like her. Growing in years and wisdom, Tinsley later recognized the lack of equal representation for women and minorities was due in part because society did not expose the full range of math and science careers to all boys and girls. In addition, she discerned misunderstandings of STEM careers remained. Word was not reaching elementary school-aged children that STEM careers were helping, people-centric professions; scientists and engineers worked with people to solve problems for people. On Tuesday, McNair Farm Elementary School in Herndon welcomed Tinsley and her school administrator, Anthony E. Copeland, Ph.D., Principal Westfield High School, for a reading and discussion of her newly released children's book, "This is What an Engineer Looks Like" (2019).
In an interview before the event, Tinsley spoke about what she saw as a genuine lack of cultural, racial and gender diversity in fields dealing with science and technology.
TO OVERCOME THE BIAS, Tinsley said a year ago, at age 15, she resolved to reach out to future leaders, today's elementary school-aged youth, and encourage them by writing and illustrating a book in the hope of changing their perception of who worked in STEM- and STEAM-involved careers and what the professions afforded them. STEAM includes the arts.
"I hope that most kids will be able to see themselves in my book and know that STEAM jobs do not have a dress code," Tinsley said. Tinsley said her journey to become an author and STEAM advocate for all started when she visited the local Air and Space Museum for the first time in third grade. The experience changed her life. "That day, I decided I wanted to become an aerospace engineer. But an obstacle I faced was the lack of diversity in books and television shows regarding science."
With a crowd of approximately 15 older elementary school-aged children listening and video cameras rolling, Tinsley gained instant rapport with the children, some only five years younger than she. While Tinsley described herself as a typical high school student and track athlete, the teen acknowledged she was also an entrepreneur, author and an aspiring engineer. Tinsley's enthusiasm for STEAM was contagious.
"What an engineer does is take any aspect of life and try to make it easier for people. For example, in my book, we will learn what a civil engineer is. These are people who let us connect easier to other people. They make the roads, bridges and things like that...We will learn about computer engineers...What they focus on is programming, codes...these are the same people who bring graphics to life (in computer games).
As Tinsley read, she presented some of the many job opportunities STEAM careers offered, such as computer programmer, aeronautical engineer, cartographer and more. She told "Fun Facts" for each job. "The first computer programmer was Ada Lovelace, a girl." Tinsley paused between pages and pulled the boys and girls into the discussion. "Can you tell me some of your favorite video games," she asked.
During the question and answer period, hands shot up in the air. Students inquired if the book would be part of a series – yes; what did she want to be – an aeronautical engineer; and to describe some cool STEAM jobs – engineers who designed a shoe that can tie itself. Asked if she'd be writing more books, Tinsley, replied, "I definitely want to make more books about STEAM jobs people don't even think about, and of course, add more diversity about them."
ATER AUTOGRAPHING BOOKS for the school library, the students began to leave, but one young boy and his friends held back. "May I have your autograph, please, on my hand, " he asked. Tinsley, who still held the permanent marker from autographing the books, looked at one of the teachers. She nodded, yes. "I'm never going to wash my hand," said the boy with a spark in his eyes looking at what Tinsley wrote. Suddenly other children lined up too, each wanting an autograph. With the stroke of a marker, teen author and STEAM advocate, Ayonnah Tinsley turned STEAM pop star to students at McNair Farm E.S.
To view the video, "Ayonnah Tinsley McNair Elementary" on Facebook search title. To purchase "This Is What an Engineer Looks Like" written by Ayonnah Tinsley, visit amazon.com/This-What-Engineer-Looks-Like/dp/0359494501/.
Anthony E. Copeland, Ph.D.- "STEAM/STEM provides a way to prick students' interest in Sciences and Arts in a way that simply solving problems on paper or creating things in an art class cannot. As a high school principal, I believe the earlier we can expose learners to STEAM/STEM, the more likely we are to build perseverance in them to continue in higher-level math and science classes. In fact, Ayonnah's story of her first exposure to airplanes creating an interest in engineering and guiding her to the early identification of this as a career interest is what I believe can happen with more students through our work in schools; therefore, I am a huge believer and support of the work done at McNair ES in STEAM/STEM and other elementary schools throughout FCPS."