Springfield rugby star Elizabeth Wilson isn't the only "Moose" in her family, but she is the only "Moose," on the USA Women's National Rugby Team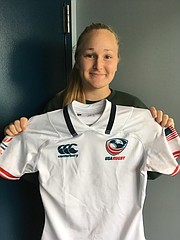 that went out to the west coast in mid-November to play the Canadian team at the Olympic Rugby center in San Diego. Wilson recently made the team, which was a dream of Wilson's ever since she started playing rugby locally in eighth grade.
Her brother Marshall plays rugby at the University of Virginia, and she admits "he's the original Moose," she said. "It's my rugby nickname, they don't know me as Elizabeth," she added.
She loves the rough and tumble sport, loves locking up in the "scrum," kicking the ball and scoring, and doing other physical things that are part of the sport. It's not exactly the sport that her parents pictured their daughter participating in but her father supports the endeavor. "My dad is flying out to San Diego for both games," she said.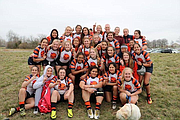 Wilson started playing soccer and rugby as a student at West Springfield High School, and as a teenager and spent a few years playing for the West End Ruckettes, a rugby team with the South County Youth League. They went to the national tournament three years in a row, said coach Matt Estess, who praised Wilson's contributions to the team. "She's one of the most coachable players I've ever had," he said, noting that with rugby, a player has to be "more than tough, you have to be smart."
While with the Ruckettes, she made a commercial with the U.S. Marine Corps in 2016. "She made a tackle in the commercial," said Estess.
The violence and injuries in football have dominated sports news lately, and rugby is the same in a lot of ways with tackles, running and throwing the ball. Collisions are unavoidable, but Wilson points out that the sport is erring on the side of safety too. She does have a helmet though, they call a "scrum cap."
"I wear it all the time," she said, but there is no face guard like football. "I've broken my nose before, it's still a little crooked," she said, with a smile that comes with a battle scar like a crooked nose. "My knees will never be the same but I love the game, I'll keep playing for as long as I can," she said. She got hurt playing soccer too, she added.
Way Out West
Out in San Diego, the US Team is playing two games against the Canadians, and then training at the Olympic Rugby Training Center for the days without games.
There are two types of rugby, one with seven players on a team and one with 15 players on a team. The field is roughly 100 meters long and 70 meters wide. The games are 80 minutes and a game could end in a tie. There are no forward passes and tackles must be made below the shoulders. They start off in a "scrum," with locked arms around the ball in the middle.
Wilson, whose position is "flanker," hangs out on the end, and they could throw it to her if a teammate gets the ball after the scrum. "I can get off (the pack) very quick," she said. Although there is a lot of contact, there are safety guidelines to follow. "They're very big on teaching safety, the right way to tackle," she said.
The game could be seen as a cross between soccer and football, but Wilson keeps it in its own category.
"I think rugby is so much better than football, mental and physical," she said. A rugby ball, known as a "quanco," is bigger than a football, but egg-shaped as well but not as pointy as a football.