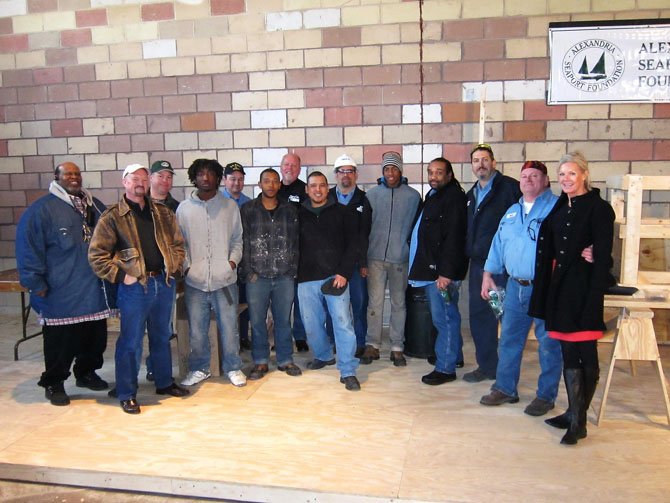 Representatives of GenOn gathered Feb. 10 at the Alexandria Seaport Foundation to work side by side with ASF apprentices and mark the donation of $25,000 to the nationally acclaimed nonprofit.
Six employees from the wholesale electricity generating company visited the ASF Duke Street workshop, bringing with them juice, muffins and a supply of safety equipment. One by one they spoke to the apprentices about the importance of safety on the job, work ethic and the need for respect and humility.
"Their genuine concern for the growth of the Alexandria Seaport Foundation apprentices was apparent," said ASF Director of Development Kathy Seifert. "It reflected a philosophy like the one we hold here at ASF..… to better lives and help advance future generations … one lesson, one dollar, one person at a time."
Through the building and use of wooden boats, the Alexandria Seaport Foundation provides full-time apprenticeships for at-risk youth who earn their GED and prepare for a career in the building trades.
"We also run an after school program four days a week," Seifert added.
Additional ASF programs include an educational assistance program in the middle schools, using hands-on teaching methods to develop math skills and encourage engagement in school, and Building to Teach, a train-the-trainers program intended to expand ASF teaching methods to a national audience.
For more information on the Alexandria Seaport Foundation, visit www.alexandriaseaport.org. To learn more about GenOn and their philanthropic efforts, go to www.genon.com.