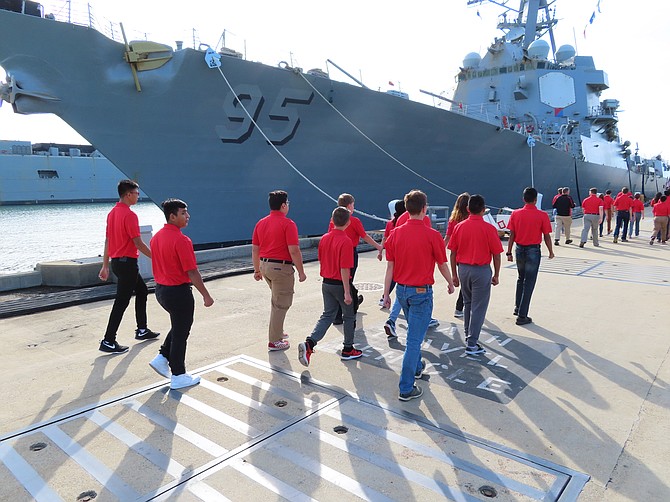 The Herndon Navy JROTC Cadets embarked on their annual Fall Orientation trip in early November to visit a modern Navy Ship and to learn about our nation's early history that helped guide the birth of our Navy. Their first stop was a visit to the USS JAMES E WILLIAMS (DDG 95) at the Norfolk Naval Base in Norfolk.
The ship provided a hands-on experience of 21st century warfare, including a tour of the command center and bridge. As a bonus, while the destroyer was tied to the pier, cadets learned how modern-day ships get refueled and supplied while underway. This complicated process enables U.S. warships to stay at sea for extended periods of time and is an example of why America's Navy is the best in the world.
The Cadets also got to spend the night in the Sea Cadet Barracks on the Naval Base, eat in the galley where active duty sailors dine, and have some fun in the base bowling alley with their friends. The next day Cadets rose early so they could observe "Colors Ceremony" (raising of the American Flag) on base with the associated bugle calls and patriotic music, then breakfast and a short bus ride to Yorktown National Battlefield. Cadets were treated to a movie summarizing the battle at Yorktown which illustrated how the arrival of the French Navy helped tip the scales in General Washington's favor and resulted in the capitulation of the British and the eventual ending of the war.
Cadets were provided a guided tour by a National Park Ranger. She covered not only the troop movements during Washington's siege at Yorktown, but also stressed the importance of both the geography and geo-political concepts. Her final comment was that if you want to fully understand Washington's siege, you must understand the concept of artillery and how it was decisive in this victory.

All in all, the Cadets had a fun and educational weekend learning about our current Navy and the bravery and resilience of our Founding Fathers to gain our victory over the British. Cadets are thankful to Herndon Citizens, whose generous donations made it possible for cadets without the financial means to attend.