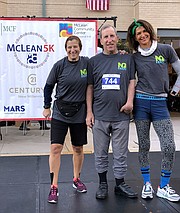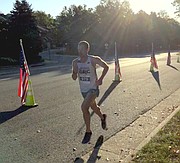 Music blared through the speakers at the McLean Square Shopping Center on Saturday as Ellen Yates, owner of N2 Shape, led hundreds of runners in an epic dance and stretch party before the 5K race. A sea of bright orange t-shirts followed her lead as she jumped and stretched, encouraging everyone to keep their muscles warm and spirits high before the big race.
N2 Shape is a fitness company motivated to teach others how to live an active and healthy lifestyle, as well as one of the many local sponsors of the McLean 5K. In attendance was Ned Lippman, one of Yates' star students at N2Shape. Injured in a car accident as a child, Lippman's gait has never been the same. Lippman's wife, Anne-Marie Thrasher, shared that "Ellen has really helped him better his mobility through various stretches, and yoga and exercise classes."
Male and female winners, Mark Hopely and Kelly Calway wowed spectators with their 5K times of 16:27 and 18:47 respectively. However, it wasn't just Calway's commendable race time that impressed the 5K participants and their families. Dressed in Army running gear, the McLean native shared that she is an active duty member of the armed forces, and a fierce marathon runner. A former long-distance running coach at West Point, Calway has more than 15 marathons under her belt. She is currently training for the 2020 Olympic trials in hopes to run the marathon for Team USA. When asked why she chose to run a much shorter race in McLean, she said, "This race is just so fun, and it's really special to participate in a race that supports my community."
All of the proceeds from the race went toward the McLean Community Foundation. This is the 11th year the McLean Community Foundation has been in partnership with the McLean Community Center on the 5K. President of the McLean Community Foundation Amy Swaak reflected on how "fortunate [she] felt all those years ago when the McLean Community Center reached out to help host the 5K, allowing all the proceeds to benefit the MCF."
The McLean Community Foundation is a volunteer-led organization that supports local nonprofits and other nonprofit organizations that support McLean. The McLean Community Foundation helps fund art programs, youth services, historical preservation, elderly care, substance abuse support, and more.The MCF has in the last 39 years, granted more than $1.7 million to local organizations such as the construction of Clemyjontri Park and the donation of an ambulance to the volunteer fire department.
Swaak said that on this day, individuals "ran a race that felt good for your body, but most of all, a race that felt good for our community."