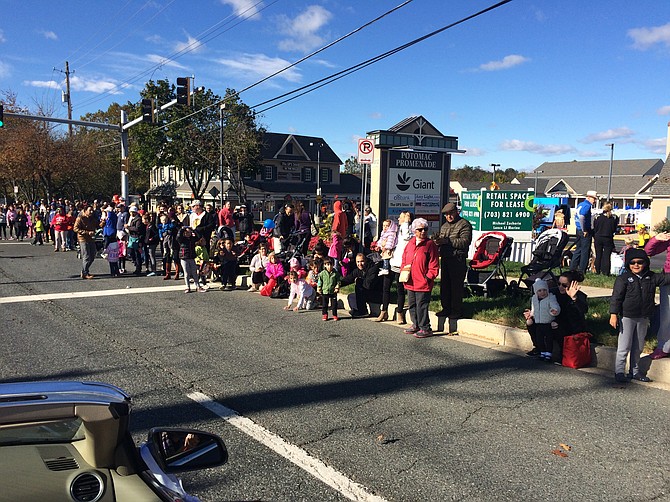 A traditional feature of Potomac Day is honoring people and businesses who have contributed in a special way to the Potomac community.
This year is no exception and those selected are exceptional.
First there is the Grand Marshall of the Potomac Day Parade. Long-time Potomac resident Ellen Cromwell, founder of Georgetown Hill Early School, has that honor.
Nominated by Kristen Raymond, a member of Georgetown Hill Early School staff, Cromwell, she wrote, started her school in 1980 "with the mission of providing the best early childhood programs possible for families in Maryland. …Ellen set out as a pioneer in her field to create the then-new concept of a full day preschool with quality programming. Ellen taught and directed preschool programs where children thrived in play-based, age appropriate, and nurturing environment. Ellen's vision for creating exceptional preschools lives on today with the opening of [Georgetown Hill's] newest school right here in the heart of Potomac Village. Her commitment to creating an exemplary early childhood program now results in 11 campuses, over 300 teachers and over 1,400 students. Ellen is now retired and has just completed writing her 4th children's book. Ellen Cromwell, your legacy has touched the lives of so many of us."
Cromwell retired about seven years ago at the age of 78, her son Peter, CEO of Georgetown Hill, said.
"She still misses it every day," he said.

Selected as Businessperson of the Year for 2019 is Sue-Anne Slonin, manager of Falls Road Veterinary Hospital.
In her nominating letter, Jill Phillips of Potomac Community Village wrote: "I have observed Sue-Anne in her position as manager and she is consistently kind, helpful and professional. [She] is the person behind the scenes, making sure everything is running smoothly and at the highest level of quality."
Phillips also pointed out all Slonin does for the Potomac community when not working exclusively with "2-legged and 4-legged clients."
"Sue-Anne reaches out to other businesses at the annual Potomac Day Parade where a booth with helpful veterinary care information is on display. [She] reaches out to the residents of Potomac by delivering the Chamber of Commerce's Welcome Baskets to new residents and with speaking with new residents about both the Chamber of Commerce and Falls Road Veterinary Clinic.
Sue-Anne and her family have raised five dogs for Guiding Eyes for the blind and she assists members of Potomac Community Village as a volunteer driver, Phillips wrote.
Next, nominated as Person of the Year, are several persons: the Potomac Chapter of Friends of the Library.
Ginny Barnes nominated this group whose current president is Edie Wyngate.
"This organization serves the community in so many invaluable ways," Barnes wrote. "In addition to promoting the many Potomac Library activities and offerings…they keep books alive and circulating through the community via their monthly [used] book sales."
Potomac Friends of the Library works year-round to provide special programs at the library.
For October, among other activities, they are promoting an Author Visit Oct. 15 with Jamie Khuhns, a Montgomery Parks historian speaking on the life of Josiah Henson, who lived enslaved in Montgomery County and escaped to freedom. A children's program called Beowulf T. Wonderbunny's Not-Too-Scary Halloween Spooktacular will be on Oct. 17, On Oct. 21, there will be a class for those interested in learning to knit.
Multiply those activities by 12 months and it is evident that the Friends of the Library adds much to the Potomac literary community.
"Last fall, Barnes wrote, the Friends brought Paddington Bear to the Potomac Day in celebration of his 60th birthday. …Again this year, FOL will introduce another storybook character to Celebrate Potomac Day Oct. 12."
The fourth honoree at Potomac Day is Youth of the Year. This year Bullis School senior Caleb Robinson represents the best of the area's young people.
Caleb, 17, is a senior and co-president, with Hannah Baltimore, of the school's student body. He is also a member of the Bullis football team and exemplary student, according to Lynn Kittel, Director of College Counseling at Bullis.
"Seeing this confident young man lead the Bullis School as Student Body Co-President, I am thrilled to say he has embraced his gifts, understands the influence he can have on others and eagerly works to make our community more caring and inclusive."
Among Caleb's activities at Bullis, Kittel lists: "Bullis School Ambassador (leading campus tours), Editor of LOGOS (Bullis Literary Magazine), Bullis Debate Club, and Bullis Coexist Club (an organization developed to increase appreciation of diverse cultures)."
Caleb also has a talent for spoken word poetry.
"It's a hobby," he said. "I really enjoy poetry; I love writing in general. I love being able to craft something – the ability to say what I want to say."
The main topics for his poetry, he said, are how he views the world: growing up as a black man and discovering his passions.
He is excited to be a part of Potomac Day.
"I felt really honored," he said. "It sounds like a great opportunity to be recognized. It will be cool."
More Details For Potomac Day Saturday, Oct. 12
The parade, long in participants traveling a short distance, begins at 10:30 a.m. (line up by 10) on Chapel Drive and River Road and travels along River Road to Falls Road.
More than 6,000 people turn out for Potomac Day on average.
Remember, Potomac Day goes on rain or shine.
Vendors can set up at 8:15,
Car show starts at 9:30,
Children's festival starts at 10,
Roads close at 10 a.m.
The parade is at 10:30
The festival continues until 3pm
The car show/event sponsor this year is Criswell Auto.
There will be around 90 vendors for the business fair.
There are a bunch of exciting new rides for kids.
There will be demonstrations from Kicks Karate, Millennial Youth, East West Tae Kwon Do and Positive Impact.
We will have Churchill Poms & Cheer in the parade.
Chrissellene Petropoulos with Vocal Mastery will lead the parade off with the National Anthem.