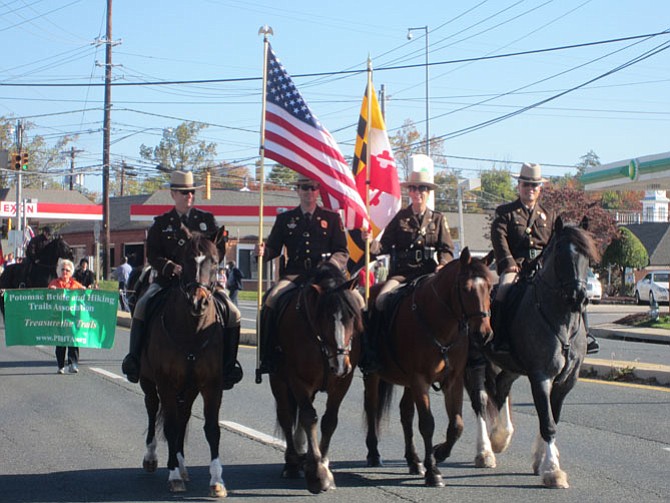 The Potomac Chamber of Commerce has selected four citizens — who each make Potomac a better place to live — to honor on Potomac Day, Oct. 24. Not only do these honorees volunteer their time and talents to help the community, they give of themselves both professionally and personally in a multitude of ways. They will be featured in the Potomac Day parade and also recognized by the Potomac Chamber of Commerce in November at a dinner held at Normandy Farm Restaurant.
The honorees are: Dr. Susan Rich, Potomac Citizen of the Year; Steve Ornstein, Potomac Business Person of the Year; and Alexander Brown, Potomac Youth of the year. A special Lifetime Achievement Award will be presented to Elie Pisarra Cain for her dedication to the Potomac community and to the residents of Potomac. She will also serve as Grand Marshal of the parade.
CITIZEN OF THE YEAR
Dr. Susan Rich is the Citizen of the Year for 2015. Through her work as a child psychiatrist, she has supported children and their families who are affected by prenatal alcohol exposure. For the past 22 years, her public health and clinical interest has been the prevention and treatment of neurodevelopmental disorder, a condition that affects one in 20 American children. In 2014, she founded a non-profit organization, the 7th Generation Foundation which is dedicated to raising awareness and developing housing and vocational programs for youth with cognitive disorders caused by alcohol while the baby is in the womb.
One of her programs has been a partnership with John and Jill Phillips of Squeals on Wheels. Together they have introduced children and youth to the benefits of pet therapy, the unconditional love of animals and the skills required to take care of an animal.
"Working with our docile farm animals helps children learn to love and offers them a sense of calm contact," Jill Phillips said.
Rich has also volunteered her time to support the community as well as her own children's activities since moving to Potomac in 2005. She served with the Potomac Girl Scouts as co-leader and "Camping and Cookout" mom. She was a parent liaison for the Hands-On-Science and Spanish language enrichment programs at Wayside Elementary School.
Her interest in the county's environment is demonstrated by her on-going commitment to the Watts Branch Alliance in which she is active in watershed clean-up activities and in tree-transplantation programs to decrease erosion of the Watts Branch bank. She is also involved in stream litter removal activities and in a 2012 Earth Day event in Bethesda to air the "Bag-It" movie and to honor County Executive Isiah Leggett for his role in the 5 cent tax on plastic bags.
"It is an honor to be awarded Citizen of the Year by the Chamber of Commerce," Rich said, "I feel grateful and blessed that the good people of Potomac recognize the importance of my gifts as a child psychiatrist in the Greater Washington, D.C. area. Through leadership, community collaboration and partnerships, we can all empower children and adolescents of Montgomery County to have happier, healthier, more fulfilled futures."
Rich has been voted one of "Maryland's Favorite Physicians" for the Patients' Choice Award, recognized as a "Top Doctor" by Washingtonian Magazine and acknowledged by the Consumer Research Council of America as one of America's Top Psychiatrists. She was also recently selected for inclusion in the forthcoming Top Doctors of North America 2015-16 edition of "The Who's Who Directories." She is also the author of a book, "The Silent Epidemic: A Child Psychiatrist's Journey beyond Death Row."
BUSINESS PERSON OF THE YEAR
Steve Ornstein of Edge Floral Event Designers is the Potomac Business Person of the Year for 2015. He is the second-generation involved with his family business and has more than 42 years in the floral event and plant industry. Edge Floral Event Designers is one of the leaders in this industry in the Washington D.C. metropolitan area with over 600 events per year. Some of their specialties include weddings, bar and bat mitzvahs, corporate events, charity events and beautification of many owners of homes in Potomac.
"Part of my life philosophy is to give back, not only financially but with my time," Ornstein said. He has been involved with every gala and fashion show of the Diener School and Hospice Caring since 1991 and serves as a trustee on the Hospice Caring Board. His generosity also includes donations to Juvenile Diabetes, the Potomac Chamber of Commerce and Squeals on Wheels.
Ornstein has volunteered for the Montgomery County Police Department since 1997. Other volunteer positions include various organizations and serving as president of his community swim club for more than 10 years.
"It's both an honor and a privilege to be awarded the Business Person of the Year," Ornstein said. "I have provided flowers and plants to Potomac families and their events for more than 30 years and many client relationships have developed into wonderful friendships. This award really makes me feel at home in Potomac. At times my wife jokes that I spend more time with some of the organizations than I do with her. But we both realize if everyone would give just an hour or two through volunteering to help the less fortunate, the world would be a better place."
YOUTH OF THE YEAR
Bullis student Alexander Brown is the Potomac Youth of the Year 2015. Alex is an outstanding student who has always selected a rigorous curriculum. Intrigued with flight since he was 5 years old, he earned his solo pilot's license this past year — taking his mom up as his first passenger. He serves as captain of the Bullis wrestling team and also wrestles for the Maryland National Youth Team; he plays the saxophone in the Jazz Band and received the highest mark possible at the Maryland State Solo Festival, and he is a dedicated community servant. Alex has volunteered with KEEN, A Wider Circle, Manor Care and the Bullis Lower School.
About the honor of being selected as the Potomac Youth of the Year, Alex said, "It is surreal. It is incredible. It is a tremendous honor to have been selected, from amongst what I know to be an amazing group of kids in Potomac."
Alex is applying to the Air Force Academy to major in Aerospace Engineering. Lynn Kittel, co-director of College Counseling at Bullis said, "Wise beyond his years, focused in all endeavors and using his intelligence to its fullest capacity, Alex is a true gem of a student and human being. If these are the type of young people defending our country, then we are all in good hands. I can think of no one more deserving of recognition as the Potomac Youth of the Year. He is an example for us all."
LIFETIME ACHIEVEMENT AWARD AND GRAND MARSHAL OF THE PARADE
Elie Pisarra Cain is a lifelong resident of Potomac whose face, leadership and good deeds are known throughout the Potomac community. She has always been dedicated to providing beauty, culture and making quality decisions for who reside in Potomac. She is being honored with the Potomac Lifetime Achievement Award 2015.
"All the things I do are because I love the community," she said. "It's kind of unique to live in the same place your entire life — I now live right across from where I grew up. When you live in a place forever, you need to invest back into it. It makes me happy that new people have come to live here and love it too."
Elie's mother, Margo McConihe founded The Potomac Almanac which helped to define Potomac. Cain followed her example, serving as an influential member of the Potomac Master Plan Committee which protected the environment, the Potomac River, our community from fast-food restaurants and four-lane roads, and the parklands.
"You always see Elie out there doing something for Potomac," said Potomac resident Kay Titus. "If you don't have people willing to give, it just doesn't happen. Things happen with Elie." Things like the blooming flower pots lining Potomac Village each summer and fall. The plays and musicals presented by the Potomac Theatre Company which, until recently had found its new home at the Bullis School's new performing arts center. Cain served as president of the company for many years.
Cain has received many awards for her community service, including the chamber's Citizen of the Year. However, one weekend in December 2002 holds a special memory for her. On Saturday, Dec. 14, 2002, she received a Conservation Medal Award from the Potomac Hundred Chapter of the DAR. Ten minutes later, she received a proclamation from the Maryland House of Delegates. And on Sunday, as president of the Friends of the Great Falls Tavern, she was honored with a gift of appreciation from the ranges of the C&O Canal National Historic Park.
"It makes me very proud to receive the Lifetime Achievement Award," Cain said. "I love this community. I am so pleased to see all the good things going on in Potomac. It is a community made up of many thoughtful residents who care about one another. The new Potomac Community Village, the walks and races for wonderful charities — every time I turn around, I hear about all the positive things going on here."
Cain has lined up the Potomac Day parade for many years and organized the parade goers. She is usually the last person in the parade carrying a sign declaring it "The End." However, this year, as grand marshal, she may be giving up her last place for the honor of leading the 2015 Potomac Day Parade.