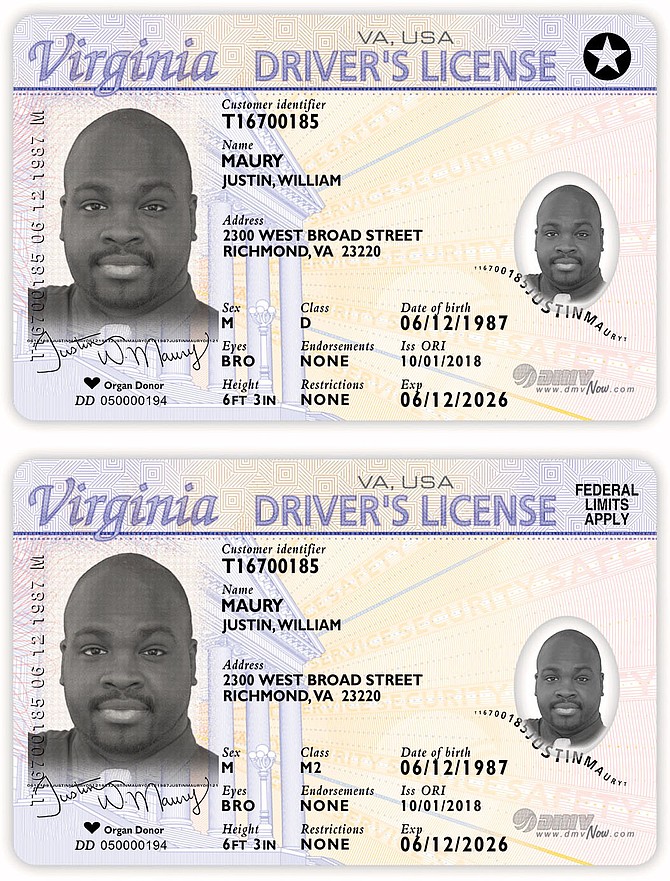 Complaints came to Supervisor Pat Herrity (R-Springfield) about four-hour wait times at the local Division of Motor Vehicles, so he brought it up to the Board of Supervisors, and now the wheels are turning for some sort of relief.
A new identification mandate is sweeping the nation in the form of new standards for identification called "REAL ID" and everyone in Virginia has one year to get the new ID from the DMV. The requirement has caused a backup at individual branches. Herrity said the wait is "not acceptable," and as time goes on, it's "going to get worse before it gets better." When he brought it up at the meeting, other "supervisors echoed the need."
"The Board unanimously approved my motion to ask the DMV to address the unreasonable wait times at its offices countywide," he said in his newsletter.
The need for a REAL ID began at the federal level. The REAL ID Act was enacted in 2005 in a response to the 9/11 terrorism strikes, and the need to get a more accurate handle on the identification process in the country. According to Herrity, Fort Belvoir is already turning to the REAL ID when admitting people to the base.
Anyone having to go to the DMV for a variety of reasons expects to wait, but this new ID requirement is hitting everyone, resulting in an "incredible increase in volume," Herrity said. There are a couple of stopgap solutions Herrity is eyeing, including an increase in the "DMV 2 Go," program which is a mobile unit where the IDs can be made, or hiring a contractor to provide more help at the local offices.
"My office is coordinating with DMV to have its full service DMV2GO Bus for a day at the West Springfield Government Center as an alternate location for DMV processing needs," he wrote in his latest newsletter. These solutions are going to cost a certain amount of money, and Herrity realizes this but feels it's the state's obligation. "The state has a responsibility to provide services to the citizens," he said.
DMV Says Not So Fast
But according to the DMV, it is not only the REAL ID applicants causing the crowds at offices in Northern Virginia. DMV spokesman Brandy Brubaker said the growth in Northern Virginia adds to it. "DMV is working hard to keep pace with the growing population, but it has been a challenge because of the sheer volume," Brubaker said.
To prepare for REAL ID specifically and address facility constraints in the Northern Virginia region, DMV has renovated many of the customer service centers, reconfiguring front counter stations to be more efficient. Upgrades included putting cameras at every window, scanners for REAL ID documents, and printers in between each window. The renovations resulted in an increased number of service windows.

Renovations have been completed at the Arlington, Fairfax, Westfields, Franconia, Fredericksburg, Tysons Corner, and Woodbridge CSCs.
The Alexandria CSC will be renovated before the end of 2019.
According to Brubaker, the staffing has been increased in response to the coming ID requirement.
The agency was granted authorization by the General Assembly to recruit and fill 42 full-time employees in June 2018, and approved to fill an additional 71 existing positions in December 2018 to support REAL ID. Recognizing the tremendous volume of transactions in Northern Virginia, 61 of those positions were dedicated to the Northern Virginia customer service centers.
Mobile Offices Expand
According to officials, DMV's mobile offices are expanding to serve even more customers in all corners of the Commonwealth. Visit a DMV 2 Go or DMV Connect for:
• Driver's licenses and ID cards
• Titles and registrations
• License plates
• Driver transcripts
• Disabled parking placards or plates
• Address changes
• Testing
• Virginia vital records including birth, death, marriage and divorce certificates
• E-ZPass transponders
• Hunting and fishing licenses
DMV Connect can process title transactions, but cannot print titles. Titles processed by DMV Connect will be mailed to customers.
DMV 2 Go Schedule
In Fairfax County, the mobile DMV 2 Go will be at:
SELECT @ Springfield – Oct. 15, 9 a.m. to 4 p.m., 6506 Loisdale Road, Suite 105, Springfield, VA 22150-1800
Tysons-Pimmit Library - Oct. 16, 9 a.m. to 4 p.m.
Fairfax Government Center (Hollin Hall Senior Center ) - Oct. 28-29, 9 a.m. to 4 p.m.
Reston Town Center - Oct. 29, 9 a.m. to 4 p.m. DMV 2 Go will be parked on the side street near Ice Rink
Sherwood Regional Library - Oct. 30, 9 a.m. to 4 p.m. Located inside of the Library in Conference Room