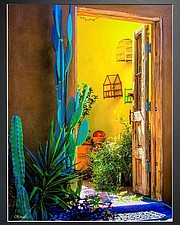 Arches Gallery at the Workhouse Arts Center has announced September's People's Choice Awards: First Place winner was a tie between Leo St. Lois' mixed media piece "I See Blue" and Keith Parks' photograph 'Home and Hearth'.
Keith Parks was born in Los Angeles, and grew up, got his schooling and spent a career as a graphic designer in Southern California. He has said that roughly 10 years ago, with his midlife artistic crisis in full bloom, he felt the time was right to take a stab at some purely personal artwork. After his retirement a few years ago and recent relocation to the D.C. area, he's now looking for his "big break" in the art world. You can see more of his work at keithparks.gallery.
Leo St. Lois' "I See Blue" was inspired by the colors of the homes in the Tucson Barrios an area he would pass several times a week. This particular doorway had a lot of colors in the early afternoon and this was the final take on what he envisioned. Leo is a photographer and digital artist, and his work can be found on Facebook at Leo St. Louis or Twitter at @photo1studio.
Three pieces tied for Second Place: Kathleen Best Gillmann's works "From the Mountains to the Valleys" (oil) and "Stopping on the Journey" (acrylic), and Keith Parks "Lithium" (photograph).
The next Opening Reception and Artist's Choice awards, where the public can meet the Arches Gallery artists, will occur Saturday, Oct. 12, from 6-9 p.m.
Arches Gallery is located at the Workhouse Arts Center, 9518 Workhouse Rd., Lorton. Gallery hours: Wednesdays – Saturdays 11 a.m.-6 p.m., Sundays, 12 noon- 5 p.m.