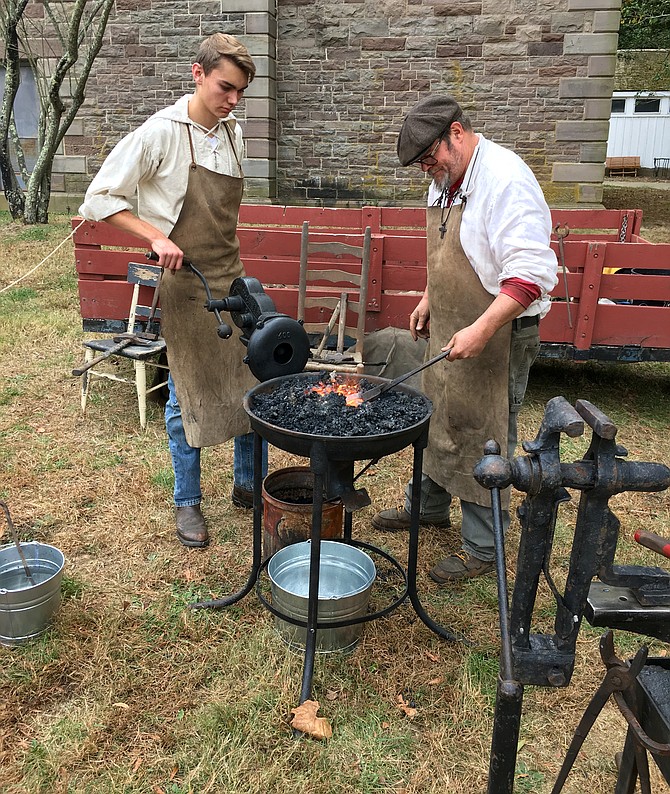 C&O National Historical Park celebrated the beginning of Earth Science Week with "Autumn Rocks!" Sunday.
The program offered Park visitors the opportunity to explore the "geology and geography of the canal" as a kickoff program for Earth Science Week.
"This is our first Autumn Rocks program," Park Ranger Geoff Sutter, said. "We are mainly a history park but [much] of that is related to geology including the buildings and many of the locks."
Sutter pointed out that most of the locks along the canal in this area are made from stone quarried near Riley's Lock and ferried down the canal.
Most of the activities set up for visitors were self-activated. They included a soil science table where visitors could take ingredients, sand, clay, compost and rocks and make their own soil, then test it for different characteristics, and a Rock Identification Station with tests to help neophytes identify different types of rocks.
Blacksmith Eric Johnson and apprentice Josiah Bloom demonstrated the art of blacksmithing. They were making an axe head for a hatchet.
They also told about coal, which they were using for their fire, and how it is formed over hundreds of years.
There were two types of coal on display at the exhibit, Johnson explained. Soft coal (bituminous) which turns into coke when it burns, and anthracite, the hardest coal, most desirable for hot fire.
This is charcoal, he said, holding up another black "rock," but is was not a rock at all, it was "coal" formed by slowly cooking wood at a low temperature and low oxygen environment.
Another highlight of the day was a guided hike to an abandoned gold mine in the park led by Jessica Lindsay, a geoscientist in the park.
The mine, she said, hasn't been in operation for about 70 years.
"There were about 30 gold mines in Montgomery County, some more successful than others," she said. "Most of the successful ones were in the Great Falls area."
Earth Science Week was Oct. 13-19 celebrating the theme "Geoscience is for Everyone," according to the National Park Service.
"I love how much interest we got," Lindsay said. "It's interesting to see how many people are interested."