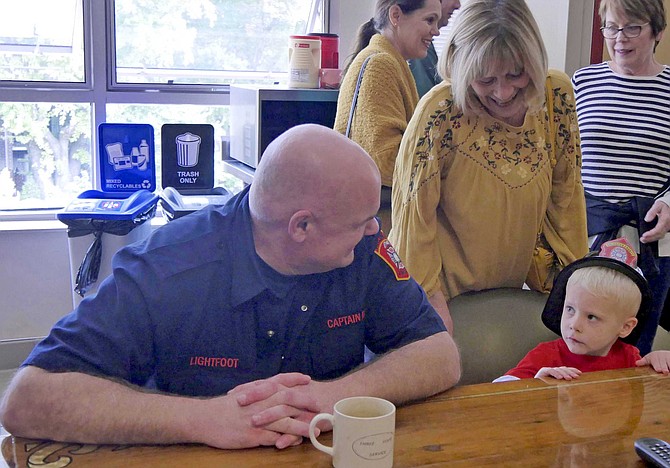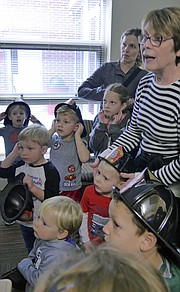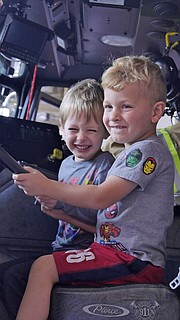 Tiny feet scramble, pulling grandparents by the hand up the stairs at Fire Station #8 on Lee Highway Saturday, Oct. 12. It is Fire Prevention Week Open House in Arlington, with Arlington stations open from Fire Station #1 at Glebe Road to Fire Station #10 at Rosslyn.
A tour of Fire Station #8 begins with a peek inside the small bedroom space of a firefighter. Hands quickly clamp over children's ears as a test alarm is set off to illustrate what would happen if a real fire bell went off. The firefighter would be up and dressed and ready to go in a matter of minutes.
Three-year-old Ryan Pavelich takes a break by sitting at the large kitchen table beside Captain Lightfoot. A father urges his son to ask questions about the fire truck or the daily routine. "Who is the best cook?" Outside the kitchen window is a patio with a grill. "We use the grill more than the stove."
The tour group walks into the meeting room where firefighters catch up on techniques and new information, and then checks out the gym equipment nearby. And on to the lounge with the nine oversized padded chairs and TV with wall speakers. "Mostly, people don't come in here until after 8:30 p.m., after the last watch, when the kitchen cleanup is finished. Rookies are not allowed in here."
The firehouse is open for exploration, so children head for a pretend drive in the seat of a fire truck. "What are all these buttons? Where is the key?" A 750-gallon engine sits next to a rescue engine with specialty halligan bars for getting into a house. "What's in this metal box on the front of the engine?" Chains for towing disabled vehicles. Specialty devices are tucked into spaces in every spare corner of the engines.
A table offers pink or black plastic firefighter helmets, junior firefighter tattoos, safety tip coloring books, and tiny brightly frosted cupcakes. Leaflets offer tips on smoke alarms and home escape plans.

The theme for this year's open house is "Not Every Hero Wears A Cape. Plan and Practice Your Escape."