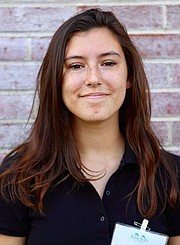 Vienna resident and sophomore Jess Whitt, whose stellar all-around play sparked Foxcroft School's Varsity Volleyball to a school record-tying eighth victory of the season, has been named Athlete of the Week for the period of Oct. 5-11.
Whitt, a product of Loudoun County's youth volleyball program, had seven digs, two kills, and two assists in a 3-0 loss to Chelsea Academy on Oct. 8, then posted five service aces and five kills in a 3-1 triumph over Randolph-Macon Academy on Oct. 10.
The victory over Randolph-Macon tied the record for most wins in a season since Foxcroft joined the Delaney Athletic Conference in 2008. The teams from 2013, 2014, 2016, and 2017 all won eight matches.
"Jess is a well-rounded player, who serves well and hits well but most importantly she digs well and controls the back row," Coach Esther Sanchez said. "She always keeps a very upbeat and positive attitude and has grown a lot as an athlete."
Whitt leads the Foxcroft team in digs, is second in service aces, and third in kills.