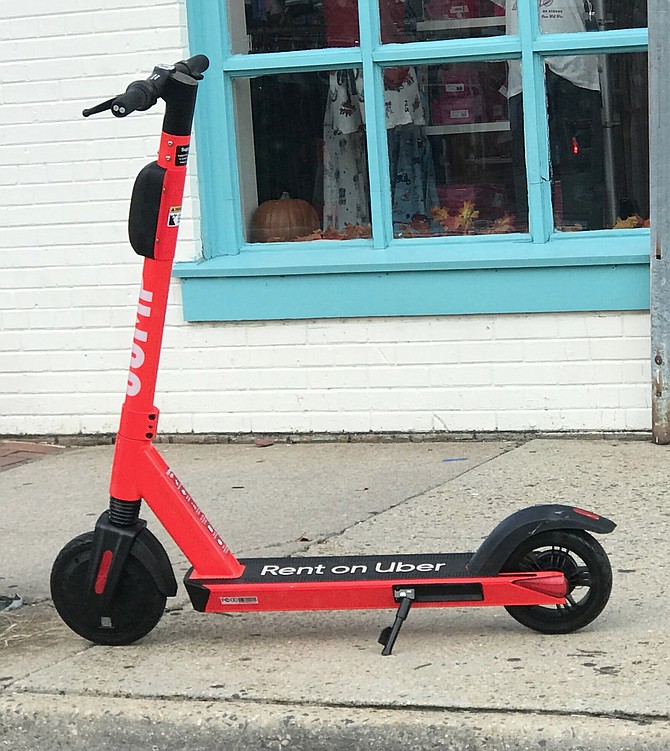 Close to a half-million trips were taken on rental e-scooters in Arlington during the first 10 months of the pilot. Trips during the summer of 2019 averaged about 80,000 a month.
The Arlington County Board will hold a public hearing and consider regulations for e-scooters and other shared mobility devices at its November 2019 Board Meeting, after receiving the evaluation of staff's yearlong demonstration project launched in October 2018.
"Our community has a wide variety of opinions about e-scooters and e-bikes," Arlington County Board Chair Christian Dorsey said. "But the demonstration project clearly showed these devices are serving a need and add another safer, more sustainable travel option than driving a car. We look forward to hearing from the public in November on the Manager's proposals for regulating these devices in Arlington."
A public hearing at the Nov. 16, 2019 County Board Meeting will allow comment on proposed regulations of shared mobility devices. The proposed revisions include allowing the devices to be used on County streets, sidewalks and multi-use trails and putting in place a permit fee structure for private companies offering the devices. During the pilot program, the devices have been prohibited on County sidewalks.
Virginia State Code allows unrestricted operation of motorized skateboards and scooters on sidewalks and trails unless more restrictive local ordinances are adopted by Jan. 1, 2020.
Pilot Project Key Findings
Nearly a half-million rides were taken on rental e-scooters in Arlington during the first 10 months of the pilot. The pilot project evaluation found the devices are well-used and popular among riders and offer potential community benefits, but also found that there are challenges related to perception of safety of riders and pedestrians, parking impacts on sidewalks, disparity in deployment across the community, and the need for better riding infrastructure on streets.
"Scooters appear to improve accessibility, particularly to public transit," staff found. "About 10 percent of respondents reported using transit more frequently than before, suggesting that the devices help bridge the last-mile gap."
Thirty-one percent of e-scooter users reported using their personal vehicles less frequently and 38 percent reported using ride-hailing services less frequently. About a third of all trips were reported directly replacing potential automobile trips.
Acknowledging many complaints of improperly parked devices, staff noted that "improperly parked e-scooters have the potential to create a tripping hazard for people walking, particularly people with visual or mobility impairments." While parking complaints declined in frequency during the pilot, staff has recommended amending County Code to address the need for clear and enforceable guidance on how to park shared mobility devices in a way that minimizes conflicts with other roadway and sidewalk users.
Sidewalk use, speed limits
Noting that 62 percent of e-scooter riders report always or often using bike lanes, and 24 percent reported using shared lanes with cars, staff proposed allowing scooters upon any sidewalk except along streets where protected bicycle lanes are available in the direction of travel.
The ordinance would set a maximum speed of 15 mph for on-street e-scooter rides and 20 mph for power-assisted bicycles, with a maximum sidewalk speed of six mph for all devices.
A permit process should be established, staff proposed, to hold operators to performance standards, including equity expectations "to ensure that access to these services is made as broad as possible." The proposed permit process expects that at least 15 percent of permit-holders' devices in service be deployed each morning in locations outside the Rosslyn-Ballston and Route 1 development corridors. Vendors who provide accessible vehicles such as handcycles or tricycles would not have those devices counted against fleet size or any Countywide cap. Permit holders would be required to provide discounted access programs to encourage use by lower-income community members, and provide a 24-hour customer service phone line with Spanish language ability.
Public Engagement
Throughout the pilot project, staff sought public feedback on the devices through a multi-pronged outreach program that included thousands of responses to an online feedback form; in-person discussions at many community events and a dedicated email comment line. A working group that included representatives of Arlington Public Schools, the Arlington County Police Department and the County departments of Parks & Recreation and Environmental Services developed recommendations for updating County Code to regulate the devices. Presentations on the pilot project were made to numerous County advisory commissions and committees.
To read the Board report, visit the County website. Scroll to Item No. 42 on the agenda for the Saturday, Oct. 16, 2019 Regular County Board Meeting. You can also find information on speaking at a public hearing before the County Board on the County website.