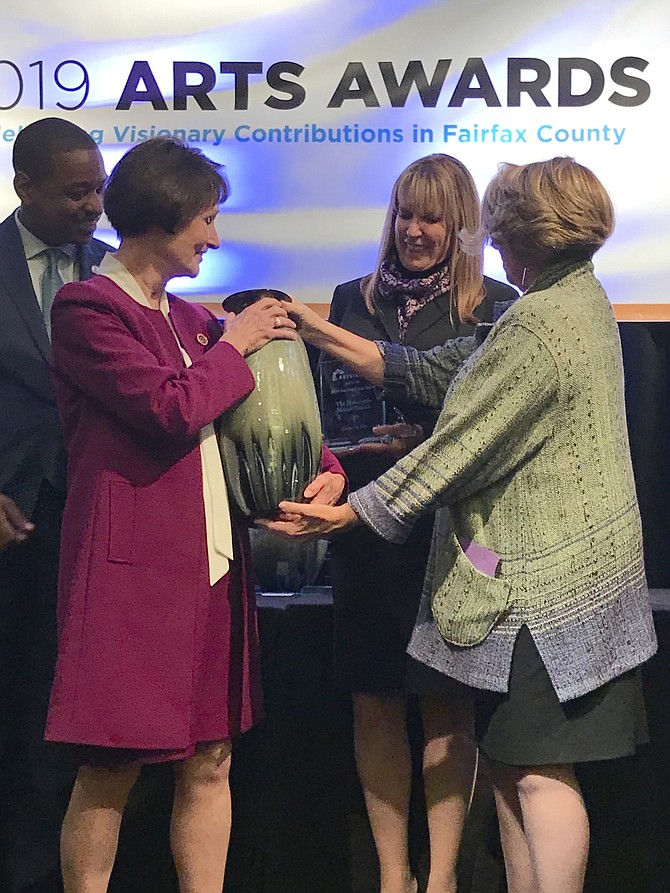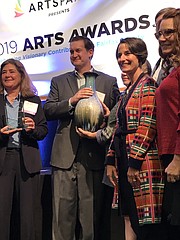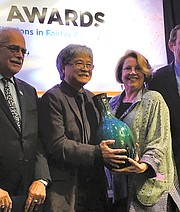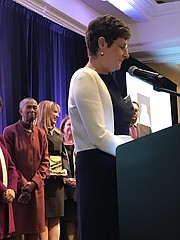 At ARTSFairfax 2019 Arts Awards on Oct. 18, the nonprofit organization presented a total of five awards in four categories to six honorees: Emerging Arts Award – NextStop Theater Company; Arts Achievement Award – Foon Sham; Arts Philanthropy Award – Stephen Roberts; Jinx Hazel Award – The Honorable Sharon Bulova; and Jinx Hazel Award – Shashi and Margaret Gupta. Held at the Fairview Park Marriott Hotel, the event brought together 350 arts supporters, many dignitaries, civic leaders and philanthropic contributors to celebrate the exemplary honorees for their exceptional arts contributions and impact on the community and beyond.
Tim Sargeant, Vice-Chair of the ARTSFairfax Board, served as Master of Ceremonies. He kicked off the awards luncheon by welcoming to the stage Shelly Hazel, ARTSFairfax Board Chair. She described the impact arts made on her young life when music and art teachers gave her "courage and confidence" and when life seemed to be continually changing due to frequent moves. "That's why I dedicated my life to helping others discover the beauty and strength music and fine arts can teach every one of us." She added that not only did the program celebrate arts creators and philanthropists but also celebrated everyone in the audience, "our arts champions."
President and CEO of ARTSFairfax, Linda Sullivan recognized elected officials and thanked event sponsors, Reston Community Center and Wolf Trap for the Performing Arts along with all other sponsors. She introduced Justin Fairfax, Lieutenant Governor of Virginia. Fairfax said the arts were a catalyst for the Northern Virginia community and economic development. "The arts are not only about our quality of life but our economy. The arts in Northern Virginia alone add about 7,000 jobs to our region, [millions of dollars] in arts-related spending annually, and five million people participate in the arts every single year," he said. Fairfax gave a "special round of thanks and recognition" to the outgoing chairman of Fairfax County Board of Supervisors, Chairman Sharon Bulova, "a champion for the arts, for our community who made Fairfax, I believe, the best place to live in the United States of America due to her diligence [and] her caring."
Virginia Del. Kathleen Murphy (D-34) presented a Proclamation from the Virginia House of Delegates to Margi Vanderhye of McLean, a former delegate from the 34th District of Virginia and former Executive Director, Virginia Commission for the Arts. "We all know arts heal our soul. Margi has served this community…and she has been accused of being a relentless warrior for the arts, and we all know that is very true. The arts thrive in Virginia because of her support," Murphy said.
Vanderhye said it was a remarkable thing to be acknowledged by people she respected and admired for doing something she deeply and passionately loved and cared about, and had the honor and privilege of doing it as a Gov. McAuliffe appointee.
2019 ARTS AWARDS PRESENTATIONS
Each Honoree received a certificate, crystal award and a hand-thrown ceramic vessel commissioned and created by artist Bikki Stricker of Falls Church.
Steven Roberts received the Arts Philanthropy award in recognition of his significant investment and creation of the first donor fund at the Northern Virginia Community Foundation dedicated to the arts. As a component of the Foundation's Permanent Fund.
"It was a great surprise to be selected for this, but on the other hand, it's not every day a new fund for the arts gets established in Northern Virginia… I can now announce, in two weeks, we will be proceeding with the second donor cycle…and we will be sending out invitations for proposals from arts organizations and artists. …The Ross-Roberts Fund is part of the permanent fund of the Community Foundation for Northern Virginia."
Honoree Foon received the Arts Achievement Award for his sculptures, primarily of wood.

Emerging Arts Award was presented to NextStop Theatre in Herndon and Producing Artistic Director of NextStop Theatre Evan Hoffman, and Vicki Kyle, President of the Board of Directors, accepted the award on behalf of the organization.
The video presentation described NextStop Theatre as one of the fastest-growing professional theatre companies in the metro region transitioning in 2013 from its early beginnings as an all-volunteer organization. NextStop Theatre employs more than 100 professional artists annually and serves 15,000 audience members.
Hoffman said that when he initiated his career, he thought he would have to leave Fairfax County. "So much of building this organization is changing this concept for the next generation of artists, so they don't have to think that making their life, their career and following their dreams of working in the arts is something they have to give up, to be part of this community."
This year, ARTSFairfax presented two Jinx Hazel Arts Awards.
"Our first awardee is Margaret and Shashi Gupta in recognition of the significant and impactful support they have provided for Early Childhood education in the arts," he said. The Gupta co-founded Apex CoVantage, an international technology company based in the Town of Herndon. The Guptas' donated $1 million in support of Wolf Trap Institute for Early Learning Through the Arts, a program of Wolf Trap Foundation for the Performing Arts. It marked the largest individual gift in the 35-year history of the Wolf Trap Institute.
Upon receiving the award, a long-time supporter of education and the arts, Honoree Margaret Gupta said, "Being recognized for our support of Wolf Trap's Arts Infused Education Program means the world to us...Arts is one of the most effective ways to reach children and this program is remarkable. ... It means so much to us; our gift is going to enrich the lives of disadvantaged children."
ARTSFairfax also honored Chairman Sharon Bulova "in recognition of the tremendous work she had done to make Fairfax a great place to live, work and play. She supports the arts broadly and significantly."
Bulova said the county is known for being a community of A-types. "We like to tackle challenges. ... The arts and culture in Fairfax County are what we work hard for. Entertainment, beauty, creativity. Things that make us laugh. Things that make us pause … things that touch our heart."
HONOREE REACTIONS
Jinx Hazel Award – Honorees Margaret and Shashi Gupta: "We are delighted and honored to be receiving the prestigious Jinx Hazel award. Being recognized for our support of Wolf Trap's arts-infused Early Learning program means the world to us, and we hope it inspires others."

Jinx Hazel Award – Sharon Bulova: "It really is an honor to receive the Jinx Hazel Award. Fairfax County has a vibrant arts community that has enriched the lives of every resident, including my own. It's what makes Fairfax County feel like home. I am thankful to have played a role in developing Fairfax County's arts community, and I look forward to enjoying it for years to come."
Arts Philanthropy Award – Honoree Steve Roberts: "This award is a great honor for me and encourages me to continue in my unfamiliar role as a philanthropist. It is a wonderful way to celebrate the launch of a new arts fund for our community. With the help of other donors, the Ross-Roberts Fund for the Arts at the Community Foundation for Northern Virginia can become a significant new resource for arts groups and artists in Fairfax County and all of Northern Virginia."
Emerging Arts Award-Honoree Evan Hoffmann, Producing Artistic Director of NextStop Theatre Company: "NextStop is so honored to be receiving this prestigious award from ARTSFairfax. It is hard to explain all of the time and energy that countless artists have put into making NextStop the company that it is today. To have that effort recognized and celebrated by our community is a testament to the strength and potential of the creative will in Herndon and all of Fairfax County."
Arts Achievement Award-Honoree Foon Sham: "In any given community, most of us are working on practical needs, in jobs that are intense and hectic but necessary for survival. A balance is needed to satisfy our minds and souls, such as images and objects that are pleasing, visually inspiring or relaxing. Art is another form of communication; it is just as vital as books, songs, and newspapers, etc. Artists need to convey with their messages or share what they see is beautiful, and what they think is important.
"Give [the viewer] a unique experience they never had before. Give them hope and peace. Give them joy and excitements. Give them something to share with others, ideas, visions and tastes. Give them an opportunity to think."
GUEST REACTIONS
Justin Fairfax, Lieutenant Governor of Virginia: "Thank you all for your tremendous leadership. Let's continue to invest in the arts, in our families and in our communities …and make sure we lead the way in the Commonwealth of Virginia and the United States of America."
Chairman of the Fairfax County Board of Supervisors-Sharon Bulova (D): "Our diversity creates a rich fabric of arts activity that we might not otherwise enjoy. Our communities are filling out with more civic activities and amenities due in large part to the arts."
U.S. Rep. Gerald E. Connolly (D-11): "I hope [the arts] is something we integrate better into our communities. There was a time we were so busy building things, expanding that the arts were something nice to do when we got around to it or could afford it. But successful communities and successful cultures integrate the arts into their lives. And certainly, we want a robust arts community in Fairfax County. We want public art. I want to see sculpture. …As you know, the President zeroed out all funding for the arts in the budget and done that three years in a row. Congress to its credit has ignored that and fully funded the arts."
Melody Fetske, Board Member NextStop Theatre Company: "Evan has been a force of nature."
Lisa Miriam, Director of Grants and Services ARTSFairfax: "I love this event bringing together people passionate about the arts. I walk out of here feeling inspired."
Kathy L. Smith, Fairfax County Supervisor (D-Sully District): "The arts are such an important part of our community, and it is great to see so many people here supporting the arts."
Lisa Merkel, Mayor Town of Herndon: "I'm so proud to be here with so many arts supporters (and)…proud of NextStop Theatre… I encourage everyone to see their current show, 'Pride and Prejudice,' running through Oct. 27, followed by the family event of the year, 'Matilda,' Nov.14-Dec. 22."
Arvind Manocha, President and CEO Wolf Trap Foundation for the Performing Arts: "Margaret and Shashi Gupta show leadership through their philanthropy because they believe deeply in community causes."
Robert Goudie, newly appointed Virginia Commissioner for the Arts and Board Chair Greater Reston Arts Center:
"No one (Margaret and Shashi Gupta) has a deeper commitment to the arts locally, regionally and throughout the Commonwealth."