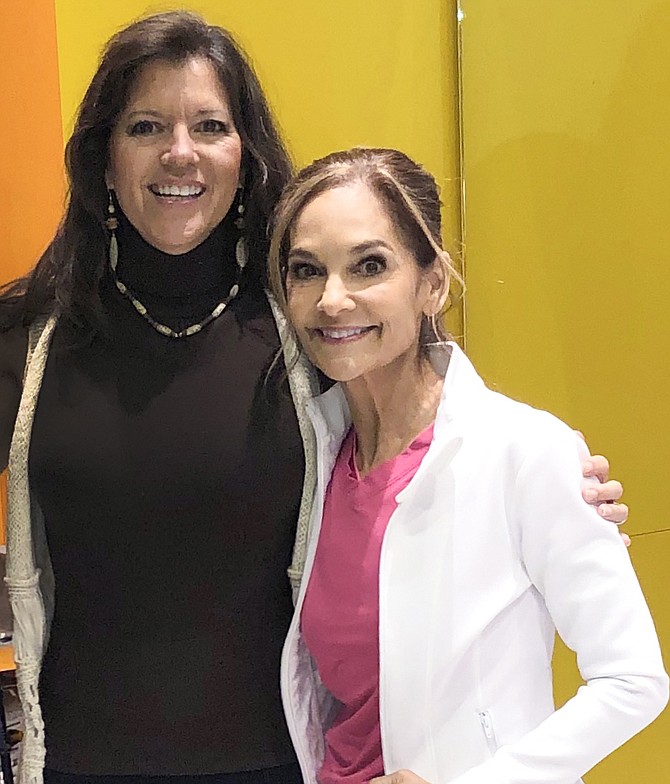 Local photographer Bonnie Stephens of Centreville has recently published a new book of edible, kid-friendly yoga creations, YUMMY YOGA. The book is in collaboration with best-selling author Joy Bauer, NBC TV's Today Show nutrition expert, and is a Best-Seller on the Amazon Children's Fitness books list.
YUMMY YOGA is a colorful collection of fold-out pages, with whimsical food "yogis" made out of edible items, primarily fruits and vegetables. Children of all ages are encouraged to try to copy the poses, and tackle the kid-friendly recipes that accompany each pose. One of the most popular recipes is HOLY BROCCOMOLE, a guacamole recipe that incorporates avocado, lime, tomatoes and secret healthy ingredient, broccoli. The accompanying pose for the broccomole is the "triangle," a sideways twisting yoga pose, also on the book cover.
Other recipes in the book have delightful names such as Power Pops, One-In-A-Melon Fruit Kebabs, and Swell Shells and Super Spears. Kid-friendly recipes also encourage kids to try items they might not normally eat, such as eggplant, artichoke and leeks. Stephens and Bauer experimented with fruits and vegetables to find the right combination of foods that can also double as stand-alone yoga sculptures, for the most visual appeal.
"Working with food under studio conditions can be challenging," says Stephens. "Food can dry out, oxidize and turn brown, or even just juice its way right out of the pose!" She adds, "It's been a grand experiment with dental floss, straight pins, skewers, tape and the occasional superglue. But it has been a lot of fun."
Joy Bauer is known for promoting heart-healthy diets, having published more than a dozen cookbooks. YUMMY YOGA is her first children's book and also the first one which incorporates her love of fitness for all ages. As a former collegiate gymnast, Bauer was excited to be able to combine both loves into one new book. "The key to getting kids to appreciate the benefits of healthy eating is to make it fun, and this is what we've done here. Getting them involved in the creation of kid-friendly recipes encourages them to eat better and learn new habits."
YUMMY YOGA is published by Abrams Books, and is available at most major book retailers, and online at yummyyoga.com.