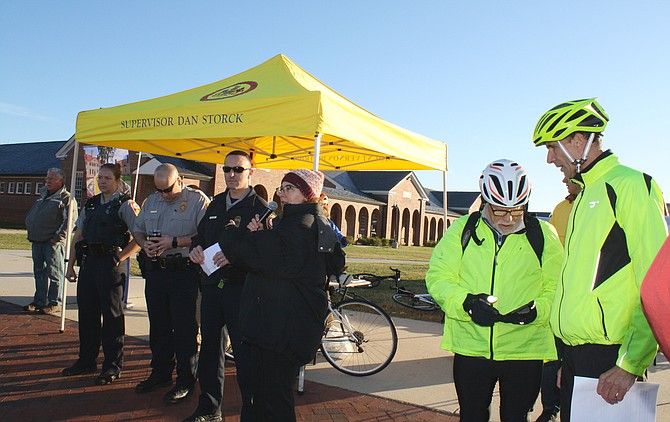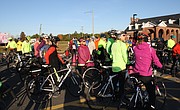 On a brisk October morning, area bicyclists set out with Mount Vernon Supervisor Dan Storck for the 4th Annual Tour de Mount Vernon to explore the southern portion of Mount Vernon, Lorton, and Pohick.
More than 160 riders gathered at the Workhouse Arts Center in Lorton to start the ride, which had two versions, the full 32-mile route or the abbreviate 17-mile route. Both included riding in portions of Fort Belvoir, the Occoquan Regional Park, Gunston Hall and Pohick Bay Regional Park before getting back to the Workhouse for a gathering, which included food from La Prima.
Officer Brian Ruck, the police commander at the Mount Vernon District Station, and Commander Greg Fried from the Franconia Station were on hand at the Workhouse to see the riders off.
"All riders will have to obey the rules of the road," said Ruck, as he explained that the police will not be blocking intersections like some of the previous rides.
Springfield resident Brittany Merino opted for the longer ride. She is a teacher at West Potomac High School in Mount Vernon and heard about the ride from other teachers, but she wanted to challenge herself. "My goal is to finish," she said.
The riders were divided into groups and sent off a few minutes apart. The cyclists rode through Lorton, over I-95, down Gunston Road to Pohick Bay Park, back via Old Colchester Road, through Fort Belvoir woods to Alban Road, and back to the Workhouse Arts Center. Then those who continued on for the longer ride, rode up Richmond Highway, onto the base at Fort Belvoir, Telegraph Road to Alban Road, picking up the Gerry Connolly Cross County Trail past the Workhouse to Occoquan, and back to the Workhouse. Both routes passed historic and recreational sites of Mount Vernon, which Storck was ready to highlight.
"We have a lot of amazing assets in Mount Vernon," he said.
The staff at Storck's office in Mount Vernon started putting together the route last July, conferring with the Fairfax Alliance for Better Bicycling (FABB), FCDOT and the Virginia Department of Transportation (VDOT) before finalizing it. Then Supervisor Storck rode each route beforehand to make sure it was fit for the event.
Staff from "Spokes, Etc." bike store rode along to assist with flat tires and minor repairs, and SAG Rider Support was there in case any riders that couldn't make it. BikeFairfax, the Fairfax County Department of Transportation and the Fairfax County Department of Economic Initiatives supported the event as well.