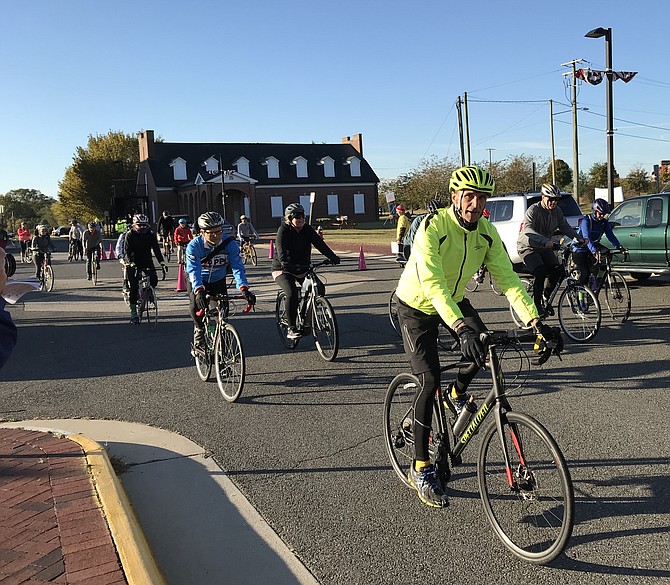 Support and engage in your community! Enjoy exercise and fresh air! See the hidden jewels of the Mount Vernon District!
These sentiments all embody the spirit of my late best forever friend, Dave Evans – a jewel in our community and for whom this year's ride is dedicated. Dave was truly the inspiration behind this ride, pushing me to make it happen and supporting it by donating lunch from his company La Prima for all riders, even serving the chili himself after the 40-mile ride.
Five years later, the ride has grown to over 250 participants and added the bonus of being able to ride on Fort Belvoir. Participants return annually to partake in the camaraderie of the day and the heritage sites that we enjoy throughout the District.
Unique to this COVID-times, we are seeing an increase in bicycle riders on our trails and streets, bike shops report record sales (reportedly up 66% over last year) and long waits for repairs.
The ride starts at the Workhouse Arts Center where there is plenty of room for social distancing and will begin with a rolling start to avoid crowding. At a time when we are all looking for safe ways to get out and enjoy time with our friends and neighbors, this is a perfect year to join the Tour de Mount Vernon Community Bike Ride on Oct. 3, 2020. In addition, masks are required at the Workhouse.
With 40-mile and 25-mile options, this ride is very accessible for most and an excellent opportunity to see the many outdoor highlights of the southern portion of the District. After leaving the Workhouse, we will visit Mason Neck State Park, Pohick Bay Regional Park and Fort Belvoir, before returning to the Workhouse on the Gerry Connolly Cross County Trail. Along the way, we will see additional sites such as Gunston Hall, historic Pohick Church and the National Museum of the US Army. After the ride, enjoy Dave's famous sweet potato chili and then visit the artists at the Workhouse or stop by the Lucy Burns Museum to learn more about the 100th anniversary of the Suffragist Movement right here in Fairfax County.
Not ready to ride this year? We can always use more volunteers to lend their smiling faces to registration, as route monitors and event support!
For more information, including ride information, COVID-19 safety precautions, and to register to ride or volunteer, visit our webpage at https://www.fairfaxcounty.gov/mountvernon/tour-de-mount-vernon-2020.