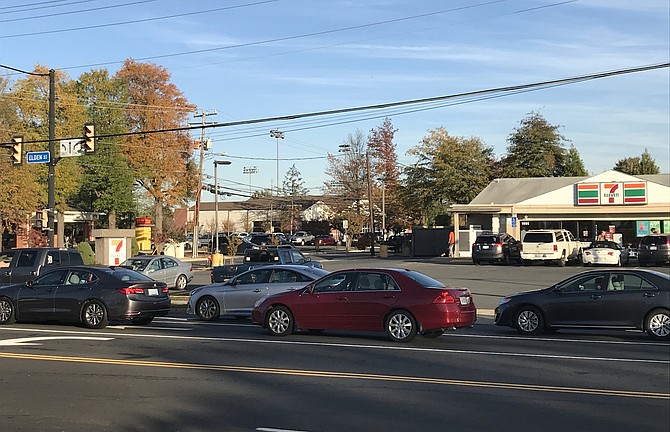 Since the start of 2019-2020, Herndon Town Council began a conversation on the limited number of affordable housing units offered in the town, located in one of the wealthiest counties in the United States. According to "Town of Herndon – an Affordable Housing Conversation: "In Fairfax County, we generally use 'affordable' and 'workforce' housing interchangeably, with 'workforce' meaning up to 120 percent of the Area Median Income (AMI). In reality, most low and moderate income families can't afford to pay even a third of their incomes."
But the Town of Herndon did not plan to offer designated workforce or affordable housing units as part of the new Comstock's Downtown Herndon Center, Stanley Martin's Metro Square, Penzance's 555 Herndon Parkway at the transit-oriented core, Crestview Drive Subdivision, Residences at Station, Fairbrook Special Exception Quadrangle Development, nor Metro Square Subdivision, and more.
Councilmembers Cesar del Aguila and Pradip Dhakal stated in an interview early summer 2019 they would take up the affordable housing cause.
The Town of Herndon is developing rapidly on multiple building fronts, with the pending arrival of the Metrorail Silverline Phase 2, estimated according to John Boylan, CEO and President of the Dulles Regional Chamber of Commerce and moderator for Metro Monday, to open Fall of 2020. The anticipated start date for the Herndon Downtown Redevelopment Project is sometime early in 2020 according to the town spokesperson. In addition, the town adopted the South Elden Street Plan, a land-use corridor plan which, according to the town website, "…allows for increased flexibility in densities, land uses and building dimensional standards."

During the Sept. 17 Town Council Special Work Session held in the Herndon Council Chambers, council listened to their first affordable housing presentation, an overview titled, "Herndon Housing, Department of Community Development September 17, 2019." The introduction provided a foundation of broad-based facts keyed on four areas pertinent to the town: current housing inventory, future growth, efforts supporting affordable housing, possible paths going forward, and more.
HERNDON HOUSING highlighted four areas:
Current inventory as of January 2018, with a total of 7,934 dwelling units: 3,049 detached, 2,385 attached and 2,501 multifamily and nearly 80 percent of all inventory built between 1970-1999. The quoted average 2018 sales prices ranged from condominiums at $234,044; attached units at $411,430 and detached units at $554,750. Meanwhile, rental inventory at the town's ten commercial properties totaled 1,750 units, part of the total 7,934 dwelling units.


Future growth locations in the town of the South Elden Area Plan primarily multifamily, with potential for over 800 units and protection for existing workforce housing; Downtown Redevelopment Project with potential for 700 units including Comstock; Herndon Transit-Oriented Core (HTOC) with potential for over 3,500 units including Penzance, and Fairbrook with proposed 900 units, totaling nearly 6,000 new housing units.

Efforts supporting affordability with the newly formed town staff position of Housing and Neighborhood Improvement Coordinator funded through Fairfax County. The single person staff member assisted lower-income owners to remain in their homes and provided maintenance and reinvestment in the town's more affordable neighborhoods, however, not noted in the presentation, the position did not include cash funding sources for the repairs according to the coordinator, Cory Laws.
In addition, the town's Comprehensive Plan encouraged policies that maintained and supported a balanced and diverse housing stock while the South Elden Area Plan discouraged the redevelopment of lower-cost multifamily. The presentation noted the Park Avenue Square Apartments, subject for rezoning and lower-cost housing near Metrorail, the Chandon neighborhood, "at-risk."
Two additional efforts mentioned were Herndon Harbor House by Fairfax County Redevelopment and Housing Authority with 120 units for those 62 years and older, filling "a serious void." Separate from Herndon Harbor House, the presentation noted the availability of 112 Housing Choice vouchers whose participants paid approximately 30-35 percent of their adjusted income toward rent.
Possible paths going forward to preserve lower and moderate-income housing and preserve older neighborhoods while protecting diversity identified and supported funding sources to enable more significant repairs and in more significant numbers to existing homes. The first was to develop resources to assist homeowners to appropriately modify their homes when modification was needed by providing a roadmap for renovations projects, additional classes (and) neighborhood identification/celebration. A second way was to "identify existing threatened resources and work with Fairfax County and others to save and expand, noting if there were properties in Herndon that could be redeveloped into dedicated affordable housing. A third possible path discussed was proffers, "units or cash toward affordable /workforce." And finally, the fifth possible path forward could be to consider Accessory Dwelling Units (ADUs), a separate living unit within a house or detached structure.
During the Second Town Council Special Work Session on Housing held Oct. 17, BrycePerry, Planner/Zoning Administrator Town of Herndon, reviewed some of the previous possible paths going forward discussed in September but expanded details and noted challenges. He mentioned the option to provide affordable and workforce housing through development proffers. Perry described a scenario where a developer would volunteer units as part of a rezoning application.
"The challenge here is really that if the town receives units as part of a proffer, we currently don't have any mechanism in place to administer and enforce the units. Of course, partnering with Fairfax County in this regard would be ideal … it is uncertain if and how this could work," he said. Perry explained proffers were only "offered not required." Besides, using a proffer for housing could limit assistance for other town needs such as transportation, utility infrastructure and such.
Moving into a different discussion, Perry focused on "unintended consequences," such as if a low-income resident received assistance and did improve their home, property taxes could increase. Also, the home's value could increase and incentive the homeowner to sell their house at a higher price point. The person buying it might not have a lower income.
ONE WAY "to protect, preserve and provide" affordable housing Perry said was to open up the town's Accessory Dwelling Unit (ADO) regulations, as currently the town only allowed ADUs by special exception for the elderly and those with disabilities. Perry mentioned the challenges to expanding ADU's such as sensitivity to neighborhood conservation; impact on parking and infrastructure, as well as lack of enforcement as there was no town staff position to oversee ADU compliance.
Perry shared staff learned the state of Virginia enabled the town to create affordable housing from a land use perspective; however, such was tied to "planned areas, incentivizing the provision of affordable or workforce dwelling units, something that would have to go into the Comprehensive Plan first … such as the one for the South Elden Area Plan.
During the comment portion of the work session, Town Councilmember Signe Friedrichs asked for clarification on planned areas. "Do we go to Richmond or the county…or do we write regulations ourselves," she asked. David Stromberg, the Zoning Administrator of the Town of Herndon, replied, "The state has two different provisions for affordable housing and workforce housing, a provision you can put in your local ordinances. The one that Fairfax is under is different than what the majority of the state is under, and we (the town) would fall into that second category. We could do it through an incentive basis, so it would have to be through a rezoning process and in part of that, you are also limited by percentages. You can only grant up to a 30 percent density bonus, but you can only require a maximum of 17 percent of those units to be affordable, the rest have to be market rate." Bill Ashton, Town Manager, clarified workforce housing fell under a different category, a one to one.
Merkel stated the town was in an unusual position given what its housing stock looked like and the impact affordable and workforce housing might place on an existing neighborhood. "We definitely want to preserve that."
Councilmember Sheila Olem brought up the area near the H-Mart in the South Elden Street Plan. "We have a lot of people in those units (Berkdale Apartments) at risk. So, are they going to all disappear, or are we going to talk about how we can take care of that," she asked. Olem noted the town would lose its service people, those working in the restaurants, grocery stores, drug stores. "These people work in these places, and I don't want to see them all gone," she said, adding she had known many for years.
Councilmember Cesar del Aguila requested if someone now seated on the council with prior council history could articulate what the strategic vision might be and its outcome, hoping he said to reach an agreement on what to do.
Merkel responded, "I think it is our job to set that strategic vision. That's why we are here."
Del Aguila responded, "We knew Metro was coming for 30 years, but surely there has been some thought into what you wanted. This isn't a new discussion. I take it that maybe you or someone who has been on the council for a while, you can say, I think this is what we should be doing."
Olem, who is serving her fourth, two-year term, said, "These discussions have been raised, however, when they were raised in the early 2000s, there was no talk of the rezoning, redevelopment of those two large parcels.
Councilmember McKenna added, "Part of that includes density changes in the FAR, we are talking one to one … when you are changing that, it increases the chances and probability of those things happening."
Friedrichs continued concern about the Berkdale Apartments having a by-right option and questioned the impact on it when everything else would be rezoned.
Stromberg said, "That's a risk, but the hope is by offering higher densities to the properties around it, that development will occur on those parcels … anyone at any time can come in and request a rezoning, but that doesn't mean that will match with the small area plan commands for that area gives justification for denying that rezoning request."
Perry offered a return to the topic of ADUs, qualifying they were something the town could 'set up ourselves."
Merkel agreed, "That is 100 percent town decision; we do not have to rely on anybody else to give us the authority."
Summing up the evening's considerations on various concerns and courses of action, Ashton concurred the town could explore ADUs more deeply. He acknowledged Courts of Chandon in the South Elden Street Plan with a homeowners association would be challenging to redevelop; however, he said that there had been 3-4 sales of single-family homes in Chandon, bought by real estate companies, not individuals.
"Those are close to the Metro and ripped to be flipped … that is something we should be thinking about in the short term; we have to get our minds wrapped around that area over there," he said. Thinking about midterm needs, Ashton warned they should be looking at the transit-related growth area across from the Herndon Transit-Oriented Core (HTOC). Long term, they were in the middle of Comprehensive Plan rewrite. "We need to make housing come to the forefront of the plan."
KERRI WILSON, Chief Executive Officer of Cornerstones, was one of the last to speak. "We have 112 vouchers. That's such a small number of people who can afford to live in this community …The issue is none of this is subsidized, guaranteed, or permanent. When we talk about the challenges, such as parking, when we do ADUs and other things, we already have that (parking challenge) because of overcrowding.
"As you think about whatever number is right for Herndon, certainly, I commend everything you are talking about. The issue of preservation is key, and so is looking at South Elden. That is where the majority of the people in one hundred percent of the apartment buildings you are talking about are the people who are struggling every day to make ends meet... It's going to be a number that says, what is it that is in our town, the right balance, the right approach. And certainly starting with a comp plan that says, this is who our town is and what we care about, preserving the character of the place that we all love … (It) is a great start. And things like working with the faith communities and nonprofit housing developers who can bring the dollars to the projects. Because we can access those federal funds, and work with other partners and tax credits to find that balance. There's your number, pick it."
A part of an occasional series.