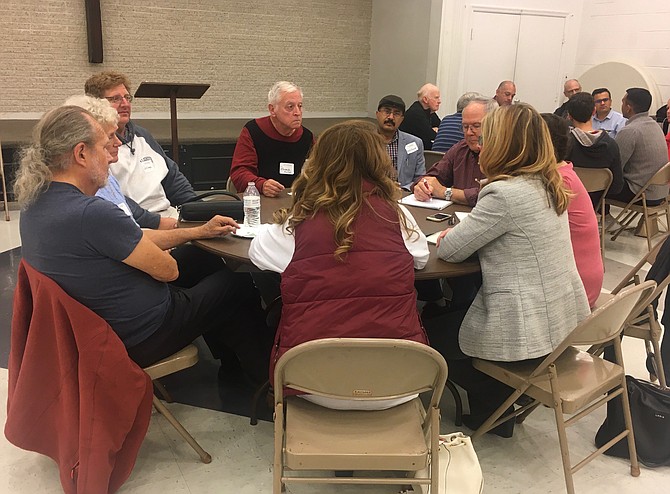 The Herndon Town Council hosted a Community Roundtable on Wednesday, Oct. 23, at Trinity Presbyterian Church in Herndon. Reported highlights included routine questions to council on the dates for existing projects, such as those to close on the property sale for the Downtown Redevelopment Project and its construction start, and to open the Herndon Metrorail Station. Lack of affordable housing and a perceived failure of the Herndon brand sparked new concerns.
At the informal venue, members of the Herndon Town Council engaged outside the traditional hearing forum of Town Council intended to obtain public testimony or comment before significant decisions are made. Instead, the venue utilized a round-robin, "what's on your mind" question and answer format.
Mayor Lisa C. Merkel, Vice Mayor Sheila Olem and Town Councilmembers, Bill McKenna, Jennifer Baker, Signe Friedrichs, Cesar del Aguila and Pradip Dhakal rotated in given groups to multiple tables where residents and business owners sat.
THE PUBLIC asked the mayor and councilmembers to comment on matters of concern to them and get answers.
In interviews after the event, Merkel and councilmembers shared what appeared to them most interested the residents and business owners, the best questions asked and their answers.
Mayor Merkel said people showed interest in the Downtown Redevelopment Project, Metrorail, connecting sidewalks and walkability. "Lots of the usual questions," she said. "It was nice to be able to point them to our pedestrian plan, which is on next week's Town Council Agenda and all of the information on our website about downtown."
McKenna said most of the questions were about the downtown development plan (yet to be executed) and the Herndon Metro Station. "People were asking when everything would be going in. The Metro questions were about ways to get to the Metro and what measures we were taking to make that happen."
Vice Mayor Sheila Olem said at one point she faced a question she could not accurately answer, how long the town had been working on the current Downtown Redevelopment Plan. Olem told those present if they provided her with their contact information; she would follow up. Olem said she did so, and received many kind remarks afterward.
"The burning question was when will the Downtown Redevelopment start," she said.
Friedrichs recounted the most interesting thing someone said to her was that they wanted people to know how much they loved Herndon Elementary School. "I loved being able to explain things I had not previously understood before coming to council," said Friedrichs. "Such as how development happens, how long the span of planning has to be for a town to experience successful planned growth, and how much people enjoy our town's comforts and community-oriented culture."
THE QUESTIONS that commanded the most attention dealt with affordable housing or circled back to it, according to councilmember del Aguila. "The questions that dominated the night were about housing and why people and dollars would come to Herndon. On housing - people wanted to know how many units would be available for lower-income and workforce residents. They also wanted to know when the units would be available. Metro only came up when it was tied to housing," he said.
Del Aguila also noticed he stated people brought up Herndon's current brand identity ("Next Generation Small Town) and its logo failed to define a shared vision and a plan to reach it. "There is a branding issue or lack of branding for Herndon... Why would families move here, schools, Metro, housing, arts, bike path, walkable community. 'It's On' as a brand has not made the impression it was meant to," recounted del Aguila from public input that evening.
Dhakal stated the best question from constituents during the roundtable discussions involved affordable housing and inquiry to specifics on what the Town Council was doing to address the lack of affordable housing in the town. "My answer ... was we are working on it. We just had a special (town council) work session (on Thursday, Oct. 17) dedicated to housing as a whole, and this was the first time in the town. We have so much to do just to catch up on Affordable and Workforce Housing. We are looking into all the possibilities and alternatives, including partnering with Fairfax county, partnering with other profit/nonprofit organizations like Cornerstones, changing the zoning ordinances, and adopting new zoning ordinances. This is a serious issue and needs to be addressed. We are working on it."
The public can direct correspondence to the Mayor and Town Council to town.clerk@herndon-va.gov. Visit herndon-va.gov/departments/communications-economic-development/economic-development/town-brand for more information on economic development and brand.