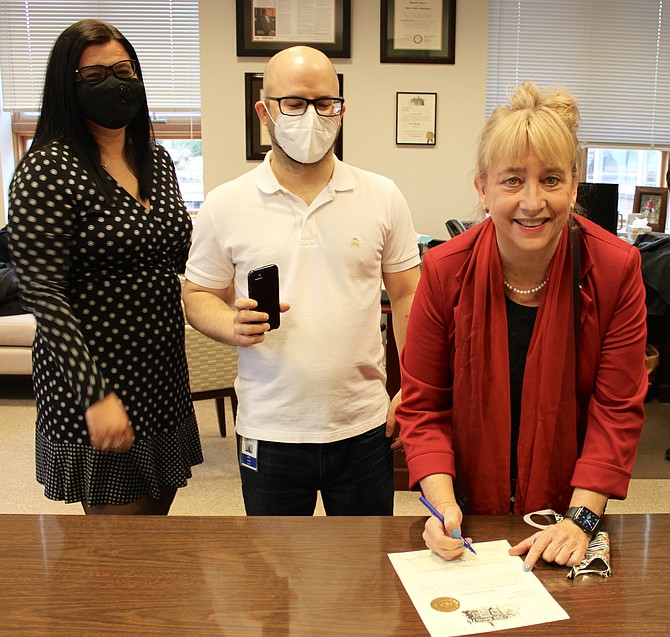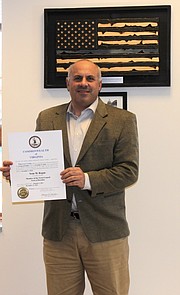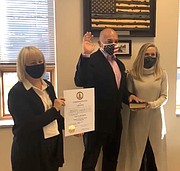 Mayor Sheila A. Olem was administered the oath of office and sworn in as the duly elected Mayor of the Town of Herndon for a term commencing Jan. 1, 2021, and ending Dec. 31, 2022, by Town Clerk Viki Wellerhaus on Wed., Dec. 10. Currently, Olem serves in the position as Vice Mayor. Olem was first elected to a two-year Councilmember term in 2010. She received 61.23 percent of the vote in the Nov. 4, 2020 general election. Her stated candidacy priorities included further work with Virginia elected officials to support the town's funding and with residents to encourage greater involvement. Olem will succeed Lisa C. Merkel, who has served as the town's Mayor since 2012 and did not seek reelection in 2020.
Olem's son Michael and friend Danielle Miranda accompanied her to the private ceremony. Son Matthew and 92-year-old mother Gracie Milstead in Alabama participated by video due to COVID-19 restrictions on the number of attendees. Olem's late husband, Dr. Harvey Olem, was onboard a plane that disappeared in Bolivia in May 1994.
"I am thankful to the community for their trust and support for me as Mayor and look forward to my new role on the Herndon Town Council," said Olem. "I am also thrilled to be serving as Mayor when the Herndon Metro Station opens, and the new Downtown Development begins."
Current councilmembers Signe V. Friedrichs and Cesar A. del Aguila were also sworn in for their third and second terms, respectively. Friedrichs said," I am looking forward to serving the town, and grateful that the citizens have granted me another term. I will do my best on their behalf and work cooperatively with my colleagues."
"It was a humbling ceremony for me to be sworn in for another term to serve the citizens of Herndon. I look forward to solving our budget and housing challenges and to position us for long term success in this ever transitioning region," said del Aguila.
Sean M. Regan was administered the oath of office, sworn in for his first term as one of the six seated Councilmembers on the Town Council. Regan could not be reached by press time for comment.
The remaining three Councilmembers 2021-2022, freshman Councilmember Naila Alam, current Councilmember Pradip Dhakal and former Councilmember Jasbinder Singh will be sworn in the week of Dec. 14, as part of onboarding meetings with the town manager, according to town spokesperson Anne Curtis.