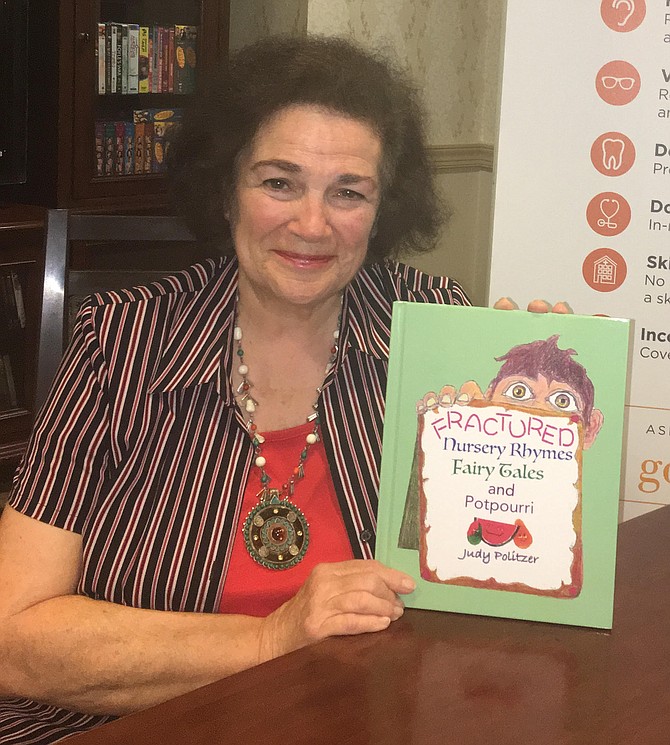 Great Falls author and illustrator Judy Politzer will discuss and sign her new book at Sunrise Senior Living in Reston on Saturday, Sept. 7, at 2 p.m.
As part of Sunrise's new community forum, "Creative Conversations," Politzer will discuss how she came to write and illustrate her newest book, "Fractured Nursery Rhymes, Fairy Tales and Potpourri," a work that was originally written for children, but is enjoying mass appeal with readers of all ages.
"My book is enjoyable to all generations," Politzer says, "Grandparents, parents, aunts and uncles can sit beside their children and laugh together. Or they can read it all by themselves and find just as much joy."
In her book, Politzer revises the sometimes-gruesome endings to traditional fairy tales, giving them a happy, healthy twist instead. The author, a long-time resident of Great Falls who is also deeply involved in the local art community, created large, colorful pieces of art for her children when they were young, many based on popular fairy tales, which she uses to illustrate her current book.
Christina Bernstein, Executive Director of Sunrise Senior Living in Reston, says the new "Creative Conversations" forum, "Creates sustained dialogue with the community and celebrates the creative and intellectual talents of our seniors in a way that creates dialogue across generations."
Kristin Clark Taylor, designer and facilitator of the program, says, "Ms. Politzer's visit will touch everyone who comes to hear her, young and old alike. What we're looking for with this forum is healthy dialogue and discourse, and the fact that Judy will be bringing along some of the actual artwork that appears in the book will really demonstrate how a project like this comes together."
The event at Sunrise Senior Living, 1778 Fountain Drive in Reston, is free and open to the public. A dessert reception with the author will follow.
No RSVP is necessary, but for more information contact 703-956-8930 or Reston.DOS@sunriseseniorliving.com. An early arrival is recommended (1:45 p.m.) because capacity crowd is expected.