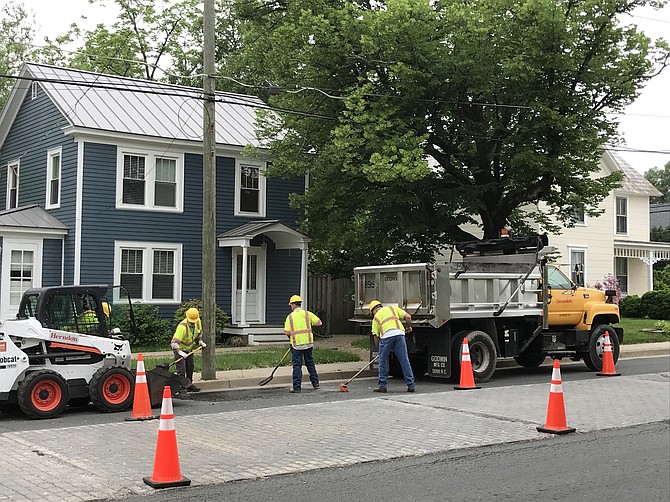 Hiring is on by the Town of Herndon, which listed 30 current positions on its Human Resources Jobs site. Recently, the town issued a special announcement that it wanted to hire "talented and skilled" public works employees, and to amp up the deal, it advertised an "attractive incentive package for external hires in the department until 12/31/2019." According to the town website, hiring bonuses are also in effect for police and 911 dispatchers as well.
As of Sept. 1, 2019, a sampling of some of the town's listed public works, police and dispatcher jobs named: Right-of-Way Manager, Facility Maintenance Mechanic II, Police Officer I, Assistant Communications Supervisor, Dispatcher-Communications Technician I and more.
For all thirty openings by the town, including those not only at Public Works and Police but also at the Herndon Municipal Center, Parks and Recreation, Cemetery and Golf Course, salaries ranged from a low of $8.16 an hour for a temporary Golf Cart Attendant to $83,650 for Streets and Right-of-Way Manager.
The Town of Herndon covers 4.2 square miles, with a reported population of 24,545, according to the U.S. Census. With 30 municipal job openings, that number significantly surpassed listed job offerings of two nearby municipalities: City of Fairfax, 6.3 square miles, population 23,461 with nine openings; and Town of Vienna, 4.4 miles, population 16,474 with three opportunities.
According to Herndon Town News in its search for Public Works Operations employees: "When you are hired, there is a generous, 'take-home' signing bonus; half to be paid upon completion of three months of employment and half upon successful completion of a one-year probationary period, which begins the day of your employment. The town offers: generous paid time off; regular Monday-Friday schedule; excellent health, dental and retirement benefits; certification and training opportunities; new boots twice a year; free recreational benefits, including gym usage and golf."
For more information about all Town of Herndon job opportunities, visit the town's jobs website at www.herndon-va.gov/jobs and for full benefit outlines, visit www.herndon-va.gov/benefits. For additional details contact: Human Resources: jobs@herndon-va.gov, 703-435-6817.