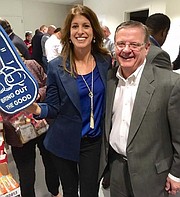 Assistance League of Northern Virginia recognizes The Allstate Foundation, Allstate agency force and employee volunteers who helped the organization secure a $20,000 grant award to ensure basic human needs are met in vulnerable communities.
In late spring 2019, sixteen members of Allstate's regional advisory board, comprising agency owners, exclusive agents and financial specialists from across Virginia, West Virginia, Maryland and the Metro D.C. area, came together to participate in a volunteer service activity that yielded 500 bags of nonperishable food items for elementary school children at risk of hunger on weekends. The efforts of Allstate volunteers allowed the all-volunteer nonprofit to satisfy an immediate unmet need, providing supplemental food to students at two schools not served by its Weekend Food for Kids program. At the time, resources allowed the nonprofit to provide 1,810 bags of food monthly to six partner schools. The extra food bags made a positive difference. In addition, the volunteers' service to Assistance League qualified the organization to apply for The Allstate Foundation's Helping Hands Grant program.
Assistance League recognizes Sharee Merenov, Allstate Capital Region division manager - corporate relations, and the agents who committed their time, resources and energy to help it win the significant grant award, including Christine Angles, Doris Banegas, Frank Ciambrone, Benjamin Jessurun, Tae Kim, Michael Lee, Sara Lewis, Mike Masri, James Mwangi, Glenda Palacios, Amber Ritchie, Claudia Rivas, Paul Sarnak, Jason Sengpiehl, Miguel Villegas and Logan Wease.
"As a mom, I know how important it is for kids to eat right to be ready to learn and do their best. As a volunteer, I know how critical it is to have the funding to do what your heart knows is right," said Christine Angles, Allstate exclusive agent in Manassas. "It's been a pleasure working with the Assistance League of Northern Virginia, a group of passionate volunteers working to get kids on the right footing so they can thrive. And, it makes me proud that the Allstate Foundation supports nonprofits like this one where I volunteer my time and work towards making our community better."
The Allstate Foundation grant award will help the organization sustain and expand its successful Operation School Bell programs that help nearly 8,000 low-income children in the region every year. Through its New Clothing for Kids, Literacy for Kids and Weekend Food for Kids programs, the nonprofit addresses the negative effects of poverty on children's academic performance and behavior.
The grant funds will be used to purchase nutritious, nonperishable food items, school clothes and new books for students in 11 Title I elementary schools in Fairfax and Prince William counties and the City of Alexandria, where up to 85 percent of the students live in poverty. Some of them experience homelessness or live in multi-family housing environments and rely on the organization to fulfill a number of their basic, critical needs.
With Allstate's partnership, Assistance League will be able to increase the level of support provided to low-income families and expand the programs to include additional schools. Allstate's charitable donation will directly impact children and help prepare them for success in school.
www.alnv.org.
Volunteer Information Meeting
Assistance League of Northern Virginia is sponsoring an information meeting to be held on Oct. 9, 2019 at 10:30 a.m. at Chantilly Regional Library, 4000 Stringfellow Rd., Chantilly. Join us to learn about the organization's children's programs and how you can help support and expand these activities. Contact Vernetta Gaiani at Membership@alnv.org if interested in attending.