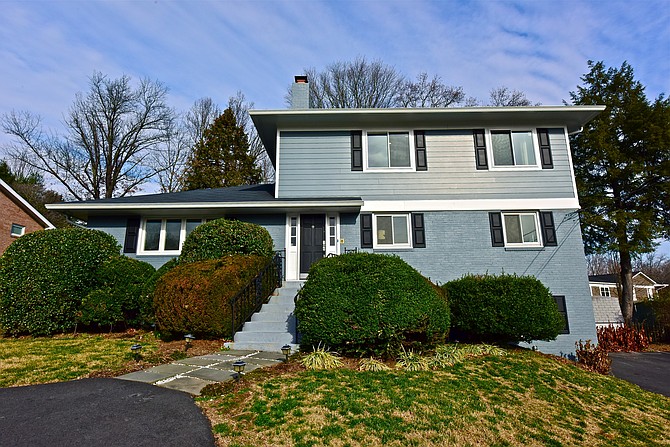 Brian and Jee Coyle, two professionals in their early forties, had occupied their two-level 1,400-square-foot Colonial in McLean for over a decade. The busy household included Jee's mother, Penvadee (65), and twin sons, Ty and Miles (10), who were fast approaching the stage when more independence and privacy is an emergent priority.
Living arrangements called for Brian and Jee sharing the ground-level master suite on the southwest rear corner of the house, while the twins bunked in a single first floor bedroom, sharing a hall bath with a tub.
Penvadee's suite was situated on the lower level where Brian also retained a small office. The close-knit family daily shared meals and lots of quality-time pursuits. But needed changes were anticipated.
Looking ahead, the Coyles recognized they would soon want more usable square footage. Thoughts of finding a larger house nearby didn't last long, since the family considered the circa 1960s brick-facing original something of a classic, and particularly appreciated the good local schools. Still, a remodeling solution that would allow each generation to have a level to themselves made practical sense.
By making over the existing house, the boys might pick up a bedroom each, plus a shared bath and spaces for study and entertainment.
Brian would gain a larger and more private office.
Yet the quest for more additional square footage also seemed something of a "reach" since the existing floor plan was notably cramped, situated on a one third acre lot on a hill and offered few visible expansion options. Still, there were opportunities worth examination.
"An open attic with about six feet of headroom was accessible from a staircase in the dining room," Brian said. "We could picture this as a potential new top level, but weren't sure of the cost issues, which members of the family would live there or any of the design details."
Taking the inquiry to the next step, Jee began investigating ideas on "Houzz," a popular consumer web site. They noticed Glickman Design Build emerged in relation to a nearby makeover that proved to offer spot-on relevance to the Coyle's goals.
"We had no idea how a new top level should be configured," Brian said. "But Glickman's advanced computer imaging technology (CADD systems) made it easy for us to not only model alternate floor plan configurations, but also to narrow down our many finishwork choices."
Better yet, the Coyles found that the feasibility study phase of Glickman's agreement allowed them to closely examine a host of the technical issues while absorbing design fees into the building process.
"The contract permitted us to imagine a large range of options without adding cost," the homeowner said. "We even considered relocating the master bedroom to the top floor, or bumping out the front. This freedom to explore every consideration was liberating."
In the end, the attic was converted into a 776-square-foot suite designed primarily for the twins. Each son has a private bedroom. There's a 78-square-foot master bath; a roomy work station and a spacious loft devoted to video games and entertainment.
Their former first floor bedroom has been converted into Brian's 150-square-foot office. The now open first level plan is an improvement on all fronts.
"The whole first floor circulates much better" said Brian. "There's more natural light throughout the primary living area, and it's a much interactive floor plan. Great for the entire family."
For Information: 703-832-8158 or 301-444-4663 or GlickmandDesignBuild.com