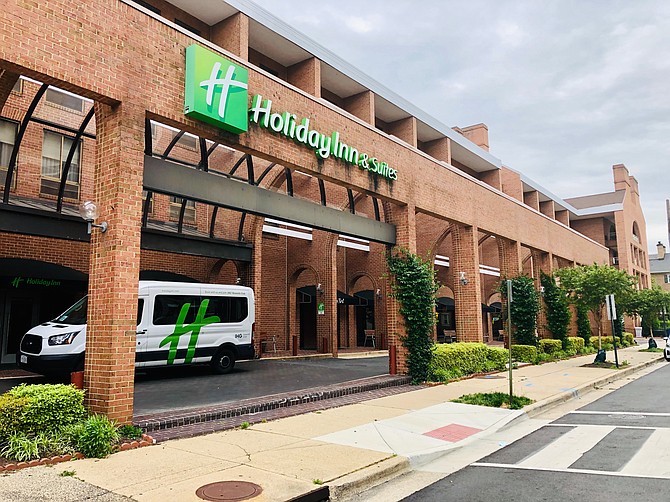 When Joy Phansond was furloughed from her job as sales coordinator at the Holiday Inn in Old Town, the temporary layoff was initially supposed to last until April 5. Then it was extended to May 5. Then it was extended again until June 5. She suspects that it'll be extended again until July at least because the hotel business in Alexandria has been slammed by the collapse of tourism, trade shows and conventions.
"I don't see why they would be bringing us back in June, because we really don't have any business on the books at the moment until starting about the end of July or August," said Phansond, who has worked at the Alexandria Holiday Inn for three years. "I kind of feel a little worried because I don't know if I'm going to have a job to go back to."
Like thousands of other people in Alexandria who have been furloughed from their jobs, Phansond applied for unemployment benefits. According to the Virginia Employment Commission, more than 6,000 people in Alexandria are currently receiving unemployment benefits. That's 6 percent of city residents between the ages of 26 and 64. Phansond says she receives $378 a week.
"That only lasts for so long," she said. "I really would rather go back to work."
The difference between a furlough and a layoff can be uncertain, a fluid situation documented in a series of letters from Alexandria businesses to the Virginia Employment Commission. When the XSport Fitness on King Street sent 115 employees home on March 18, the director of human resources noted "while the company hopes this action will be temporary, it may be permanent." Fifteen days after the Alexandrian Hotel furloughed 115 employees in March, company officials sent the state a letter admitting "we do not know what the future will hold." At the end of April, Holiday Inn's management company sent the commission a letter warning the furloughs there have been extended indefinitely.
"We now anticipate that this furlough may last longer than anticipated, so we are providing you with this notice now," wrote Laura Warner, senior vice president for human resources at Crescent Hotels and Resorts.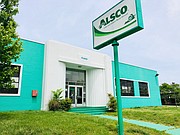 AT LEAST ONE business in Alexandria is calling furloughed employees back to the workplace, the textile services company on the West End known as Alsco. On March 19, the company laid off 102 employees who worked at their South Pickett Street facility, which handles laundry for restaurants. At the time, company officials noted that that the notification was a partial closure, and it didn't include all employees at the facility.
"The layoffs are effective immediately and will be indefinite, with the hope of returning employees within six months," wrote Jennifer Crawford-Gomez in a March 27 letter.
Now, almost two months later, union officials who represent workers say they're negotiating with the company to arrange a phased return of all 105 laid off employees. Leaders at Workers United Mid-Atlantic Regional Board say they are expecting the company to send letters to employees next week announcing the first phase of workers will be called back June 1. The union expects 19 or 20 workers to return at that time, followed by several more waves of returning workers based on seniority over the next few weeks.
"This is a new way of doing things, and we're going to have to make sure that we're practicing social distancing and we have spacing between the equipment," said Patrick Jones, director of the Mid-Atlantic Regional Joint Board. "I'll be having a conversation with the HR director there, and we'll be discussing what the policy is as they return back to work."
For thousands of other furloughed workers in Alexandria, the temporary nature of their unemployment becomes a bit more enduring with each passing day. Businesses in the accommodation and food services sector are seeing the biggest hit. Almost half of the initial claims for unemployment insurance at the end of March were from people who had been laid off from their jobs at hotels and restaurants. Now that Gov. Ralph Northam has announced Northern Virginia can begin the first phase of reopening at the end of this month, businesses across the city are trying to figure out how to emerge from lockdown.
"Many are waiting for a confirmation on the date and information from the city," said Joe Haggerty, president and CEO of the Alexandria Chamber of Commerce. "Most remain flexible, and have not been specific about the dates to bring back their staff members."
"I'm not talking about another stimulus check. I'm not talking about unemployment benefits. I'm talking about paychecks."
— Senator Mark Warner
INITIAL CLAIMS for unemployment in Alexandria peaked the first week of April, when the Virginia Employment Commission received 2,578 claims. It's tapered off a bit since then, and now more than 6,000 people who live in Alexandria are receiving unemployment benefits. Accommodation and food services continue to be the top industries for laid-off workers, although other industries are showing increasing numbers of claims — retail trade, health care and administrative services.
"The economy will change forever," predicted Frank Shafroth, director of the Center for State and Local Government Leadership at George Mason University. "Big shopping centers will be filing for bankruptcy, and the new world of shopping online will make this more and more an Amazon world."
For those workers in Alexandria who have been furloughed, the distinction between a temporary layoff and a permanent one could be a reassuring distinction. One of the reasons employers use furloughs is so they don't have to start from scratch when the economy reopens. But nobody knows how long it will take to return to pre-pandemic levels of employment, and many of those furloughs are expected to become permanent layoffs when a more complete economic picture emerges.
"Generally, furloughs and layoffs are tracked the same way in most datasets," said Jeanette Chapman, director of the Stephen Fuller Institute at George Mason University's Schar School of Policy and Government. "So it will be difficult to separate the end of furloughs with any potential uptick in hiring."
That sense of uncertainty is creating support in Congress for an idea that would have seemed radical a few weeks ago, the idea that the federal government would fund company payrolls. In the United States Senate, Mark Warner (D-Va.) is working with Bernie Sanders (I-Vt.), Doug Jones (D-Ala.) and Richard Blumenthal (D-Conn.) on a bill they call the Paycheck Security Act. The bill would provide up to $90,000 to each worker who has been laid off or furloughed if a business can demonstrate it suffered a 20 percent month-over-month drop in revenue.
"I'm not talking about another stimulus check. I'm not talking about unemployment benefits. I'm talking about paychecks," Warner said in a speech on the Senate floor last week. "Paycheck security means that the federal government would help cover the payroll expenses for rank-and-file workers who have been furloughed or laid off because of the coronavirus."