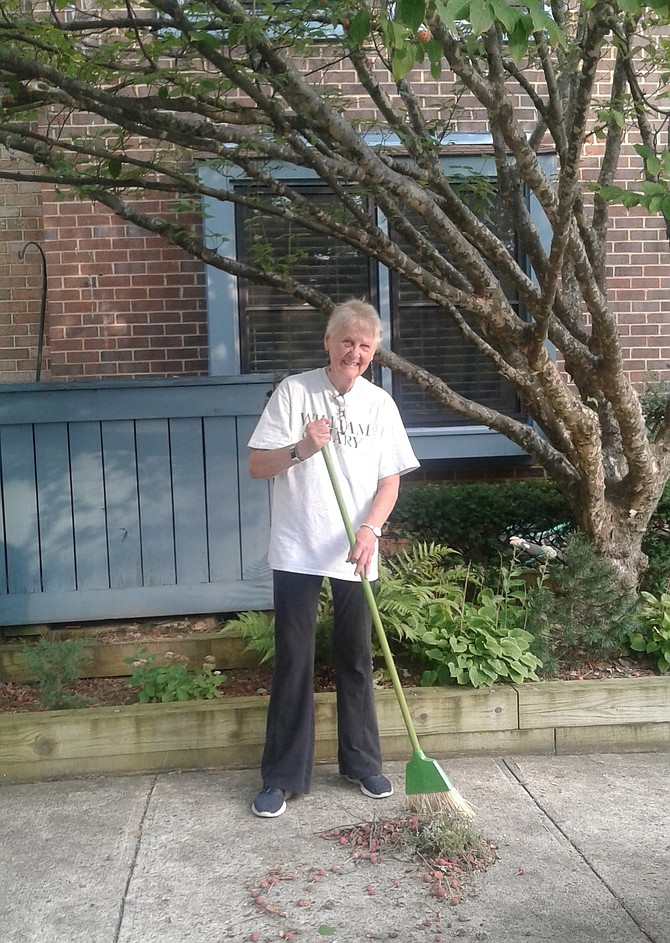 Rev. Dr. Kay Rodgers of Reston finds herself doing something in mid-August she doesn't do until fall.
Sweep the red berries that fell onto the sidewalk from her Japanese dogwood tree.
Although she cannot put her finger on it, Rodgers and other Northern Virginia residents realize something is unusual as they grab their rakes and brooms in the summertime to clear leaves and berries from their yards, sidewalks, driveways and storm water drains.
A woman sweeping leaves from the sidewalk of her townhouse community near the Fairfax County Government Center on a Wednesday evening Aug. 7 admits it's uncommon for her to do this chore during summer and wonders why.
A woman in Centreville rakes the leaves from her yard on a Friday afternoon Sept. 6 off Little Rocky Run Circle.
EXPERTS say many factors contribute to the early defoliation of some area trees and it takes several years for these causes to take their cumulative toll.
In Fairfax County, Virginia Cooperative Extension agents have noticed a lot of white and red oak trees dying. Senior extension agent of horticulture, Adria C. Bordas, says the factors are explained in a report by the Virginia Department of Forestry.
"Oak Decline in Virginia," published within the past two years by forest health manager Lori Chamberlin, lumps the causes into three categories — predisposing, inciting and contributing factors.

Predisposing factors include site condition: poor soil, topography and stocking density, which weaken the tree over time. "Advanced tree age and prolonged periods of drought are also common predisposing factors in Virginia," Chamberlin explains in her paper.
Inciting factors are short-term incidents that rarely kill the tree but add to its decline. Frost, drought and defoliating insects fall into this category. It can take an oak tree up to 10 years to respond to any of these.
Although Northern Virginia has received considerable rain in the past two consecutive spring seasons, Bordas notes July was the hottest month on record — as do numerous other news reports — and "we are in drought conditions now."
Accuweather.com logged 99 degrees Fahrenheit for the Washington, D.C., region on Sunday, July 21 — the hottest day of the year for this area.
"Finally, contributing factors are secondary insects or diseases that ultimately lead to tree mortality," Chamberlin says in her report. "These are the agents that finally 'do the tree in' and are often blamed for the death of the tree when in fact they are just the last nail in the coffin."
Fungus, wood borers and root disease are the main culprits in this category of oak tree decline.
Although fall webworms are noticeable defoliators on the tips of numerous tree limbs throughout Northern Virginia, Bordas points out these invasive insects are a common sight this time of year and not the reason some leaves start falling in August.
THERE IS NO SIMPLE ANSWER to the early defoliation of area trees. "These little things are going to add up," Bordas says Sept. 9. She has noticed her colleagues point out changing weather patterns as a significant problem.
Our region has experienced warm winters in recent years that have caused the trees to leaf out prematurely, she says. A snowfall in early March or frost in late April damages the new growth.
Katlin Mooneyham, a forest health specialist who works with Chamberlin at the Virginia Department of Forestry, notes weather conditions from back-to-back summers with excessive rainfall in 2018 and extreme heat in 2019 have stressed out the oaks especially.
Dormancy, Bordas explains, is so important for the life of a tree. Consistent weather patterns in which the leaves fall in autumn, followed by freezing temperatures in the winter help the trees rest until spring. Apple trees, she points out, need chilling time.
Mooneyham says her office has fielded calls nonstop in the past few weeks from residents who have noticed changes in leaf color to their trees throughout the state.
"We're happy to help," Mooneyham says.
RODGERS understands the climate is changing. While she removes the dogwood fruit from her sidewalk, the retired minister recalls a recent news report of a funeral for a glacier.
Climate change activists and government officials in Iceland held a formal ceremony Aug. 18 for Okjökull, their first melted glacier, declared extinct in 2014.
Another such funeral is planned Sept. 22 to mark the first glacier death in the Swiss Alps: the Pizol Glacier, according to European digital news source The Local.
Rodgers says she holds a master's degree in library science. She worked her first career in Washington, D.C., as a professional librarian in the science and technology division of the Library of Congress.
She said she furthered her postgraduate studies in religion with a master's of divinity and a doctorate of ministry and worked for 10 years as a minister for the United Church of Christ.
Rodgers, 76, considers her garden as her personal cathedral and the Reston retiree has renewed her interest in gardening following a 15-year break.
"Science is a real thing," Rodgers says. "The climate is changing. I don't see how anyone can ignore that," Rodgers says on a warm Thursday evening Aug. 22.
Foliage Page
The Virginia Department of Forestry, based in Charlottesville, maintains a fall foliage page on its website at dof.virginia.gov/fall/index. The page contains a state map that notes typical peak color periods in each region of the Commonwealth. Forestry officials update the page each year at the end of September with weekly reports throughout the fall.