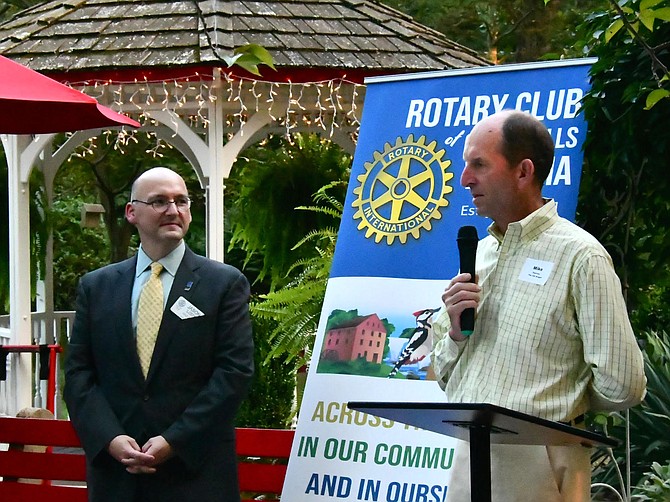 In a village with no town council or chamber of commerce, Great Falls Rotary acted as agents of community change to engage business leaders in conversation and foster growth of local business, connections, and volunteerism.
The first-ever business leaders reception hosted by the Rotary Club of Great Falls did not require membership to the service organization to join the conversation.
"As I considered the offerings that our Rotary already has in place, I realized that we can offer the most important services that small businesses seek out in a chamber of commerce. Networking is the single biggest request, and we supply that," said Rotary Club president Eileen Curtis, who is a former chamber of commerce executive.
"Companies also want information that enhances business acumen."
At the Sept. 17 event, more than 70 local business leaders introduced themselves, and many shared business goals and how they can partner.
"Without business we have no community, and without community we have no business," said Jorge Adeler, owner of Adeler Jewelers.
Adeler has led community organizations and community events for decades. He and his neighbor Mike Kearney believe patrons invest in businesses that are invested in their own communities. A sense of service aligns with Rotary's goals.
"When you volunteer, you meet so many people who aren't in your circle," said Kearney, owner of the Old Brogue.
"It's challenging to acquire patients in a tight community when you work with a practice that is heavily based on word of mouth," said Charlotte Lowe, marketing director of Costa Dentistry. "Events like this create opportunity to build. Our patient base doesn't grow unless the community knows and trusts us."
Conversations lead to partnerships in business and community service.
"We've been allowed to keep Great Falls small, whether by accident or deliberately, but people have an obligation to contribute to this community because this is all we have," said Valentina Adeler Armour, who grew up in Great Falls and contributes to community efforts.

Rotaract is a group sponsored by the Rotary Club of Great Falls that serves entrepreneurs ages 18 to 30.
"We hope to work with college students to show them how to give back to the community and engage community service," said Alex Johnson of Rotaract.
To further community involvement, Rotary is also initiating a corporate membership that provides mentorship for employees of small businesses and benefits of standard Rotary membership as well as some functions of a chamber of commerce. For more information, visit rotarygreatfallsva.org.
Upcoming Events
The Rotary of Great Falls has two big upcoming events:
Rotafest (formerly known as Oktoberfest) continues to be the single largest social event in Great Falls. It offers an evening of Bavarian delights, ranging from a 25-piece oompah band to the decor of a Munich beer hall and German foods and beverages. 500 expected this year. It will take place on Saturday, Oct. 26, 7 p.m.–midnight, at River Bend Country Club.
The club is standing up a Rotaract Club, aimed at the 18-to-30-year-old population. They are bringing forward as their signature project Flags for Heroes. Two hundred flags will grace the frontage of St. Francis Episcopal Church on the corner of Georgetown Pike and Riverbend Road during the week surrounding Veterans Day. The flags carry plaques that can be dedicated to people's personal heroes.