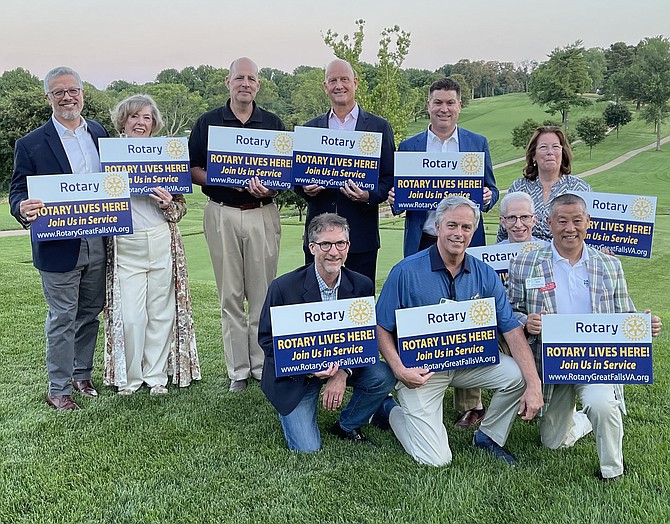 Ten years is an anniversary to celebrate, and the Rotary of Great Falls did it in great style. A gala reception at River Bend Country Club provided the occasion for remembering the club's projects, speakers, and friends. President Stephen Clark introduced Master of Ceremonies Jeff Thinnes, the dynamo life-long Rotarian who founded the club. On that occasion, 85 newly minted Rotarians gathered at River Bend, a number that so amazed Rotary International that Thinnes was invited to speak at the international conference in Thailand that year.
The club's opening also served up drama with its guest speaker, Supreme Court Judge Antonin Scalia. Over the years he has been followed by a who's who of presenters, ranging from Senators and astronauts to CEOs and NGOs championing causes such as Preventing Soldier Suicide, environmental protection for the Potomac River, and Alzheimer's updates.
Now it was Thinnes at the podium, who enthusiastically recalled all the service projects embraced by the Rotary of Great Falls. On the international side was an impressive list that included a bus for an orphanage in the Ukraine; wells to bring water to Zambia; desks for students in Honduras; vaccinations for young girls in India and Nepal; aid to Syrian refugees arrived in Germany.
That was just a warmup for projects undertaken at home. During the pandemic, the club became a major supporter of Meals for Heroes, sending food to the critical care workers across the Metropolitan area. When it became known that hunger in our area had skyrocketed to over 3,000 families, the Rotary of Great Falls established a challenge grant to assist Cornerstones, the large western Fairfax non-profit aiding the hungry. Other local efforts have included Georgetown Pike Cleanup, sponsorships for Great Falls Seniors and the Grange, support for the Great Falls Fire Department and the Fireworks. The club has staged community forums on Opioids and Human Trafficking. It helps package food for Rise Against Hunger and delivers meals to the homeless. It celebrates our country with a bi-annual Flags for Heroes display on the lawn of St. Francis.
Thinnes noted that the club is especially proud of its work with youth. It stages contests for middle and high schoolers centered on music and essays on Rotary's Four Way Test. It provides scholarships to immigrant children and to young Rotary leaders. It stages a First Time Campers weekend at Wolf Trap and offers STEM tutoring to latchkey kids. It has maintained an active Interact Club for ten years, comprising over 40 high school students at any given time. They are learning the power of service, culminating each year in a Habitat for Humanity project. Recently, the club added Rotaract for young professionals.

In his windup, Thinnes reminded everyone, "Of course, we also love to party!" Besides the club's monthly mixers, more elaborate events have included the annual 400-attendee Oktoberfest, complete with German oompah band and costumed dancers. Its singular Bocce Tournament is played on the back lawn at L'Auberge Chez Francois. The club reached out to the local business community with a business reception that drew 70 entrepreneurs. Cars for the Cure came to raise money for diabetes research, a cause espoused by now-deceased Rotarian Butch Sevila. Recently, the club committed to support Lift Me Up!, a therapeutic riding center and Great Falls' oldest non-profit. A horse race run by hobby horses and Interacters took place in a barn. So many people wanted to name their horse that competition required three races.
Jeff didn't know it, but the celebration received a bonus a few days later. Rotary District 7610 is recognized as a strong performer in the entire Rotary International system and it was holding its annual awards ceremony. The Rotary of Great Falls received the Governor's citation. There was more good news. The club's nominee for Citizen of the Year was Eric Knudsen, former president of the Great Falls Citizens Association, and he received the Area award in that category. And club Rotarian of the Year, Sean Plunkett, a past club president whose creative mind thinks up inventive fundraisers such as hobbyhorse races, was named Area Rotarian of the Year. The honors continued to roll. Rotary of Great Falls was named Area Club of the Year, in recognition of its vital role as a community partner.
For more information, visit http://rotarygreatfallsva.org/.