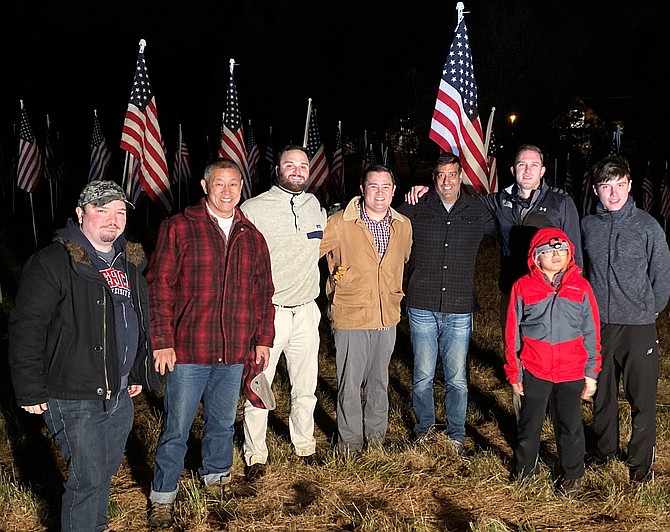 Driving east of the Great Falls Village along Georgetown Pike, local citizens and commuters were offered a patriotic treat – Flags for Heroes. The local Rotaract Club, supported by the Rotary Club of Great Falls, Scout Troop 55 and Saint Francis Episcopal Church, erected a field of 100 flags in honor of Veterans and Heroes. This pop-up event was a fundraiser conducted by the Rotaract Club in support of local charities and community programs. At dusk this past Friday, volunteers assembled in front of Saint Francis Church to construct the display which continued to stand through Veterans Day.
On Saturday, the Rotaract Club conducted a ceremony to honor sponsored heroes. In addition to the volunteer organizations that supported the event, members of the public as well of veterans and families from Walter Reed National Military Medical Center joined in the celebration. Mission BBQ sponsored a reception after the ceremony. Garrett Pan, the founding Rotaract Club President presided over the ceremony. Members of Scout Troop 55 served as the color guard.
According to Pan, this is the club's inaugural Flags for Heroes event and "it's a wonderful opportunity to honor our heroes, to unify our community through this patriotic display, and to support local charities and community organizations. The field of red, white and blue glory is also intended to elevate our sense of community and demonstrate our determination as loyal Americans, all while supporting worthwhile causes."
Rotaract is the young professionals group that brings together people ages 18-30 to exchange ideas with leaders in the community, develop leadership and professional skills, and have fun through service.
In communities worldwide, Rotary and Rotaract members work side by side to take action through service. From big cities to rural villages, Rotaract is changing communities like ours.
For more information regarding the local Rotaract Club or to join, contact Garrett Pan, President, at GreatFallsRotaract@gmail.com.