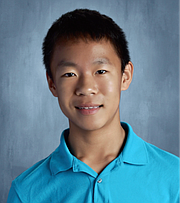 The United States Tennis Association launched its inaugural Net Generation Aces Program, which aims to grow youth tennis participation by reaching young athletes through their peers. The program engages athletes between the ages of 13 and 17 who are changing the game both on and off the court.
As part of the new Net Generation Aces Program, 15-year-old Derek Yan of Potomac is one of 17 youth tennis players from across the country who went on a VIP trip to attend the US Open, which included a suite experience at Arthur Ashe Kids' Day. He also participated in a working session with USTA senior management and professional players to provide feedback on current USTA initiatives and discuss ideas for future programming.
Derek developed Linx Tennis, a non-profit online platform matching young athletes with training buddies to increase accessibility and lower training and travel costs.
Following the US Open, Net Generation Aces will represent the USTA by showcasing positivity, sportsmanship, and leadership in their local communities, providing continuing feedback, collaborating with fellow Aces on Net Generation projects, and participating in quarterly video webinars.
"We are honored to recognize these young leaders and athletes who are inspiring positive change in their local communities," said Craig Morris, USTA's Chief Executive of Community Tennis. "Some of the noteworthy contributions these outstanding individuals have made include creating community-based programs, bringing awareness to adaptive tennis play, and implementing tennis ball recycling initiatives. The USTA plans to work with the Net Generation Aces, to learn more about the impact tennis has on young players' lives. We feel reaching young athletes through their peers is a powerful and effective way to continue growing the sport."
The new Net Generation Aces Program marks the two-year anniversary of Net Generation, the USTA's official youth tennis brand, which empowers and equips kids ages 5-18 to play tennis while providing resources to parents, coaches, and providers to help set new standards and drive participation across the country. For more information on Net Generation and the Aces Program, visit netgeneration.com and follow #NetGeneration on social media.
This Year's Net Generation Aces
● Madeleine Au of Honolulu, Hawaii (USTA Hawaii Pacific)
● Brooklyn Bindas of Rochester, Mass. (USTA New England)
● Maeve Cassidy of Monroe, N.Y. (USTA Eastern)
● Sophie Davidson of Greenwood, Ind. (USTA Midwest)
● Angelina Fosbinder of Charlotte, N.C. (USTA Southern)
● Jack Garchik of Highland Beach, Fla. (USTA Florida)
● Kyle Garner of Eagle, Idaho (USTA Intermountain)
● Eli Gilbert Susser of Corpus Christi, Texas (USTA Texas)
● Oskar Jansson of Minneapolis, Minn. (USTA Northern)
● Kane Kelley of Tarzana, Calif. (USTA Southern California)
● Ethan Lee of Tucson, Ariz. (USTA Southwest)
● Brooks Lerfald of Eugene, Ore. (USTA Pacific Northwest)
● Santiago Montgomery of San Jose, Calif. (USTA Northern California)
● Andrea Pérez Díaz, of Guaynabo, Puerto Rico (USTA Caribbean)
● Clare Plachy of Lincoln, Neb. (USTA Missouri Valley)
● Saige Roshkoff of Haverford, Pa. (USTA Middle States)
● Derek Yan of Potomac, Md. (USTA Mid-Atlantic)