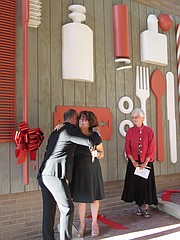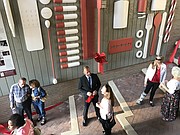 The Pharmacy Icons are back at Lake Anne Plaza, spruced up, reinstalled at a new site in the breezeway and ready for another 50 years, thanks to Lake Anne of Reston Condominium Association, Reston Historic Trust & Museum (Trust) and the community effort of more than eighty people and businesses. The set of storefront icons characteristic of the 1960s Pop Art movement reflected the wish of Reston's Founder, Bob Simon, for playful artwork on the Plaza.

Before the Dedication Ceremony on Wednesday, Sept. 18, Kurt Rose, board member of the Trust, admired the red and white pharmacy icons initially commissioned in the mid-1960s from the New York-based graphic design firm, Chermayeff and Geismar. "Preserving them was difficult, because they are made out of solid wood, and we wanted to refurbish them to their original state. It was going to cost more than $15,000 to refurbish and install," he said.

Dedication speaker Carolyn Flitcroft, chair of the Reston Historic Trust & Museum, told the assembled guests that the Icon Exhibit and Installation mirrored the museum's mission, to sustain the Reston vision by preserving and interpreting its history, inspiring the present and influencing the future. "I think this icon installation perfectly illustrates the work we do here," she said.
Flitcroft introduced Cheryle Terio-Simon, long-time board member of RHT and wife of the late Robert E. Simon, Reston's founder. "Cheryl has been the visionary and architect of this project, taking part in every stage from choosing contractors and design layout to obtaining permits and fundraising. This installation would certainly not exist without Cheryl's leadership," Flitcroft said.
According to Terio-Simon, Lake Anne of Reston Condominium Association donated the pharmacy icons to the Trust when the new businesses on the property were not pharmacies, and the icons were not appropriate there. "LARCA also agreed to the exhibit being hung here, hired an engineer to ascertain its safety and has overseen its installation," she said. Terio-Simon added that Jeanne Krohn designed the exhibit and Capital Museum Services (CMS) the exhibition fabrication. "Most of CMS's projects are much larger than this one: Smithsonian museums, Rockefeller Center, the Johnson Space Center…but Barney Gault of CMS described the project as a labor of love, doing something for a community to fulfill a need to remember history," she said.
Terio-Simon said when Dr. Hirad Najafbagy learned of the Trust's need for financial support to refurbish and exhibit the Lake Anne Pharmacy Icons; he saw it as the opportunity to honor his parents, Hooshang and Farah. The couple operated Calvert Gourmet Shop on the Plaza. "Hirad has made a very generous donation in support of this exhibit," she said. Terio-Simon told how as immigrants the Najafbagy family left Iran and for several years searched for a home in Europe, later in the United States and ultimately found their way to Lake Anne. "Here they found a new home, work and what Hooshang called his oasis. We are very pleased Farah and members of her family could be with us today, and we join Hirad in dedicating this exhibit in honor of his parents."
Hooshang and Farah Najafbagy operated Calvert Gourmet Shop at the Plaza for many years after immigrating to the United States. After cutting the red ribbon to celebrate the installation of the Pharmacy Icons with his mother, Farah, and Flitcroft, Dr. Najafbagy, a Herndon-based chiropractor said, "This is an amazingly special place to me and of course to my parents…This is our home away from home. It was truly a special place for my late father…Thank you to everybody who supported this in the name of my mom and dad. It is an honor."
Pharmacy Icons: Now and Then
"I think they will have a long life here at the Plaza at Lake Anne. I love seeing Reston Historic Trust leading the charge to revitalize Lake Anne. How vibrant it is again." – Russ Connor of Reston
"Looks fabulous; what a presence. That's what the wall needed. Apparently, illuminated at night, it's just stunning." – Marthe McGrath, gallery painter at Lake Anne Plaza
"Doesn't it look good?" – Pat Macintyre of Reston
"I remember this being on the wall of the pharmacy. I didn't really pay much attention to them then. They'd been there a long time, faded and in need of repair." – Diane Rose of Reston
"Looking at it here, I felt a compelling emotion, evoking a different time and era, with very positive feelings and connection to an earlier part of my life. I almost teared up; it tugged at my heart of 1981, a recollection. A little bit of the feeling of forces of change, remembering the happiness of an earlier time." – Joe Ritchey of Reston