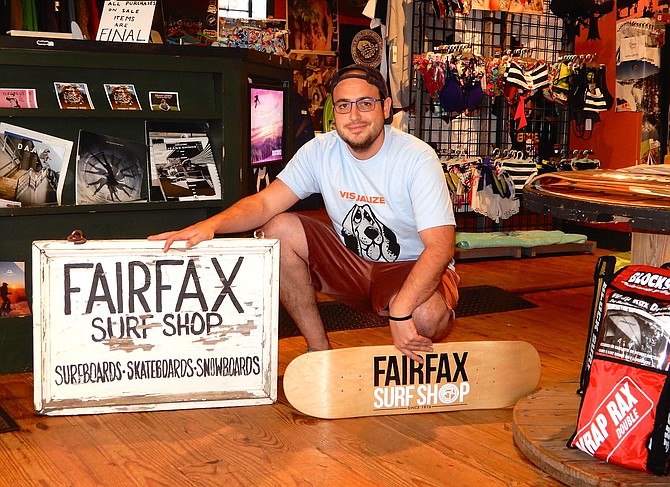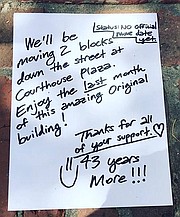 For 43 years, customers have flocked to the Fairfax Surf Shop along Old Lee Highway in downtown Fairfax – long before anyone dreamed of creating Old Town Square next to it. But now – partly because of the synergy between that entertainment venue and the shop's valuable site – that well-known, red building and local landmark will be razed and replaced by a restaurant.
And while the Surf Shop will be peacefully moving to a new location in Courtyard Plaza, just down the street, it's not easy to leave a place so full of memories for so many residents. Indeed, a Sept. 10 Facebook post from the shop to its customers made it clear.
"No official move date, yet," it read. "We'll be in this original building until Sept. 30. You guys have touched our hearts with the support you've shown, and we are so grateful to feel the love. Stop by any time before then. We'll be here for you."
And it's that feeling of mutual caring that has made the Fairfax Surf Shop such a successful business for so many years. Just ask Manager Adam Chase Turrisi.
"I've worked here 10 years, five as manager; and 20 years ago, I got my first skateboard here," he said. "So this transition is bittersweet. We're the longest-running, surf, skate and snowboarding shop in the DMV, and we have a lot of support from the Fairfax citizens."
One of them is City resident Chuck De Mouche, who was there last week with his teenage son, "I've been coming to this location since it opened here in 1976 – and before that, at their old location on Main Street," he said. "It's familiar and a hometown favorite. This store was my introduction to action sports."
Regarding the move, De Mouche said, "It's evolution – this property is worth so much. People coming from the skateboard area at Van Dyck Park will now be in walking distance of the new store, and we'll absolutely continue being customers there, too."
THE COURTYARD PLAZA SITE will also have more parking for the customers, and Turrisi said that's one of the best things about it. "The only complaint we've gotten about this location [at the busy intersection of North Street and Old Lee Highway] is that we didn't have enough parking," he said. "And we might even have better business at the new space because of the easier in-and-out."
In addition, said Turrisi, "We're thinking about the potential of the new place. All we ever wanted is the best for the City and our customers, and we're leaving this spot with our heads held high."
Still, he said wistfully, "The past two months have been hard. I've spoken with over 100 people, face-to-face, about the move. And as the manager, I love the place and don't want to leave. I feel the same way the customers do."
Initially, said Turrisi, "A lot of people were mad at the City and confused about what was happening. It was hard breaking the news to our loyal customers and seeing their sad faces. But they were relieved to know we'll still be in business and will stay in the City."
Noting that the building was constructed in the 1800s, he said, "It's given people a lot. Whether they've shopped here or just driven by it for years, it's a reminder to them of Fairfax's past. As skateboarders, we care about things that can't speak. But if this building could talk, it would tell epic stories about the thousands and thousands of kids who've gotten their first skateboards here. So people are bummed out and very much in mourning – it's like sending off a friend."
Turrisi said the City's changed a great deal over his 32 years of life. But, he added, "I love the City of Fairfax, and I'm fortunate to be part of this business and to have seen it grow. We're doing very well, and I'm happy about it."
FAIRFAX SURF SHOP sells skateboards, surfboards, snowboards and their associated apparel and equipment. And Turrisi said the staff always does right by the customers. "I put a lot of extra effort into it, and we treat people well," he said. "It just requires caring – and that's what made this building feel like home. We genuinely try our best."
He also said the store always carries brands the customers can't get anywhere else but in the City. "I pride myself in offering nice, quality merchandise," said Turrisi. And it's paid off. "I've been here 10 years, and this is the strongest our business has ever been," he said. "We've gotten more new customers, and people have figured out that we're a surf shop that really cares."
Generations of families have come through the store, as well. Turrisi recalled waiting on people as children and then having them return years later, with their own children. And since the upcoming move has become known, many of the original employees have contacted him, asking to have some of the bricks from the shop's main walkway off Old Lee Highway. So, said Turrisi, "We're going to try to do that because they helped make this shop what it is today."
Actually, he added, "Skateboarding is bigger than ever today. It's even in the 2020 Olympics, and we're the only local shop that can help people get there. I'm grateful we'll have a spot nearby, and the space will be a little bit bigger, so there's more potential for sales."
Turrisi said the staff is excited about the new location and will get to have input into how the shop is laid out and the way it looks. "We're just going to look at this with positivity," he said. "We've assured the customers we'll keep our old-school vibe and still be as genuine and with the same merchandise – just in a different building."
He said some of the recent Facebook posts about the shop have really touched his heart. "This building will be ingrained in my memory forever," said Turrisi. "If not for it, I wouldn't have gotten to meet some of the people I have." He then related a heartwarming story about one of the customers that illustrates why people love the Fairfax Surf Shop so much.
"The other day, a middle-school kid came in with a skateboard that wasn't very good quality, and the bearings were worn out," said Turrisi. "So we gathered up all the parts we had here and created him a whole, new skateboard. We didn't charge him anything; we just told him to enjoy the ride. That's what makes us special – and this kid will remember us for the rest of his life."