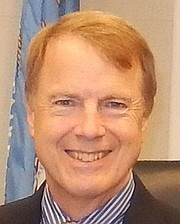 A snapshot of the City and what's on its horizon were the topics of Fairfax Mayor David Meyer's recent State of the City address to local residents. He spoke to them during an informal, Saturday-morning meeting, Jan. 20, at Fairfax City Hall.
In the central part of the region, Fairfax has more than 24,000 residents, 15,500 registered voters and about 9,000 housing units. City schools have 3,125 students – 400 more than 10 years ago. "Almost all that increase is from existing, residential neighborhoods," said Meyer. "So these neighborhoods are turning over; new families are moving in and having children."
Noting that the median household income here is $105,000, with a $1.06 residential real-estate tax rate and a $140 million General Revenue budget, he said, "The City's financial position is really quite strong. Forty percent of all the money we receive in [that] budget goes to education, and there's a good balance outside of education."
Meyer said the City's total tax base recently crossed $6 billion, due to increased value in that base, plus new, private capital coming online. "Our debt limit is 10 percent of our tax base, but our fiscal policy says we'll only borrow one-third of what we're eligible to borrow – and we're now at 25 percent," he said. "We spend about $8 million/year on debt service, which is a reasonable place to be. And our debt represents the quality investments we made in our schools, City Hall Annex, downtown park and police department."
He also said the City is getting a $26 million, one-time, cash infusion as part of the concession payment from Express Mobility Partners – the company rebuilding I-66. It will then spend $12.5 million of it to transform the old Jermantown Road bridge from two to four lanes,
"On its east and west sides will be a lane for pedestrians and bicycles, and it will connect to our trail system," said Meyer. "We'll rebuild Jermantown Road from the bridge to Route 50."
The other $13.5 million will be used to complete the George Snyder Trail from the City limits to across the street from Patriot Harley-Davidson on Route 50. "It will be the largest, single investment in trails in the City's history," said Meyer. "The Snyder Trail will connect with a spur off another new trail to be built along the north side of I-66 east and west, forming a new T intersection coming into the City."
IN FAIRFAX, the Snyder Trail will go behind WillowWood Plaza, Fairfax Boulevard Marketplace, Freddy's and the Outback and connect with the Wilcoxon Trail at Patriot Harley-Davidson, That way, residents of the Cambridge Station and Mosby Woods neighborhoods will be able to walk on a trail from their homes to Washington, D.C. It's the last, missing link of this trail.
Next, Meyer mentioned some residential building projects currently nearing completion, including Mayfair and the Enclave. He also noted that the Novus developer wants to reduce its costs by eliminating one, small, retail building and putting a swimming pool in its place, at grade level, instead of on the roof of another building.
"And on the south side, they're changing some retail to residential," added Meyer. "We told them they must retain the affordable-housing units and underground the utilities, and we're waiting for a revised application." He said the City's also awaiting the site plan for Fairfax Shopping Center in Northfax.
Something new proposed for the six acres behind the Courthouse Plaza shopping center is Capstone Collegiate Communities. It would be a 700-bed facility – dormitory-style, one-, two- and four-bedroom apartments for GMU students. Also proposed are 240 affordable-housing units. "So we could have upward of 1,000 people living there, and we are keenly interested in this," said Meyer.
Regarding Fairfax's economic development, he said, "New businesses and restaurants have come into the City. But we're not a destination city and don't have a core identity. So we need to change the perception of the City and create reasons for people to come here and live here."
Meyer said Baskin-Robbins will reopen in late April in its new location at the corner of McLean Avenue and Fairfax Boulevard, near Paul VI High. And a coffee shop will be to its left.
As for the City's challenges and opportunities going forward, he said, "A lot of our downtown portfolio is owned by Kimco, and downtown merchants are paying high rents. So we talked with them and they agreed to lower some of their rents. We've also discussed the possibility of hiring a national firm to help plan Northfax."
Meyer said Fairfax could consider micro bids for commercial centers, establishing business-improvement areas to target economic development in the City. "I'd like to do it as a pilot in one area, but [City] Council hasn't yet discussed it," he said. "I also want GMU to pursue an academic/cultural presence within the City. For example, it's looking for a new place for its graduate school of business."
Continued investment to transform Fairfax's major transportation corridors, over the next five to six years, is important to him, too. Meyer also wants safety issues on Old Lee Highway addressed.
AS MAYOR, he said, "I'd like to see the City add $500 million of new, private-capital investment in the next five years, and an additional $500 million in the following five years – and these are conservative goals. Adding new revenue will allow us to increase our investment in our schools, public safety and quality of life, such as upgrading our parks."
"The nice lifestyle we have is because of the investments we've made in our City," continued Meyer. "In the future, for example, we'll need to eventually update our schools. Daniels Run [Elementary] was renovated in 2000 – 18 years ago. And with the advent of online shopping, we need to change our retail centers to make them economically viable. People want experiences and entertainment, and we need to blend that in."
Former Mayor John Mason noted that, "Nowadays, college students can get their beer, coffee, food and other amenities on campus, instead of having to come into the City for them. So you're on the right track bringing in a consultant to see what we can be."
City Councilwoman Jennifer Passey encouraged more residents to attend meetings such as this one, saying, "These kinds of informed dialogues are helpful. Great minds work really well together."
Looking ahead, Meyer said, "This is a wonderful community and we have some remarkable citizens. We're on the cusp of a major, generational change here, with new residents serving on our boards and commissions. Their new leadership in the next 15-20 years will be absolutely critical."