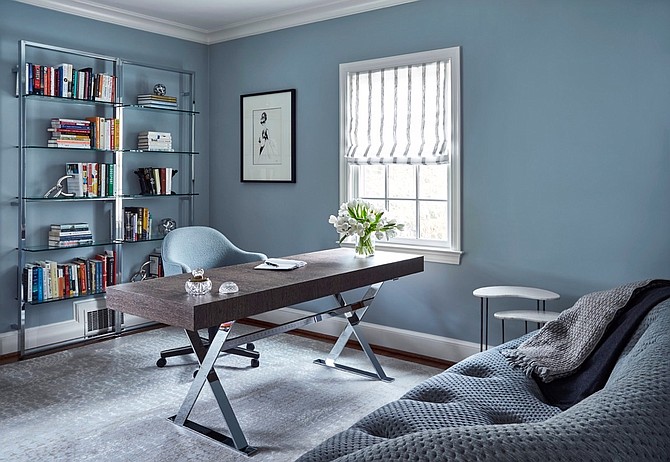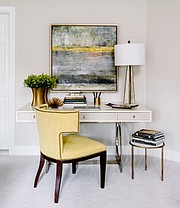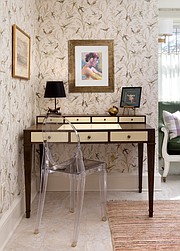 In the age of the coronavirus, working from home and connecting with colleagues using videoconferencing platforms like Zoom has become the new normal. From staff meetings to happy hours, virtual connectedness is keeping offices linked in a world of social distancing. For some, however, this means scrambling to give their home office a sense of professionalism moments before a meeting. Now that mad dash can become a thing of the past.
Create a dedicated work zone away from other distractions, suggests Keira St. Claire of Anthony Wilder Design/Build. "You will feel more at ease if your space is set up to work for you," she said. "It will also in turn make you feel more calm and prepared to be productive."
Organization is the first step in creating that space. "Start by cleaning up clutter," said St. Claire. "But before you start purging, set goals. What would you like to accomplish?"
A part of this thought process should include envisioning the look and feel of the space. "What type of spaces make you feel the most calm?" asks St. Claire. "A zen-inspired minimalistic retreat? A library-like space to display your favorite collectibles, art work and precious things? A lush, soft room? Each of these goals will require different items in different quantities."
In fact, incorporating decorative objects from other parts of one's home can add an air of professionalism to a workspace. "Nothing puts the 'home' into home office better than antiques," said Annie Elliott, Annie Elliott Design. "An antique desk or table topped with beautifully framed drawings and photographs adds such character to a space."
"When your home office is a desk out in the open, it's critical that you tuck your work out of sight at the end of the day," continued Elliott." Every desk should have drawers not only for pens and pencils, but also for your papers, notebooks, and ideally your laptop."
An aesthetically appealing workspace can offer a sense of serenity that can be enjoyed even when not on a video conference. "Working at home with the kids and pets can be overwhelming right now," said Pamela Harvey of Pamela Harvey Interiors. "Create an inviting work area by adding good task lighting and fresh flowers."
In fact, lighting is key when creating office-worthy backdrops for a video conference. "Lighting is everything," says St. Claire. "Natural light is the best, especially northern light. "Open up and let the light shine in. If natural light is scarce, decide on the right artificial lighting. Is cozy warm lighting or brighter whiter lighting better for your daily work? Dimmers are great as they help to control the amount of light you may need throughout the day as the natural light changes."
Desk lamp lighting shouldn't be overlooked, added Tracy Morris, of Tracy Morris Design. "Leave behind the harsh fluorescents of a traditional office and add in warm light from a lamp," he said. "This will also better illuminate your desk than overhead light and help prevent eye strain."
"Just because you're doing real work doesn't mean your desk can't be attractive," said Elliott.