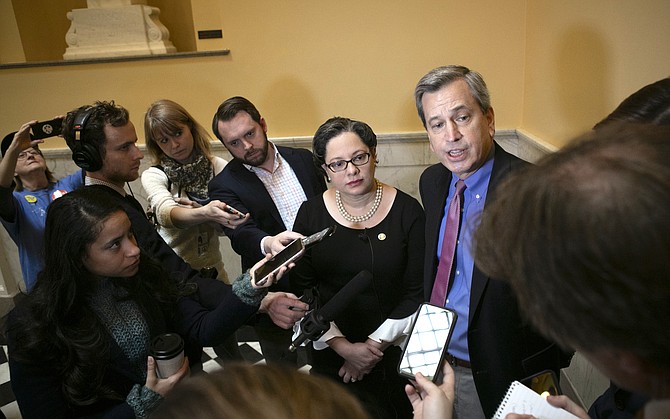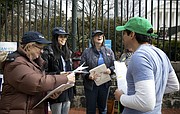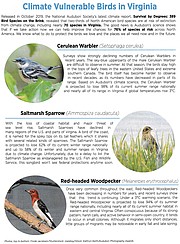 "Today is a huge win for birds and people that gives us hope in the face of increasingly dire climate threats. The pragmatic, market-based approach of the Virginia Clean Economy Act demonstrates that commonsense climate leadership is taking root in the Southeast and strengthening throughout the U.S." — Gary Moody, director of state and local climate strategy at the National Audubon Society.
Arlington, McLean, Vienna, Alexandria, Reston, and Springfield activists were all smiles on March 6, when the General Assembly passed Senate Bill 851 calling for Virginia to pursue a clean economy. Making clean energy a priority was a long term goal for the Sierra Club, Audubon Society, VADF, We of Action Virginia, the VIrginia Grassroots Coalition, and other climate change activists. This was their chance to pass a bill, after democratic victories in the last election tipped the balance in favor of more progressive legislation in Richmond.
The Virginia Grassroots Coalition's Climate Change Working Group played a major role in pressuring representatives in Richmond to pass the strongest Virginia Clean Economy Act possible.
Sharon Shutler of Arlington and co-chair Chris LeMenestrel of McLean were indefatigable in the weeks leading up to the Virginia Assembly's vote on the Virginia Clean Economy Act. They, and fellow activists in the Climate Action Group – Kathie Hoekstra, Nancy Nadjarian, Kathleen Nawaz, Rose Fabia – organized members of their groups to write letters and make phone calls, to text and to tweet, crucial delegates and senators, reminding them this is an issue with local consequences.
Audubon lobbyists mobilized members to take more than 400 actions by submitting petitions and making calls to legislators, advocating for their support on the clean economy act.
The day before the final vote, the Governor's office helped facilitate a House version of the bill with better provisions regarding State Corporation Commission oversight, energy efficiency, and rate payer protections.

Del. Rip Sullivan's (D-48) substitute bill — raising the efficiency goal to 5 percent (it had been 2.5 percent), calling for 100 percent clean energy by 2045 (it had been 2050), calling for greater SCC oversight, and promoting increased competition had some risks.
The House of Delegates passed Sullivan's substitute 53-45 and as activists were massing in Richmond on March 6 to remind state senators of how important this bill was. It passed the Senate, bringing Virginia "one step closer to leaping from the back of the pack to being a leading state on clean energy," Sullivan said. "The VCEA will accelerate creating thousands of new jobs while spearheading action on climate change."

Alfonso Lopez (D-49), an advocate of the bill, said, "After nine years in the House of Delegates, I can say this has been the most rewarding year."

The local activists who travelled to Richmond made the rounds to senators to thank them for their support of the bill, stopping in to see Sen. Geroge Barker (D-29), Alexandria; Lynwood Lewis (D-6); John Bell (D-58) and others.

Shutler of Arlington and LeMenestrel of McLean and their team had performed an important role: they helped clarify issues for supporters of the bill and they engaged in legal analysis helpful to those who had to make a decision.
House Bill 167, which passed, says the utilities would only be able to recover the cost of new fossil fuel infrastructure (including pipelines) if they can justify that the cost is lower than other types of investment such as renewables. This bill could send a signal to investors that the SCC may not let Dominion charge ratepayers for the Atlantic Coast Pipeline, activists said.
Another consequence of activists in the area lobbying and in some cases traveling down to RIchmond to speak to individual senators, was the death of a bill that under the state's new carbon cap-and-trade regime, would have provided carbon allowances to two unbuilt natural gas plants in Charles City County. It died when its patron, Sen. Lionell Spruill, D-Chesapeake, asked for his bill, SB 992, to be stricken from the docket.
Spruill's chief of staff said the senator "didn't see a path forward for SB992." Local Activists like LeMenestrel and Shutler, Kathleen Nawaz, Morris Meyer, Rose Fabia and Robin Ken made it hard to ignore their opposition. Shutler said, "We now believe it's very likely the grassroots and environmental organizations who combined efforts to raise the visibility of this bill and its downside, including a Virginia Grassroots Coalition letter that was sent to legislators specifically on this bill, played a major role in killing it."
In the end, the Virginia Clean Economy Act passed, in a squeaker and after concerted efforts by the utility lobby undercut the original bill. Some Democrats voted against it because they did not think it went far enough; it wasn't the Green New Deal – which failed without even a hearing – they wanted. Del. Lee Carter, (D-50) who was supported in his campaign by the same groups who supported the VCEA, voted against it, as did Sam Rasoul (D-11.)
For more, see: https://virginiagrassroots.org