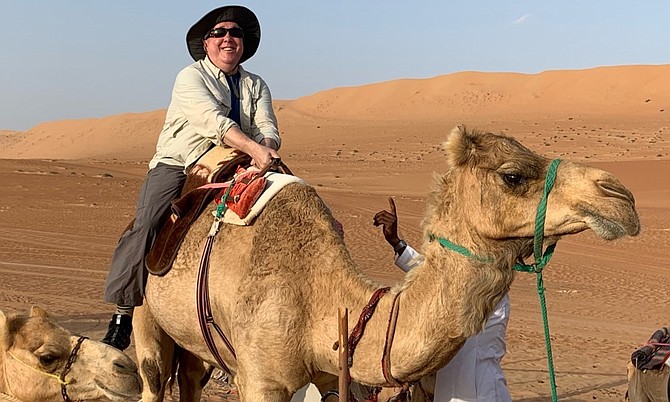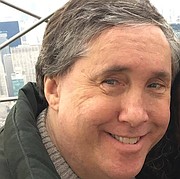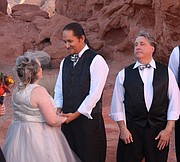 Brian Miller, a past chair of the Alexandria Commission on Persons With Disabilities and member of The Alexandria Harmonizers, had a passion for travel. He had a goal of visiting 100 countries and started a travel blog to chronicle his adventures.
"I don't think of myself as brave, or a risk-taker," Miller said in a recent post. "I want to live a good long life, so I plan, I take care of myself, I avoid unnecessary dangers, I use hand sanitizer and wet wipes."
Despite his precautions, Miller's life was cut short when he died April 13 at Inova Alexandria Hospital after contracting the COVID-19 virus. He was 52 and one of four fatalities now attributed to the novel coronavirus in the City of Alexandria.
"What a loss," said Harmonizers director Bill Colosimo. "Brian was amazing … as a skilled performing member of The Alexandria Harmonizers and as a man who never thought of himself as disabled. But our collective memory can chalk up an immeasurable gain for having known him, in whatever capacity we may have done so. He inspired me."
Miller was born August 13, 1967, in Michigan and raised in San Diego. Blind from birth, he was one of the first wave of blind students to be mainstreamed into public schools with sighted peers.
"For a long time it was a world of scarcity," he would recall. "Lack of books, lack of proper instruction, and lack of understanding as to what blind children need to succeed academically."
Miller earned a degree in political science from San Diego State University and a Master's and a PhD in history from the University of Iowa. A job with the U.S. Department of Education's Rehabilitation Services Administration brought him to the D.C. area in 2004, when he settled in Alexandria.
"It's often said upon losing a friend that they were one of a kind, but this guy is truly in his own class," said friend and fellow Harmonizer Joe Cerutti. "Brian was a world traveler like no one I've ever known, often traveling to distant places few have ever heard of. We often view blindness as a form of disability, but for Brian it was his superpower."
Miller had been traveling in Jordan when his trip was cut short due to international virus concerns. He returned to Alexandria on Monday, March 16.
"A travel company in the U.K. had organized the trip and not canceled the tour in the midst of this pandemic," said Miller's friend Mariyama Cementwala. "Brian was mad at himself and really mad at the company because it triggered some irresponsible decision making."
Despite experiencing no symptoms, Miller decided to self-quarantine. Miller's best friend and co-worker August Martin visited Miller on March 20 to bring him some groceries.
"I was the last person to be with him before he went into the hospital," Martin said. "We went out for take-out and sat in my truck talking about his trip. He was fine at that time and not exhibiting any symptoms."
Miller began experiencing symptoms over that weekend and was advised by his doctor to stay at home. As his condition deteriorated during the week, Martin told him to call an ambulance. Miller was admitted to Inova Alexandria Hospital on March 28 and posted a Facebook update the next day.
"After more than a week of self-quarantining at home, and dealing with increasingly severe symptoms of COVID-19, yesterday I finally had to call the paramedics and have them take me to Alexandria Inova hospital where I am now checked in and I am under their care. I don't know yet if I actually have COVID-19, as the test results aren't back yet, but I don't have the flu, so it's very likely is COVID-19. The protocols and procedures were airtight, and the staff here have been unfailingly helpful and professional and kind. I just want to let people know that this virus is a monster, don't think that it is like the flu or that symptoms are mild. This has easily been one of the worst weeks of my life, certainly healthwise. This is a brutal, brutal virus, do not be indifferent or casual."
Miller was placed on a ventilator later that same day.
"Brian worked out and was in good health," Martin said. "But years ago he had donated a kidney. ... By last Saturday night doctors said they had little hope for his recovery."
Due to visitation restrictions, Martin said that the nurses would put a phone to Miller's ear so that he could hear well-wishes from family and friends.
"We organized a couple of group Zoom calls so he could hear our voices and know we were cheering him on," added Cementwala.
Martin received a call in the early morning hours of April 13 that Miller was suffering organ failure.
"The decision was made at that time to just make him comfortable," Martin said. "I told the hospital that Brian was my best friend and that he doesn't deserve to die alone. At the request of his family, they let me suit up in PPE and go into his room to say goodbye. I made calls to his family and friends and held the phone to his ear. I sang one of our cultural songs and held his hand until he passed at 12:55 p.m."
With news of his passing, tributes began pouring in.
"Brian Miller was a gem and made a significant difference in our community," said former Mayor Allison Silberberg. "He was a remarkable person, a superb Chair of the Alexandria Commission on Persons with Disabilities and a talented Alexandria Harmonizer. What a tragic and devastating loss for our community. We will never know all that he would have accomplished for the sake of others."
Miller's remains were cremated and his ashes will be interred in Michigan. Memorial services will be planned at a later date.
"Brian was the bravest man I've ever known," Martin said. "He had no fear whatsoever. He wanted to see the world and nothing was going to stop him. His disability didn't hold him back – he saw through his blindness more than many of us see in our normal lives."
Survivors include Miller's mother and stepfather, Jane and Patrick McGinnis; father and stepmother Richard and Helen Miller; sister and brother-in-law Cindy and Marty Wimer; and friend Masuma Ali. Condolences may be sent to the family at forbrianmiller@gmail.com and to Ali at m_ali_786@hotmail.co.uk.
"I like to challenge myself, to deliberately put myself in strange places and force myself to puzzle my way out," Miller said in his final travel blog post. "Beyond the mountains there are more mountains. There are more places to visit than one can ever hope to get to in one lifetime, that you will never see it all, and that's a good thing, because what would you have to dream about if you did?"