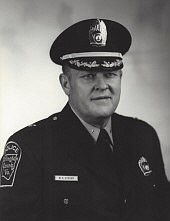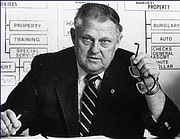 William "Smokey" Stover, the longest-serving Chief of Police in Arlington County, died April 17 of natural causes. He was 89.
"Chief Stover leaves an impressive legacy as a results-driven leader with extensive knowledge and experience in the public-safety field," Arlington Police Chief Jay Farr said. "He is credited with growing and advancing the agency while ensuring it maintained a culture of professionalism and community focus."
Stover joined the department as a patrol officer in 1956. He steadily rose through the ranks, becoming a lieutenant in the internal affairs division and deputy chief in charge of operations. He was named chief in 1978 and led the department for 18 years until his retirement in 1966 following 40 years of service.
William Keith Stover was born Oct. 25, 1930, in Quicksburg, Va. Following high school, he served in the U.S. Army and earned two Bronze Star Medals for acts of valor in combat during the Korean War.
After the war, he attended business college, using the G.I. Bill to further his education. Stover, who got his nickname from the cartoon character "Smokey Stover the Firefighter," left the Shenandoah Valley in 1956 to join the Arlington County Police Department.
"I had decided when I was in high school that I wanted to be involved in law enforcement," Stover said in an interview at the time of his retirement. "There's more in law enforcement than arresting people and enforcing the law. You can also help people in the distressful times in their life…. And to help people during those times is a worthwhile endeavor."
As chief, Stover established best practices for community policing and led the transformation of the department with state-of-the-art technology. He served in leadership roles on drug task forces including D.A.R.E. and contributed to the White House Office of National Drug Control Policy.
Stover was a longtime member of various organizations, including the International Association of Chiefs of Police, the Arlington Lions Club, and a former board member for The Salvation Army in Arlington. He was a Past President of the Virginia Association of Chiefs of Police.
Stover is survived by his wife, Diane; daughters Stephanie (Chavis) and Stacy (Scott); stepchildren Justin (Monique) and Jason; six grandchildren (Amanda, Walker, Maya, Caelan, Raicheal and Zephyr); his brother John Stover and family, sister-in-law and brother-in-law (Susie and Gary Wohlers); and mother-in-law and father-in-law (Jo Anne and Wayne Reed). He was preceded in death by his first wife, Nina Shifflett Stover, in 1993.
A memorial service will be planned at a later date. Contributions in his memory can be made to the Arlington County Police Friends and Family Fund, 1425 North Courthouse Road, Arlington, VA 22201.