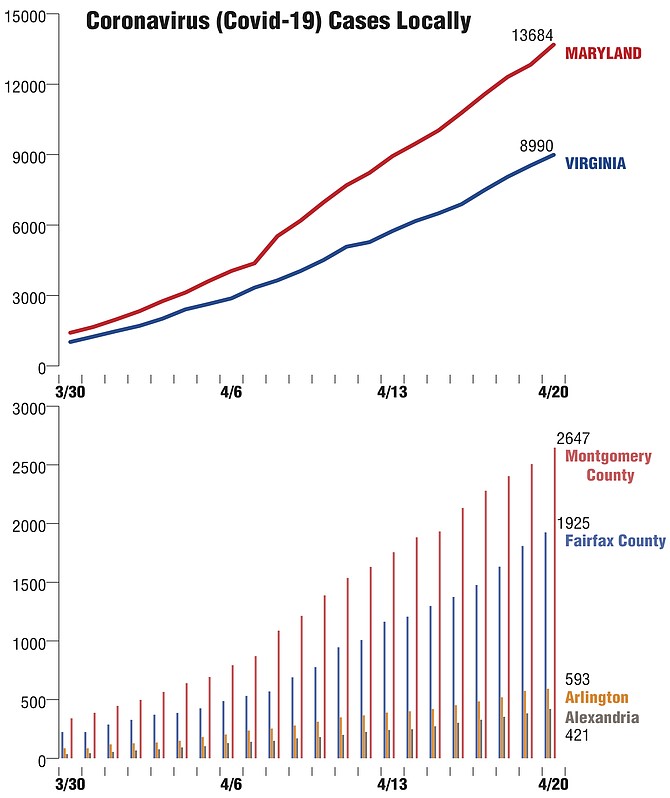 Tuesday, April 21
Potomac 20854 Cases: 93
Montgomery County Cases: 2,768
Maryland Cases: 14,193
Montgomery County Deaths: 99 confirmed, 17 suspected
Maryland Deaths: 584
The Montgomery County Council is scheduled to hold public hearings Tuesday, April 21 on the following Special Appropriation and Expedited Bills (after the Almanac's presstime):
Special appropriation to add $5 million to the county's Public Health Emergency Grant Program to provide additional funding for local businesses that operate a restaurant or a retail storefront establishment.
Expedited Bill 18-20, Landlord-Tenant Relations - Rent Stabilization During Emergencies, would prohibit the increase of rent during and after certain declared states of emergency.
The Council will consider two separate supplemental appropriations to purchase or manufacture personal protective equipment and face coverings: A $100,000 grant would support the creation of the new Local Production Fund, which would provide small and medium-sized manufacturers/producers with the working capital grants necessary to make and provide COVID-related items. A second appropriation for $250,000 for the county government to purchase and distribute washable, reusable face coverings and potentially other PPE to the general public, and to supplement the County's ongoing efforts to provide PPE to nonprofit service providers (including MCPS meal providers and families), medically vulnerable residents and those in senior living or nursing facilities, child care providers, residents in affordable housing communities, senior residents, and transit riders.
See www.montgomerycountymd.gov/council.
Monday, April 20
Potomac 20854 Cases: 91
Montgomery County Cases: 2,647
Maryland Cases: 13,684
Montgomery County Deaths: 89 confirmed, 17 additional suspected
Maryland Deaths: 516
Maryland acquired 500,000 COVID-19 test kits from South Korea.
"From the beginning of this coronavirus pandemic, one of the biggest problems in America has been the lack of availability of testing. It remains the most serious obstacle to safely reopening our states," said Gov. Larry Hogan, on Monday, April 20. "Here in Maryland, we have been doing everything in our power to acquire more tests from the federal government. Unfortunately, we have also had to compete with every state in America in our attempts to procure tests from every domestic producer in the U.S. and from sources around the globe."
Maryland has completed more than 71,000 tests so far. Last week, Hogan secured 40,000 additional tests and invested $2.5 million to help the University of Maryland, Baltimore lab use cutting-edge robotics to build their capacity in order to handle up to 20,000 tests per day.
On Saturday, the Governor and First Lady Yumi Hogan welcomed a Korean Air passenger plane carrying COVID-19 test kits from the South Korean company LabGenomics.
Sunday, April 19
Potomac 20854 Cases: 88
Montgomery County Cases: 2,507
Maryland Cases: 12,830
Montgomery County Deaths: 80 confirmed, 16 additional suspected
The Commissioner of Correction is authorized to reduce the population of inmates in correctional facilities by releasing eligible inmates to mandatory supervision or home detention or accelerated parole if it will not compromise the health, welfare, or safety of the inmate, victims, or the public. Hogan's order was signed on Sunday, April 19.
Saturday, April 18
Potomac 20854 Cases: 88
Montgomery County Cases: 2,404
Maryland Cases: 12,308
Governor Larry Hogan's executive order requiring face coverings to prevent the spread of COVID-19 goes into effect. Maryland residents statewide must wear face coverings at all foodservice establishments; on public transportation, including ride-sharing and taxi services; at all retail establishments, including grocery stores, pharmacies, convenience stores, home improvement stores, at farmers markets and at laundromats.
"The Governor's order recognizes that while everyone should be staying home as much as possible, when going out in public to buy groceries or make other essential trips, we should all be wearing face coverings to protect others and protect ourselves," said Montgomery County Health Officer Dr. Travis Gayles.
Also, retail establishments should post signs at all entrances alerting customers to the need to wear face masks; to try to mark six-food spacing where lines may form, sanitize or give customers the ability to sanitize handles of carts or baskets and provide staff and customers with clean restrooms stocked with soap or sanitizer, and allow staff to wash their hands at least once every 30 minutes.
The CDC has issued detailed guidance and instructions regarding homemade cloth face coverings which can be found at coronavirus.maryland.gov.
Friday, April 17
Potomac 20854 Cases: 84
Montgomery County Cases: 2,280
Maryland Cases: 11,572
State Superintendent of Schools Karen Salmon and Governor Hogan extended school closures to May 15.
"While we are sad and frustrated that our students and staff won't be able to be together in schools to learn and work together in person for another month, we believe that this was the right decision for the health and safety of our students and community," said Montgomery County Superintendent of Schools Jack R. Smith.
Hogan promises to unveil the state's roadmap to recovery next week. "We are beginning to see some hopeful and encouraging signs which have allowed us to begin laying the groundwork to reopen, to rebuild, and to recover as soon as it is safe to do so," said Governor Hogan. The recovery plan requires expanding testing capacity, increasing hospital surge capacity, increasing supply of PPE (personal protective equipment), and developing a robust contact tracing operation.
The Federal Pandemic Unemployment Compensation (FPUC) promises to provide unemployment insurance benefit recipients with an additional $600 per week payment on top of their current regular benefits. On April 24, the Maryland Department of Labor is scheduled to launch a one-stop shop comprehensive online application for independent contractors, self-employed Marylanders, and all other types of claims, including federal employees, multi-state wage claims, and members of the military. This will ensure that every Maryland applicant, whether they are a W2 employee or not, will have the option of filing online, which will decrease call wait times, and it will also help more Marylanders get their checks.
Maryland's contribution of $4 million dollars to Maryland Food Bank and the Capital Area Food Bank will be matched by local jurisdictions to support food banks across the state. The Maryland Department of Human Services is also working with the U.S. Department of Agriculture to dramatically accelerate the implementation of the state's online Supplemental Nutrition Assistance Program (SNAP) pilot initiative, which will enable families to purchase meals online for free delivery.
SMALL BUSINESS ASSISTANCE. The governor announced that $8 million dollars of Maryland's COVID-19 Layoff Aversion Fund, a part of Maryland's $175 million relief package, has already been provided to 410 small businesses across the state, helping more than 9,000 Marylanders keep their jobs. The Maryland Department of Commerce has received more than 9,100 applications for the state's $50 million COVID-19 relief loan fund and more than 20,200 applications for its $75 million COVID-19 relief grant fund.
GRANTS FOR CRITICAL MANUFACTURING. The state created a $5 million fund to incentivize Maryland businesses to manufacture personal protective equipment (PPE) and other supplies to meet the current needs of the healthcare industry.
Thursday, April 16
Potomac Cases: 81
Potomac Deaths: 56 confirmed,14 probable
Montgomery County Cases: 2,133
Maryland Cases: 10,784
Effective at 7 a.m., passengers on Montgomery County Ride On buses will be required to wear face coverings to board the bus. The county's Department of Transportation had already encouraged riders to wear face coverings, but that is now mandatory. Hogan's order on this measure became effective at 7 a.m. on Saturday, April 18, but the county made the face covering requirement effective April 16.
A face covering can be a homemade cloth mask, a scarf, bandana or other means of snugly covering over the mouth and nose. The steps are being taken to help riders performing essential travel protect each other and bus operators during the COVID-19 health crisis. All Ride On bus operators were provided with County-issued face coverings earlier this week. The CDC has issued detailed guidance and instructions regarding homemade cloth face coverings which can be found at coronavirus.maryland.gov.
Wednesday, April 15
Potomac Cases: 73
Montgomery County Cases: 1,933
Montgomery County Deaths: 44 confirmed, 14 probable
Maryland Cases: 10,032
Montgomery County began accepting applications for $25 million available for emergency grants to small businesses. The Public Health Emergency Grant (PHEG) program is designed to help for-profit and nonprofit businesses with 100 employees or fewer during the current public health crisis.
The County will host webinars to answer questions and provide updates on the PHEG program starting at 9 a.m. Mondays through Saturdays, starting April 16.
Applications must be filled online. See https://montgomerycountymd.gov/biz-resources/pheg/.
Hampden Lane Liquor & Wine store in Bethesda reopened more than two weeks after a store employee was sent home Wednesday, March 25 and tested positive for COVID-19. A specialized team was brought in over multiple days to disinfect every bottle, item and surface in the store. Additional store employees were sent home for two weeks with administrative pay to self-isolate and monitor for symptoms.
Liquor stores are listed as essential services as a part of the COVID-19 health emergency. Alcohol and Beverage Services generates more than $35 million annually for the county.
Statewide strike teams have responded to outbreaks in 16 nursing homes and assisted living facilities and 15 group homes for medically fragile children. In partnership with FEMA and HHS, Maryland has augmented these strike teams with three federal Disaster Medical Assistance Teams (DMAT) made up of physicians, paramedics, and safety officers.
The "gradual rollout of the state's recovery phase," Governor Larry Hogan said, is dependent on the building blocks of expanding testing capacity, increasing hospital surge capacity, ramping up supply of PPE and building a robust contact tracing operation.
"Right now while our numbers are still climbing and we are still heading up that curve, not down, it is absolutely critical for Marylanders to stay home, to continue avoiding crowds and gatherings, and to aggressively practice social distancing."
But, according to Hogan:
Maryland is on track with an aggressive plan to perform up to 10,000 tests per day.
In the past week, the state received one million additional face shields and 1,000 ICU beds. In the next week, the state is expecting deliveries of 4.5 million additional N95 masks, 290 oxygen concentrators, and 252 ICU ventilators.
The state's efforts to increase hospital surge capacity by 6,000 beds is weeks ahead of schedule. With the U.S. Army Corps of Engineers, the state is converting the Hagerstown Correctional Facility and the former Washington Adventist Hospital in Takoma Park to serve COVID-19 patients.
Sixty additional surge response tents are being set up in Germantown, Frederick, Jessup, Hagerstown, Annapolis, Baltimore and Randalstown, as well as one at Adventist's Fort Washington Hospital, located in Prince George's County.
A robust contact tracing operation will enable the state to investigate every positive case and ensure that those patients are remaining in isolation for the duration of their illness.
Michael Miller, 60, died April 15, and is the first county employee to die from covid-19. Miller was a member of the MCDOT Transit Services Division based in the Silver Spring/Bethesda Depot and helped manage the Ride On bus fleet, according to a county release.
"He leaves behind a wife and two adult children. In his honor, I have asked that all County flags be lowered to half staff," said county executive Marc Elrich.
Tuesday, April 14
Potomac, 20854 Cases: 70
Montgomery County Cases:1,883
Maryland Cases: 9,472
Hogan enacted an emergency order to put restrictions on the dispensing of drugs that may be necessary to treat COVID-19, including hydroxychloroquine. Because interest has increased in possibly preventing or treating COVID-19 with drugs commonly prescribed to treat malaria, lupus, rheumatoid arthritis, HIV, bacterial infections and other medical conditions, a surge in demand has led to the increased prescribing and dispensing. This has resulted in an inadequate supply for their intended use to treat patients with chronic and acute conditions and for hospitalized patients with Covid-19 with facility-specific protocols while research studies are ongoing.