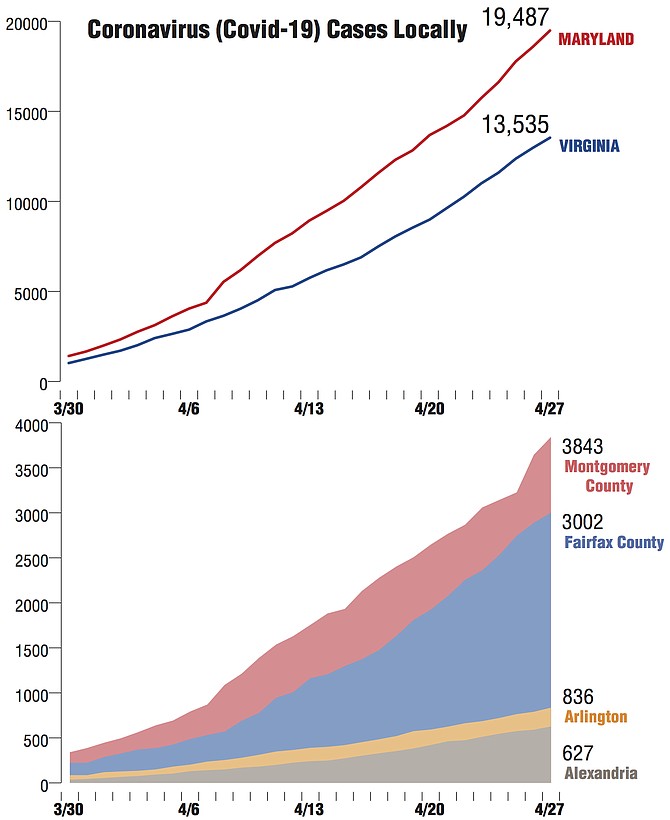 Tuesday, April 28
Potomac 20854 Cases: 117
Montgomery County Cases: 4,003
Maryland Cases: 20,113
Montgomery County Deaths: 201 confirmed, 20 suspected
Maryland Deaths: 929
EVICTION PREVENTION: The Montgomery County Council is scheduled to hold a public hearing on the appropriation of $2 million to be used for emergency eviction prevention and housing stabilization programs. Funds will be allocated to provide a short-term rental subsidy program to low and moderate-income households in response to the current state of emergency. See www.montgomerycountymd.gov/council
Before the pandemic, approximately half of Montgomery County renters were cost burdened, meaning they pay more than 30 percent of their income for housing and may have difficulty affording food, clothing, transportation, and medical care. A recent Urban Institute report noted that renters are less financially stable than homeowners; in 2018 one-in-five renters did not have $400 readily available if needed for unexpected costs.
Monday, April 27
Potomac 20854 Cases: 115
Montgomery County Cases: 3,843
Maryland Cases: 19,487
Maryland Deaths: 858
MOST IN NEED OF RELIEF: Montgomery County residents with incomes less than 50% of the federal poverty level who are not eligible for federal COVID-19 stimulus checks or state benefits will receive a one-time emergency assistance check through the County's Emergency Assistance Relief Payment program. Fifty percent of the federal poverty level for a single adult is an annual income of $6,380, or $10,860 for a family of three.
"It is no surprise that this crisis is hitting our poorest residents the hardest, which is why we developed this program," said County Executive Marc Elrich.
The first group of recipients will begin receiving $1,000 for a family with one child (plus $150 for each additional child up to a maximum of $1,450 per family) early next week. Approximately 1,300 families currently served by the County's Care for Kids program will be the first recipients of payments. The Care for Kids program provides primary health care services to Montgomery County children who do not qualify for federal and state healthcare programs.
Sunday, April 26
Potomac 20854 Cases: 112
Montgomery County Cases: 3,645
Maryland Cases: 18,581
Montgomery County Deaths: 135 confirmed, 19 suspected
Maryland Deaths: 827
BLEACH, SERIOUSLY? Maryland's emergency line received hundreds of calls after a presidential Coronavirus briefing, asking if bleach or disinfectants can be used to cure or prevent Covid-19. "We had hundreds of calls in our hotline here in Maryland about people asking about injecting or ingesting these disinfectants, which is hard to imagine that people thought that was serious," Gov. Larry Hogan said on Face the Nation.
To be clear, don't ingest or inject or even consider consuming disinfectants.
Saturday, April 25
Potomac 20854 Cases: 111
Montgomery County Cases: 3,227
Maryland Cases: 17,766
OVERWHELMING DEMAND: Montgomery County's Public Health Emergency Grant program, created to help businesses with 100 employees or fewer that have demonstrated significant losses due to the COVID-19 health crisis, stopped accepting applications on Saturday, April 25 due to overwhelming demand. More than 6,200 applications have been submitted and reviews of the applications are underway. The program is funded with $25 million, with at least $10 million of those funds dedicated to restaurants and storefront retail businesses. See www.montgomerycountymd.gov/Biz-Resources/pheg/.
Because of limited County funds and overwhelming demand, Montgomery County is encouraging businesses to explore Federal and State assistance.
Resources to assist in this search include:
https://montgomerycountymd.gov/Biz-Resources/covid19/
https://thinkmoco.com/covid-19-resources
Friday, April 24
ROADMAP TO RECOVERY: Governor Larry Hogan today introduced the "Maryland Strong: Roadmap to Recovery," which describes a gradual approach to reopening the state.
"As we begin to reopen, it will continue to be important for Marylanders, particularly older and more vulnerable Marylanders, to continue to stay home as much as they can," said Hogan. "All Marylanders should continue to avoid crowds and gatherings, and they should continue to practice physical distancing and to take precautions to protect themselves, their families, and their fellow Marylanders."
Read the roadmap at governor.maryland.gov/recovery.
Maryland has made progress on milestones needed before the state can consider lifting restrictions: expanded testing capacity; increased hospital surge capacity; ramping up supply of protective equipment; developing robust contact tracing abilities.
Data Trends. To determine when a recovery can begin, Maryland officials will focus on the rate of hospitalizations and the number of patients admitted to ICU. If these numbers continue to plateau, Maryland could be ready to begin the recovery in early May. Marylanders can access this data daily at coronavirus.maryland.gov.
Thursday, April 23
Potomac 20854 Cases: 97
Montgomery County Cases: 3,060
Maryland Cases: 15,737
RENT INCREASES? The Covid-Renter Relief Act would prohibit landlords from increasing rent beyond the County's Department of Housing and Community Affairs' rent guidelines of 2.6 percent for residential tenants during and for a period of 180 days after the Covid-19 public health emergency.

"This bill is an important step in helping our Montgomery County residents during this difficult time," Councilmember Will Jawando said. "Our residents deserve the stability of knowing that their housing is protected."
CONTINUE TELEWORKING: Hogan, Virginia Governor Ralph Northam, and Washington, D.C. Mayor Muriel Bowser sent a joint letter urging the Trump administration to continue to keep telework policies in place for the federal workforce. More than one-fifth of the nation's federal workforce lives in Washington D.C., Maryland and Virginia.
"We know that a continued federal telework policy will help save lives by allowing more of our region's 360,000 federal employees to work from home," Hogan, Northam, and Bowser wrote. "Failure to do so could lead to a rise in cases and delay our ability to re-open the region."
DANGER AT HOME: The Family Violence Awareness and Prevention Campaign: Although the stay-at-home order is critical to limiting the spread of COVID-19, the increased isolation and stress, along with the inability to avoid an abuser, makes this a particularly difficult time for those experiencing family violence. As individuals are cut off from support systems outside the home, new stressors, such as financial instability, can make abusive situations more volatile.
"We should all feel safe in our homes, but the reality is, not everyone does," said County Executive Marc Elrich. "The goal of the Family Violence Awareness and Prevention Campaign is to let County residents know that there is still help for victims, even during these difficult times. We have programs in place, some of them are available 24 hours a day. We are here to help."
The Montgomery County Family Justice Center (FJC) remains open throughout the pandemic and continues to provide services. The FJC can be reached by telephone at 240-773-0444 or by email at safe@montgomerycountymd.gov. The Montgomery County Crisis Center is open 24/7 and can be reached at 240-777-4000.
Wednesday, April 22
Potomac 20854 Cases: 94
Montgomery County Cases: 2,868
Maryland Cases: 14,775
MORE TESTING: Covid testing began at the Wheaton Community Recreation Center and will begin on Monday, April 27 at the Upcounty Regional Services Center in Germantown. "We continue to expand testing capability for Montgomery County residents," said County Health Officer Dr. Travis Gayles. "This drive-thru site will further our goal of providing access to needed testing."
To qualify for testing at any of the State or County testing sites, individuals must meet testing criteria as determined by a licensed healthcare provider and complete an online order for testing through Maryland's Chesapeake Regional Information System (CRISP). Once an order is placed, an individual will be given instructions on how to make an appointment online.
See County's COVID-19 website: https://montgomerycountymd.gov/HHS/RightNav/Coronavirus.html
GROUP HOMES: Actions teams in place to provide additional support to more than 200 group homes serving individuals with developmental disabilities.
"Similar to the focus on long term care facilities, we want to provide support to group homes as they serve individuals who often have underlying health conditions," said Montgomery County Health Officer Travis Gayles. The action teams are staff from DHHS Aging & Disability Services, who work closely with providers to ensure they have personal protective equipment as needed and provide guidance on best practices for infection control procedures and other COVID-19 related issues. Action teams work closely with staff from the County's Disease Control program to identify confirmed cases among residents and provide staff with the necessary tools to continue care for them, while also meeting the needs of other residents.
There are more than 400 cases of COVID-19 among long term care facility residents in Montgomery County.
Tuesday, April 21
Potomac 20854 Cases: 93 Cases
Montgomery County Cases: 2,768
Maryland Cases: 14,193
PROTECTIVE EQUIPMENT: County Council unanimously passed two separate supplemental appropriations totaling $350,000 to purchase or manufacture personal protective equipment (PPE) and face coverings, as part of the efforts of the Council and the County to protect public health and safety during the Covid-19 pandemic.
The first supplemental appropriation for $250,000 is to purchase face coverings and other PPE. The second supplemental appropriation of $100,000 would support the Montgomery County Economic Development Corporation's creation of the new Local Production Fund, which will provide small- and medium-sized manufacturers/producers with the working capital grants necessary to make and provide Covid-19-related items.
A START: Council expanded the Public Health Emergency Grant program by $5 million to provide financial assistance to local restaurants and small retail shops during the Covid-19 pandemic.
Under the PHEG program, businesses with 100 employees or less that are suffering economic impacts from Covid-19 are eligible to receive grants of up to $75,000 per business. The County will seek reimbursement from the federal and state government for any eligible costs.
This special appropriation is in addition to the $5 million reserved for local restaurants and storefront retail operations as part of the original $20 million appropriation by the Council to create the PHEG program through the County's Economic Development Fund. The source of the funds is the County's General Fund Reserves.
FOOD SECURITY A PRIORITY: County Council sent letters to Montgomery County's Federal and State Delegations along with Maryland Governor Larry Hogan, requesting additional funding to help ensure food security for Montgomery County residents. The Council asked each one to make food security a priority in federal and state stimulus and emergency relief legislation associated with Covid-19.
The letter notes that local food providers in the County have experienced an increase of between 75 and 500 percent in clients, as families struggle with lost income, medical expenses and other challenges created by the nationwide public health emergency. It notes that, although the pandemic has likely not yet reached its peak, local providers are already struggling.
Monday, April 20
Potomac 20854 Cases: 91 Cases
Montgomery County Cases: 2,647
Maryland Cases: 13,684
BARBERSHOP QUARTET?: Hogan's executive order allows barbers and salons to allow one customer in the shop at a time to meet "grooming standards established by the customer's employer," generally assumed to be for military personnel, first responders and other essential workers required to maintain grooming standards.
"The customer must provide the Barber/Salon with written documentation of the employer's grooming standards." The stylist and customer must wear face coverings. If any staff of the Barber/Salon test positive for COVID-19, the Barber/Salon shall promptly notify all Customers who received services in the 14-day period immediately preceding the date on which the Barber/Salon is notified of such test results.