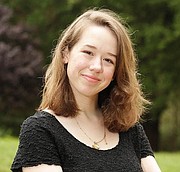 Kay Rollins, a junior on The Potomac School's speech and debate team, won two individual national championships at the 2020 Tournament of Champions (TOC), hosted virtually by the University of Kentucky on the weekend of April 18. To be eligible to compete in the TOC, a student must have placed in the final rounds at two national circuit qualifying events during the regular season. Potomac had eight students qualify in nine events as part of the tournament's 1,100-student field.
Rollins ranked first in the nation in extemporaneous speaking and original oratory. Last year, she ranked first in extemporaneous speaking at the same tournament. Additionally, as an eighth grader, Rollins won the extemporaneous speaking category at the NSDA Middle School Championship and achieved a dual win in the TOC Middle School Championship. Thus, her extraordinary career now includes six individual national titles. She is the only person ever to win national championships in the same event (extemporaneous speaking) two years in a row, and the second-ever to win two TOC championships in a single year.
Rollins reflects, "My big goal this year was to do as well in extemp as I did last year – I was really proud of last year's championship-round speech, and I wanted to do that well again. Meanwhile, my oratory is very special to me; it expresses what I wish someone had told me as a middle schooler and as a freshman." Harry Strong, the head coach of Potomac's team, observes, "Kay is one of those special students who are both talented and driven to succeed. No one is going to outwork her; she is always very well prepared!"
Competing alongside Rollins in the original oratory category were two Potomac quarterfinalists: Samira Abbasi and Christian Herald. Maryam Abbasi (public forum debate), Sara Abbasi (public forum debate), and Valentina Raghib (original oratory) also gave strong performances. In addition, Potomac junior Kaitlyn Maher ranked third in the nation in congressional debate. Her teammate Alex Joel was a semifinalist in the same event.
As a result of the COVID-19 pandemic, this year's Tournament of Champions was held online, through the Zoom platform. Rollins notes that the change gave the event a different "feel" than past tournaments: "For the original oratory, I sent in a video of myself giving the speech. That was a big change from speaking in front of a live audience. Extemp, meanwhile, was almost the same as in the past: I had 30 minutes to prepare a seven-minute speech, then presented it to a panel of judges; what was interesting was that we were all in different places, rather than the same room."

Coach Strong observes, "All of the participants in this tournament had to pivot rapidly, adjusting to speaking in front of a camera rather than an audience. Making that kind of adjustment while competing at the national championship level requires tremendous flexibility and focus. Given our team's success at the TOC, I can say with confidence that Potomac's debaters have made the adjustment successfully."