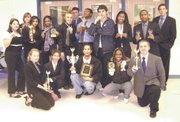 The 2007-2008 West Potomac High School Forensics team placed third in the District and advanced to the State Competition this year under the teaching of Coach Julian Dotson.
The Debate team also won the District Championships.
Earlier this year, in the Northern Virginia Forensics League, West Potomac won a total of four debate and forensics championships and traveled to the Shenandoah Valley every first Thursday of the month. The team took home multiple first-place medals and advanced to the National Qualifier in January. The debate team often travels with and is a part of the Forensics team with Coach Dotson and a new unofficial assistant Coach Melissa Philips, a GMU policy debate student.
Acting! Speeches! Impromptu topics! Poetry reading! Dramatic interpretation! Where can you find all of these events in one place in high school? Forensics is an opportunity to brush shoulders with future politicians from all over the country and work on pubic-speaking skills.
Coach Dotson is looking for new recruits to join the award-winning team. Encourage your child to become a member of the Debate or Forensics team! Questions? Email julian.dotson@fcps.edu.